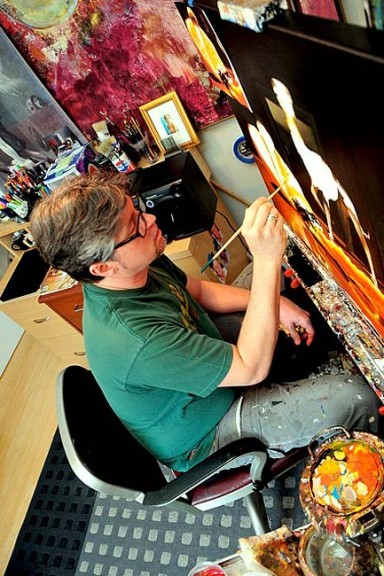 Jason Morgan at Springfield Art Museum— Seeing epic in ordinary
If the produce Jason Morgan paints wound up on the shelves of Tom's Market, it would be judged not for freshness, but for its more human qualities.
"Bok choy is very photogenic," said Morgan, describing one element in a current painting. "From a low perspective, it's epic."
His peppers seem to have particular charisma. In one painting, "Tipping Point," a small orange pepper goes nose-to-nose—make that stem-to-nose—with a plastic stegosaurus. The friendly overture is obvious.
But fruits and vegetables aren't the only items that come unsettlingly alive on Morgan's canvases. Small toys and a variety of utilitarian and decorative objects—from thumbtacks to cow figurines—appear together in arresting tableaus, sharing not just space but a story.
The still life paintings, done in a hyperrealistic style, represent a new direction for the Yellow Springs artist. They form the core of his current exhibit at the Springfield Museum of Art, "Full Circle: Paintings by Jason Morgan," which opened earlier this month and runs until Feb. 6.
"People love their luminous quality," said Ann Fortescue, the museum's executive director. "They glow."
Morgan confesses a love for "shiny things," and he clearly has a gift for gleam. Marbles, light bulbs, glass bottles, even pomegranate seeds—painted large and glossy—emerge from his work as objects of impossible beauty. Morgan also has a penchant for motorcycles—he gets around on one as much as possible—and one of his motorcycle paintings is included in the show.
Portraits are another focus of "Full Circle." For much of the past 12 years, Morgan has worked as a portrait artist. Commissions have come from private individuals and institutions like the University of Cincinnati. The pieces capture a nuance of personality and mood that gives each likeness a human spark.
But the still lifes are the true stars of this show. Four years ago, as portrait work was drying up, Morgan was in conversation with Yellow Springer Sherryl Kostic, owner of "would you, could you" In a Frame, about what to do next. Kostic encouraged him to consider painting still lifes.
"At the time, I thought, 'Does the world really need more still lifes?'" said Morgan. "But then I began thinking about how to make a still life interesting to me."
Morgan's wife, Margaret, was "instrumental" in this. "Ever since she was a girl, Margaret has been arranging objects," said Morgan. "I've learned so much from her about how to put things in relation to each other."
Every painting begins with an arrangement of toys, produce and other items on a tabletop in the Morgans' home. Morgan, often with input from his wife, spends many hours selecting and placing objects in scenes the couple calls "tablescapes." When he has an arrangement he likes, Morgan takes hundreds of photographs of it. He shoots from a low perspective, transforming the minute into the monumental.
Morgan then selects a single photograph and projects the image onto canvas to sketch the basic composition (a technique used by many artists who work from photographs). And finally, with days or weeks of creativity already invested, he starts to paint.
"Some people will say you shouldn't paint from photographs because what you see is less than reality," said Morgan. "But I use the photograph as a guide. I paint what I know is there."
The transformation from photograph to painting is startling. Everything's bigger, brighter, more colorful, filled with depth and imbued with personality and presence. Several of Morgan's photographic guides are on display in the museum, as well as a few of the tiny, ordinary objects that get such dazzling treatment in his work.
"I don't want my paintings to be misconstrued as photographs," Morgan said. "I make them as realistic as possible, while also leaving in the brushstrokes."
As he paints, he finds that a story emerges. Objects and arrangements chosen for their visual relationships cohere into hints of plot and character. In the final paintings, there's a sense of drama interrupted, or secret lives revealed. The story element solidifies, Morgan said, when he chooses a title.
"I think of his work as 'playful realism,'" said Fortescue. "We all have to work harder to play now. Jason opens us up to whimsy and imagination."
The engaging and accessible nature of Morgan's art is perfect for the Springfield Museum, she added. Over the past few years, the museum has renewed its commitment to audience, finding ways to reengage area residents and send the message, Fortescue said, that "this is for you."
Fortescue first saw Morgan's work four years ago at a Yellow Springs Artist Studio Tour. Yellow Springer Deborah Housh, curator at the museum, was familiar with Morgan's painting and proposed an exhibition.
Morgan is represented by the Brandt-Roberts Galleries in Columbus, but Yellow Springs has been a crucible for his work. Kostic's influence and friendship has been especially important, Morgan said. It was the "would you, could you" gallery that organized his first show, in 2011, of hyperrealistic still lifes.
Morgan and his wife moved to Yellow Springs about 10 years ago, from Morgan's hometown of Southeast, Texas. He'd moved back there after quitting a job as a graphic artist in Cincinnati.
His wife encouraged him to pursue portrait painting after Morgan completed a portrait of her (included in "Full Circle") that she called "amazing."
Portrait commissions and mural work came trickling in. (Morgan has since done murals locally, including the inspiring piece on the side of Xylem's building facing route 68.) But the Morgans decided they needed to move someplace with a greater demand for art. Margaret, a Wilmington native, remembered liking Yellow Springs as a teenager. The couple visited and fell in love. Home, Inc. helped them first rent, then buy a home here.
The region's artistic resources have been a gift to Morgan, who is self-taught. He counts a Rembrandt show and a Norman Rockwell exhibit at the Dayton Art Institute as decisive moments for him artistically.
"Masterpieces are those paintings that I could look at for the rest of my life," he explained.
Though he spent many years not painting — he joined the Marines after high school, then began his first career as a graphic artist — he was recently reminded of his subterranean vocation. On display in "Full Circle" is a small, beautifully rendered piece titled "Mack Truck." Painted when Morgan was just 10 years old with enamel paints of the kind that come in model airplane kits, it was sent to him by his aunt. Morgan felt it deserved a place in the show.
"It was so rewarding to see it again," he said. "I could see that I'd been a painter all along."