We've had a fall of uncharacteristic warm weather. So I was feeling pretty spoiled when the weather turned bracing just before Thanksgiving. Since then, I've taken to wearing two layers of coats until I acclimate. I was thus bundled up walking across campus from a Believe in Ohio forum at Wright State University when a student and I commiserated about the blustery weather.
"It was snowing earlier," he let me know.
I replied, "Really? I'd prefer snow. With all the multipath light reflecting, it feels warmer." He nodded his agreement and we parted ways. I continued to my car imagining myself a gray figure against a white field…me the only object dark enough to absorb light.
On Saturday, my husband woke me up to the news that we had a blanket of white snow on the ground. "Here is the plan," he told me. "This morning we get our tree."
We renegotiated terms but only the details. Our main objective remained the same. First, we had a breakfast of bacon and honey crisp apples. Then, we made our weekly pilgrimage to the King Yard farmers market and picked up provisions plus an ornamental wreath by Jenny Haack. Next, the tree.
We were going to head to Young's Christmas Tree Forest. However, our neighbor Carol Cottom suggested we first check out the School Forest, a conservation and cultivation project run by the Yellow Springs High School since 1947. We made our way up Bryan Park Road until we spotted a tractor pulling a hay wagon to our left and signs for parking to our right. We found a parking spot and crossed the road to the high schoolers' encampment. We met Sean near the teepee and a wood box overspilling with saws. Sean walked us down the hill to a grove of white pines and douglas firs. We brought our foster dog Bellatrix on our outing for exercise and socialization. Between the parking lot and the tree groves, she got a lot of love and attention from friends who had not yet met her.
The family went on before Bellatrix and me. They were to bring home a beauty but also to join the gingerbread festival at the elementary school later that morning. Our ambitions were long but time was short. I shouted out a suggestion for a white pine if the school forest had them as kids and husband bounded ahead. When the dog and I rejoined them, however, they were consider a beautifully shaped douglas fir. "Fine choice," I agreed, "but let me look at one more…" I started on a slant to check out a tall white pine but my eyes darted right to another fir tree. Just about 10 meters away from the family's pick was another beauty of a tree. This one did not have the same conical symmetry as the first, but it had a full dense bulb of a skirt and straight, high shooting crown.
"What about this one?" I asked.
"I like it," my daughter agreed pointing out to her father how many more ornaments the tree would hold.
Jeremy voiced some concern about new selection's girth…"Will we be able to get the lights in there?"…"but soon father and son joined mother and daughter in consensus. Jeremy pointed to our pick to Sean. Sean dropped to the ground and, as fellow student Von held on to the central trunk, he cut our tree loose. The young men then carried the tree up the slope and back to the encampment.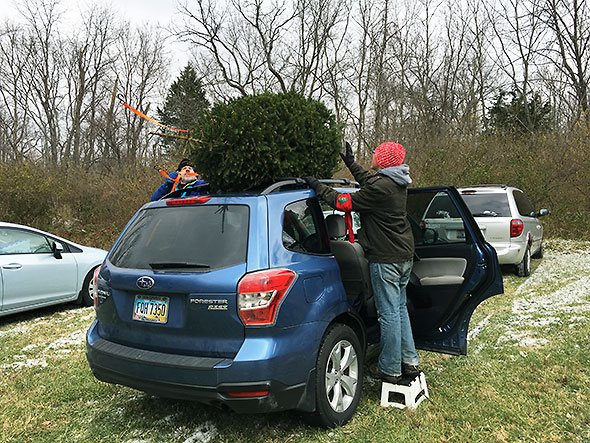 My thoughts turned to the hot chocolate that was brewing over the campfire. I poured my son a half cup first then one for myself. My husband however was still intent on the tree. He turned back to me and pointed out that we had a bit of a complication to overcome now. For several years now, we've been using a Christmas tree stand that holds the tree upright on a spike. That spike requires that a hole be drilled into the base of the tree trunk. Normally, we have Young's drill the hole. This year, we'd have to drill the hole ourselves. Jeremy's question to himself was whether he had a drill bit big enough…and, if he did, whether or not he'd be able to angle the drill properly. He had visions of a full lush but leaning tree in our living room.
Back at home, we unloaded our haul. I tested the weight of the tree and blinked twice. It was the heaviest selection we've every made. I shook the tree hard; the first round rained loose needles and, ahem, bird droppings so I shook it harder a second time. Jeremy brought out the Dewalt drill bits and tree stand. The largest bit from the Dewalt was just about the size of the tree stand's spike. We gave it a whirl. Jeremy positioned the drill. To fine tune, he asked me to consider the angle he selected from overhead and the side. "To the left," I suggested, then "Up, no…yes, that's good." We gave each other feedback until we felt ready to power ahead. The drill cut into the central ring of the truck easily; Jeremy worked until he drilled a hole about 7 inches deep. He stood up, and I balanced the tree upright. We nodded our satisfaction.
"Perfect!"