The countdown had commenced. "Five…four…three…two…"
I advanced on my daughter…her rain coat in hand. She squared her hips and set her face in steely defiance. I threw the coat at her feet. "Why can't I wear what I want?" she countered, her sweatshirt already zipped to her undaunted chin. My nine year old daughter who now calls herself ten was not to be intimidated. She did not blinked and perhaps I already had even as I confronted her with an ultimatum, "You have two choices: You put this coat on to escape being cold and miserable the moment you step out the door. OR you take an umbrella."
I pivoted like a door and she stepped through it. She walked into the living room and unholstered a red umbrella from its stand. She returned sharply and presented it to me for inspection. I turned it over tip to tail, dissatisfaction oozing from my pores. "This is your brother's," I warned. It was not enough in my mind. Outside the rain was a drenching onslaught. Inside I was angry and unable concede power to my own compromise.
"It's ok, Amy; her umbrella broke." My husband intervened, tucked our daughter's rain jacket under his arm for measure, and guided her out the door. I let them go but not my displeasure. I took down my own rain jacket from its hook and draped its dark form over my shoulders. I gathered myself for work, but, before leaving, I sent my husband a text, "I'm not going to the ranch."
Our plan for Saturday was to go horseback riding at Marmon Valley Farm with the Girl Scouts but I couldn't even imagine. The hard driving rain looked like it would never stop. While my car idled at a light, my husband texted back, "I've asked if they might cancel because of the weather. If you decide not to go, please explain it's because of work and not what happened this morning."
I shot back. "Why can't it be about this morning? She defied me. There are consequences."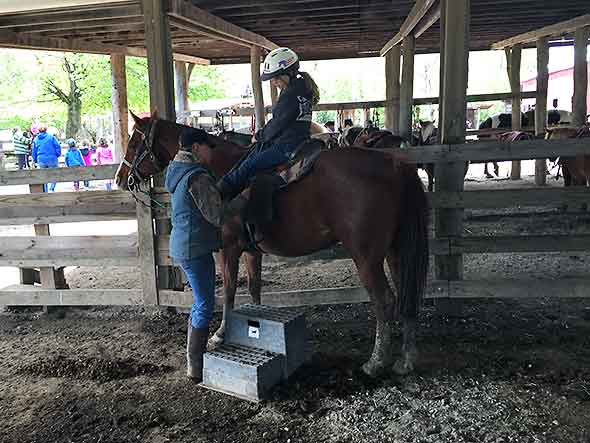 "Because the punishment doesn't fit the crime," He reasoned. "How is she going to enjoy an overnight when her mom was supposed to be there but bowed out because she made a mistake? Better to make up first and then go your separate ways if you need to."
Yes, she had made the mistake. She dropped her lunch bag at my feet that morning. I had tripped; I got hurt; I got angry at my daughter's carelessness and stayed that way.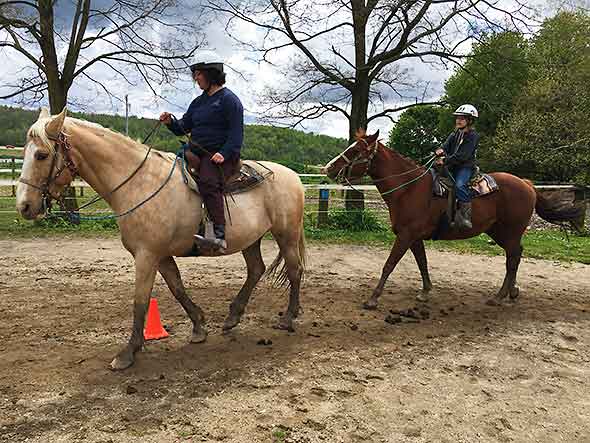 But I texted my husband the truth: "It is also because of work." Place me in the defiant role and you'll get a picture of what awaited me at the office. Imagine terms to renegotiate forged months ago under uncertain conditions with a skeptical negotiating partner. In retrospect, intransigence with my own daughter feels rather foolish.
So, I walked myself back. Work required my attention but I joined my daughter in Zanesfield for a truly splendid Saturday afternoon. We took a lesson in archery and rode horseback through muddy but sunlit trails.
I return home in time to join the French Cafe at the Yellow Springs High School. It make for a striking transition from farm to foreign borough. I settle in among friends, pile my plate high in exquisite food and listen to an enchanting night of music. Among the songs of the evening is a Swedish folk song rendered in French.
Who can sail without a wind?
Who can row without oars?
Who can leave a parting friend
Without shedding tears?

I can sail without the wind,
I can row without oars,
But I can't leave a parting friend
Without shedding tears.
Miles away in Zanesfield, my daughter steps out on a wooden floor in the high heels cowgirl boots she picked out at the Marmon Valley store.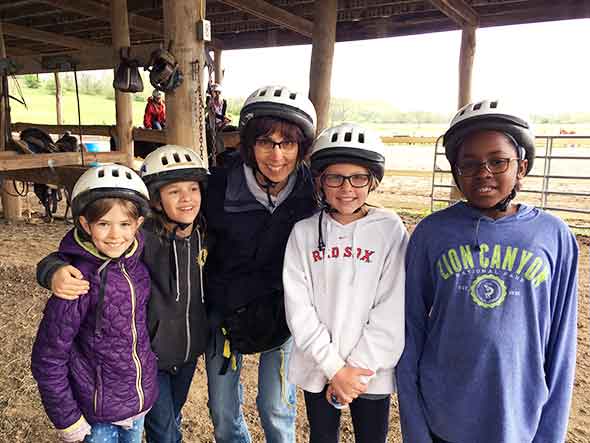 She listens to the fiddle player call out the count, "Ladies… one, two, three, four." She's there to square dance and show the whole world.