My route of choice out of town is to drive south and then—at the blinking light at Hyde Road—to turn west. It's a route that takes me past a paddock of horses, prop planes and Miami Valley Pottery.
When the pottery is open, they put out signal: a flag at the bottom of their driveway. When that flag is out at 145 E Hyde Rd, I often find it tempting to make that left hand turn and follow the sloping drive up to the pottery's gigantic wood fire kiln.
In early April, I could readily justify that detour. On that occasion, I was moving into a new office at work. Graduating from a cubical into an office suite, I needed to clear out the new-to-you carpet smell so I picked up two plants from Greenleaf Gardens. Next my thought was to find two beautiful pots to display them in. Thus, on my way back to work, I made that left turn off of Hype Road and met Naysan McIlhargey at his shop. There he helped me pick out two vessels and match them with two plates from his stack of seconds.
While at the back of the pottery looking through the stacks of seconds, I allowed my eyes to wander over the diverse collection of dinner plates that had emerged from McIlhargey's kiln gloriously formed. Among the stacks, I found a plate with a copper-colored well and a stone gray lip. I picked it up as if a mirror and saw myself.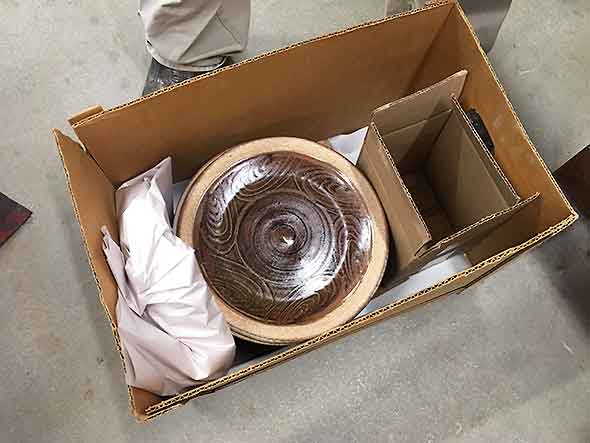 As McIlhargey and I replanted my two plants into their new pots, we forged a plan.
That plan would take a month to execute. I returned just this Thursday to Miami Valley Pottery with my family to see what McIlhargey produced in his latest kiln firing. I set my choices aside but they met with skepticism. My husband wondered aloud why pick dark plate from among all the wonderful choices that the room held? Why not, say, the milky white plates with the rippled border? Or how about the electric blue plates with the lounging kitties, asked my daughter. At first it seemed like we could hardly make a choice with all the possibilities before us.
But then we started mixing and matching. Each family member took a turn selecting a favorite plate and adding it for consideration out various options. Soon we came to consensus. We picked out four plates of three different color schemes to form a set of 12 plates to bring home. As we made our selections, two other families arrived on the same mission. While we collected bowls of iridescent blue to add to our plates of smoldering red, another family reversed our choices. We all laughed as they set down deep blue plates and milky bowls with bright red flowers next to ours.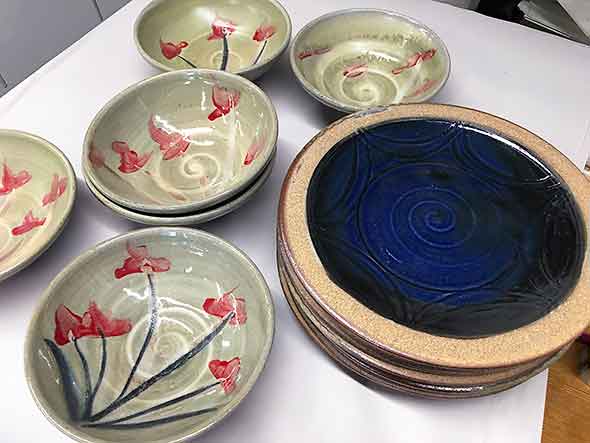 Loading up our box stacked with stoneware treasures, we left still talking about the sea of plates that remained ready for the next day's kiln sale. We wondered aloud who would take the cat plates home this weekend and soon wink during meals at the feline figures as old friends.
The next morning my husband made a glorious breakfast. He heaped the new stoneware with rice and spinach and an omelet stuffed with greens, goat cheese, and diced mushrooms. I sat down to partake at what feels like the beginning of a brand new era. Perhaps it's strange that a new plate feels so consequential, but it represents the life I want for us. Earth bound and resilient, this foundation is built with skill and set in the town that we hold so dear.