New Little Free Library unveiled on Dayton Street
Book-lovers in the village now have one more avenue to satiate their cravings for the written word: a new Little Free Library was recently unveiled. The newest "leave-a-book, take-a-book" library, which joins several others that have been established in Yellow Springs over the last several years, is located at the corner of Dayton Street and South Winter Street, at the United Methodist Church.
The new library is a collaboration with the church, the YS Library Association and Third Story Literacy Project. Don Deardorf, a member of the United Methodist Church — pictured above with Pastor Rick Jones — volunteered to construct the library. This is the first Yellow Springs location for Third Story Literacy Project, a local nonprofit with the goal of building, stocking and supporting 100 Little Free Libraries across the Miami Valley.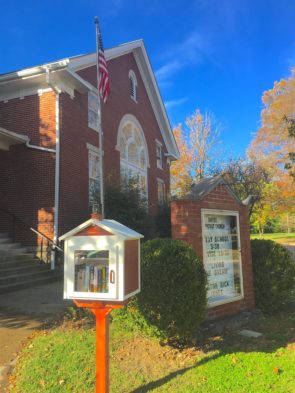 "Don's work is amazing," says Ryan Ireland, co-chair of Third Story Literacy Project. "His commitment to making Yellow Springs even better comes through in the craftsmanship of this library." The library has ample room for books of all sizes — picture books, novels and large printeditions. The library also features a bell at the top and a self-shutting door to help preserve the books inside.
Third Story Literacy Project has built several Little Free Libraries in locations that include Xenia, Clifton, Beavercreek and Dayton. "A community can never have too much access to reading material," says Ireland. "We'd love to have a library like this on every block in every community in the Miami Valley."