'Black Panther' inspires PBL at McKinney
Meet Kakuve.
A member of the Himba tribe of northern Namibia, she emerged with a supernatural ability for black magic after falling into a ceremonial fire used to communicate with tribal ancestors.
And Niko, also of Himba origins, who has extraordinary speed, strength and agility, and is accompanied by a goat who can fly.
Then there's Hahilenya, who hails from the Byzantine empire of Ethiopia and has the power to control water.
And Yibanathi, part of the Zulu culture, whose mother, after dying, visited her daughter in a dream and led her to a serpent necklace giving the girl the power to control diamonds.
McKinney, YSHS PBL night
Spring Exhibition Night at McKinney Middle School/Yellow Springs High School will be Wednesday, May 16. The event, from 6–7:30 p.m., features student displays and demonstrations from the term's Project-Based Learning units, such as the seventh-grade Black Panther-themed social studies project.
Joining a pantheon of costumed comic book predecessors fighting injustice and oppression around them, these new superheroines and heroes are the original creations of McKinney Middle School seventh-
graders.
These four characters are among 58 individual heroic figures — one for every McKinney seventh-grader — brought to life this term in Cameron McCoy's social studies classroom.
The significant defining attribute that all 58 characters have in common, besides being superheroes, is that each comes from the continent of Africa — just like Marvel comic hero and recent movie blockbuster protagonist Black Panther, king of the fictional African nation of Wakanda.
The Black Panther character and story served as the launching pad for a project-based learning unit that not only explored the histories, geographies and cultures of Africa, but also the American civil rights movement and the role of comics in reflecting and shaping societal attitudes.
"The complexity of Africa," can be daunting to tackle in the middle-school setting, McCoy said recently in his classroom trimmed with images of the Black Panther and other comic heroes and heroines. "It's so massive and enormous," he added.
The best way to approach it, in his mind, is through stories. And the story of Wakanda and the Black Panther, though fictional, gave a popular point of entrée.
"Students first picked a region of Africa" for individual focus, McCoy said. "They studied the geography and history of the region — from ancient to medieval time to the arrival of Europeans and colonization, and what that did, to what is happening in the region now."
Then "they were given the task of creating a character and back story" that reflected and was appropriate to the region they studied.
The research was primary, said Eliza Minde-Berman, who created the water-controlling ancient Ethiopian character Hahilenya.
"A lot of research went into creating them," she said of the process.
Sae Gisslen, who brought Kakuve of Namibia to life, agreed.
Each character is "the embodiment of a specific culture," she said.
What she found especially interesting is that each "shows a different part of Africa that a lot of people don't think about."
The effects of colonialism were significant for classmate Krishan Miller, whose character, Zane, was an army general, stabbed in battle, but healed by a special herb created by one of the gods that in addition gave him superhero strength and speed.
"Pretty much all of Africa was dealing with European colonization," Krishan said.
The Black Panther's idealized country of Wakanda shows a utopian land that managed to seal itself away from colonialism and other outside encroachments.
The class also learned about the comic book history of the character, who first appeared in Marvel's graphic illustrated pages in 1966.
"In 1966, you can imagine, that shook the world," McCoy said. "Here is an African man who is quite powerful [being introduced] during the civil rights era."
The character really came into his own, however, during the 1970s. "Some of the most powerful panels are of his defeating members of the Klan," McCoy said.
The impact of the comic on readers, particularly young people of color, was brought home to students by a classroom visit by Columbus College of Art & Design graduate Darryl Banks, a professional illustrator who has worked for both Marvel and DC comics.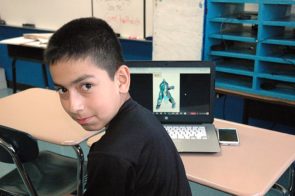 "He shared this incredible story that drove home the need for African-American superheroes," McCoy said.
As a child, playing with his friends, they had few models to emulate. "We had to make them up on the spot," Banks told the students.
In their research on comic book history, the seventh graders learned that of the 200 most popular Marvel characters, 20 percent are woman and 14 percent are nonwhite.
"It was pretty jaw-dropping," McCoy said.
Sae said she was particularly struck by "the lack of diversity in comic book characters still in the 21st century."
The culmination of the project involved a collaboration with students at the Columbus College of Art & Design, or CCAD, who took the seventh-grader's descriptions and sketches and created fully realized renderings of the individual superheroes.
Mike Laughead, head of the CCAD's illustration department, said the art students "were excited" about the project.
"They wanted to see what middle school students could come up with," he said.
The response was delight, as the college students sorted through the characters in search of one with which they felt most connected.
The art students also chose their medium, some using watercolors, some pen and ink, and some working digitally with graphics software.
McCoy and his students eagerly awaited the results.
"We were super excited when they came in," he said, recounting how he called each student up to his desk separately for the reveal.
"I wish I had videotaped their reactions," he said.
The drawings reveal the personalities, strengths and abilities of the characters — in their expressions, postures and costumes.
Hahilenya holds balls of water in her hands. Yibanathi wears the necklace given to her by her mother in a dream.
Now the teacher is sharing the results with representatives of the comic industry in hopes that some of the characters may be picked up for inclusion in future publications.
With 58 new characters from which to choose, many of them women, all of them African, the graphic world's diversity would decidedly change, Kakuve's creator, Sae, said.
She added that the possibility of influencing change is the most significant piece of the project for her.
"As I'm doing this, I'm kind of making a difference," she said.