Wilberta "Billie" Eastman
Comments Off

on Wilberta "Billie" Eastman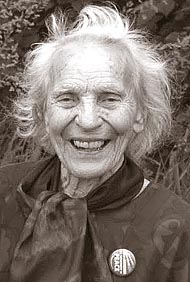 Wilberta "Billie" Eastman died Friday, Nov. 1, 2019, at Friends Care Community. She was 98.
Billie was born July 8, 1921, the second of two daughters to Roy and Bernice Raecher, in Wesley, a small farming community in western New York. Billie was strongly influenced by growing up on a dairy farm during the Depression. She thrived, spending time with her father learning farming, carpentry and agricultural skills, and throughout her life preferred spending time outside on her tractor, gardening, raising chickens and teaching her children basic woodworking and building skills. Undaunted by large projects, she undertook the construction of a major addition, doubling the square footage of the modest Eastman family home.
After graduating from Cattaragus High School in 1939, she attended a school of Folk Art and Artisanry where she refined her woodworking and craft skills, later delighting her children and grandchildren by carving animals and fairy tale figures, and building doll furniture and train sets. In 1942, she attended Antioch College, where she met and later married her husband, Richard Eastman, on July 8, 1945.
Her religious faith was a spiritual guide throughout her life. She was raised in the Methodist Church and became a Quaker in 1945, adopting the faith of her husband. With a strong belief in nonviolence, she supported her husband's decision to become a conscientious objector, moving with him to Philadelphia after he was drafted into the Civilian Public Service. Her later work in civil rights and hosting a student from Kenya for four years was consistent with her Quaker values. In their later years, she and her husband studied the Course in Miracles together.
Nutrition and health were enduring passions of hers. Ahead of her time in understanding the benefit of healthy eating, she ground her own flour and baked bread so that her children could take whole wheat sandwiches to school during the Wonder Bread era. Her insistence on breastfeeding was considered shocking during a time when doctors adamantly recommended formula as the best nutrition for infants. During the 1950s, she stocked a Nutrition Shelf with whole wheat flour and organic products in the local grocery store and later founded the Better Health Co-op and introduced Aruyvedic Medicine to Yellow Springs and surrounding areas so that others would have access to healthy food.
Community was important to her. She loved living in Yellow Springs and was always willing to be of service to others. After learning that the former Bryan High School was going to be turned into a maintenance center and garage, Billie and her friends were successful in leading the initiative to preserve it as the Yellow Springs Community Center. She and her husband were part of founding the Vale, an intentional community, located just outside Yellow Springs, where they lived nearly 60 years. The last five years of her life, she enjoyed the fellowship of staff and residents living at the Friends Care Center and the friendship of her two caregivers, Erin Hankie and Lavena Lichtenfels.
Billie and her husband were active folk dancers and kept the community folk dance alive for many years. Living close to the earth and sharing her love of nature with children brought her joy. Physical work was her idea of fun — a concept about which she was teased unmercifully by her children.
Billie was preceded in death by her husband of 66 years, Richard (2011) and her son John (2014). Her surviving family will miss her deeply. She is survived by John's wife, Terri Eastman, of Miamisburg; and children Rachel Newmann (and Bill), of Olympia, Wash., David (and Jean) Eastman, of Guilford, Vt., and Roy (and Heidi) Eastman, of Yellow Springs. She adored her ten grandchildren, Leila (Tim) Peterson, Eric (Becky) Dimick Eastman, Robin and Bryan Eastman, Donovan (Meggin) Eastman, Ben (Stephanie) Eastman, Sarah (Christian) Murphy, Jessica (Michael) Farrell, Nick (Becca) Eastman, Luke Eastman; and 14 great-grandchildren, Joey, Pete, and Harry; Alex and Ted; Nate and Lillian; Connor, Charlie and Landon; Gemma and Abigail; and Corey and Anna.
A memorial service will be held in Yellow Springs at the Rockford Chapel on Saturday, Dec. 7, 2019, at 2:30 p.m. Memorial gifts may be sent to Antioch College, c/o the Advancement Office, One Morgan Place, Yellow Springs, OH 45387 or the American Friends Service Committee, 1501 Cherry Street, Philadelphia, Pa. 19102.