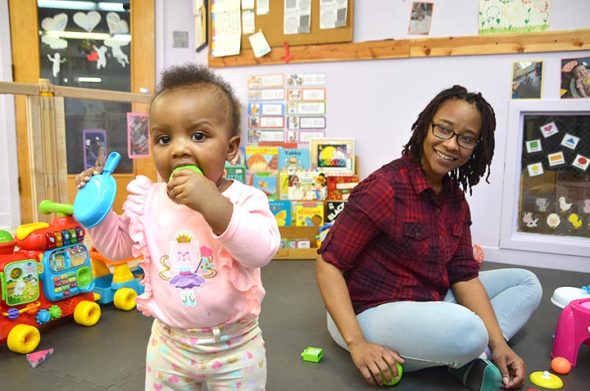 The Yellow Springs Community Children's Center administration has decided to close the local day care center temporarily, rather than continue operation as a designated "pandemic child care" facility. The facility's last day for the duration of the state-ordered shutdown of all other day care operations was Wednesday, March 25.
The state had approved the center, which serves about 85 children from infancy to 12 years of age, for a pandemic child care license, which is now necessary to remain in operation effective Thursday, March 26, through April 30. Gov. Mike DeWine announced the new requirement during his daily press conference Sunday, March 22, though he had warned earlier in the month that child care centers would be closed soon, along with the state's previously shuttered kindergarten through 12th-grade schools, which shut down for at least three weeks effective March 17.
Children's Center Executive Director Malissa Doster said Tuesday afternoon that some of the facility staff did not feel comfortable complying with the additional procedures — including a six-student limit per classroom and increased distancing practices — that came with staying open. They also worried about taking the coronavirus home to elderly or medically vulnerable relatives.
The primary purpose for allowing some day cares to remain in operation was to serve the families of medical staff, police officers and other health and safety responders, Doster said. The local child care center has two or three families that fall under that description, she said, adding that care is still available to them through other pandemic licensed facilities in the area. A list of approved centers is on the website for the Ohio Department of Jobs and Family Services.
While the children's center saw about 30 youngsters in attendance last week, that number had dropped to 15 by Monday of this week. Doster said a large percentage of those were the children of staff members. The number of school-aged children, who typically attend as part of the after-school program or come when elementary schools are closed, averaged at about seven last week, after the K-12 grade schools closed. Four were in attendance on Tuesday, following the governor's stay-at-home order that went into effect this week.
The center currently employs 18 people, including Doster. Before the stay-at-home order, they planned to use the anticipated closure as a time to clean, paint and take care of other odd jobs around the facility. With the new order, however, Doster said she will continue to work but from home, and the rest of the staff will be laid off through the closure period so that they can apply for unemployment benefits.