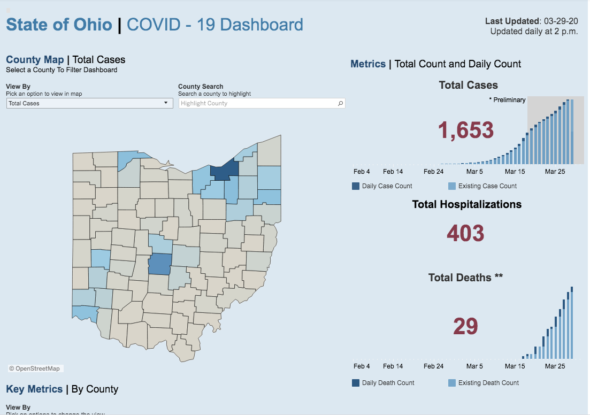 Ohio cases rise to 1,653; mask sterilization process approval near: Highlights from the governor's March 29 briefing
Highlights from the governor's Sunday, March 29, press briefing—
UPDATE 3/30: On Sunday night, March 29, the FDA granted approval to Battelle to proceed with their mask sterilization process without a daily limit, according to a press release issued by the office of Ohio Gov. Mike DeWine.
Mask sterilization process approval near
President Donald Trump has assured Ohio Gov. Mike DeWine that by the end of the day FDA would approve a new process, developed in Ohio, to sterilize used surgical masks, DeWine reported at a short press briefing on Sunday, March 29.
Columbus-based Battelle has developed a process that could sterilize up to 80,000 used N95 masks per day in the state, and send its new technology to other areas hard hit by the coronavirus. However, in a decision released Saturday, the FDA only authorized the company to sterilize up to 10,000 masks per day.
"I was quite angry," DeWine said of the decision.
However, after calling Trump earlier on Sunday, DeWine said he received assurances from the president that the process would soon be approved.
"He said he would do everything he could to make sure this got done today," DeWine said. "I told him the gravity of this, not just for Ohio but for other areas. He told me he would take action, which I am very grateful for."
DeWine said that with the anticipated "surge" of COVID-19 patients needing hospitalization, there is not enough personal protective equipment, or PPE, in the state, or from the strategic national stockpile, to keep healthcare workers safe. The masks are also used by first responders and nursing home staff, and the problem is already acute in the state, DeWine added.
"People are wearing them much, much longer than they normally would," he said. "We have some people who need them who don't have them today."
Battelle President and CEO Lewis Von Thaer appeared at the press conference over video. Using their new process, which involves subjecting the masks to hydrogen peroxide vapor for several hours, N95 masks can be cleaned and reused 20 times, Von Thaer explained. The company is already working with several hospitals in the Columbus area to clean their masks. In addition, the company is exploring ways to sterilize other PPE, he said.
If approved by the FDA, Battelle's process would alleviate the shortage of N95 masks in the state, Von Thaer added.
"We should be able to keep up with demand for some time in Ohio," he said.
Ohio cases rise to 1,653
In other news, the number of confirmed coronavirus cases in the state increased by 18% to 1,653 cases. It was the smallest reported daily increase since the first case was confirmed on March 9. However, testing remains limited and the likely number of cases is much higher, according to the Ohio Department of Health. There are now 403 people hospitalized with COVID-19 and 139 who have been admitted into the ICU. So far 29 Ohioans have died.
Highlights from the governor's Saturday, March 28, press briefing—
UPDATE, 3/29/20: A press release from Gov. Mike DeWine expresses "deep disappointment" with the FDA for its decision to limit the use of new technology developed by Ohio-based Battelle to sterilize up to 160,000 surgical masks per day in Ohio. Instead, Battelle is authorized to sterilize 10,000 masks per day, and is prevented from sending its technology to other states. DeWine in his March 28 briefing had made an appeal to the FDA to approve the sterilization technology to help maximize the supply of protective equipment for healthcare workers and others.
Governor appeals to manufacturers for more PPEs
Gov. Mike DeWine appealed to Ohio manufacturers today to help produce more surgical masks, gowns, gloves and other crucial items for use by hospitals to treat patients with COVID-19.
"We have a real shortage," DeWine said, noting that Ohio's share of personal protective equipment, or PPE, from the national strategic stockpile was not enough to meet the needs of hospitals in the state.
DeWine and Ohio Health Director Amy Acton have spoken at past briefings about an upcoming "hospital surge" of people critically ill with COVID-19. At yesterday's briefing, they identified two weeks as the timeframe for that surge, based on new models by the Cleveland Clinic.
Ohio hospitals are working to build out capacity by two- to three-fold to meet the anticipated surge in patient admissions. The state has been divided into eight regions for the purpose of hospital planning, and reports from each of those eight regions will be finalized at noon on Monday, March 30, with further details released publicly then.
Regarding the need for protective gear, DeWine held up a poster with the "10 most wanted" items listed in no particular order:
Using conservation measures, hospitals still require an estimated 66 PPEs to care for one patient for one day in the UCU, Ohio officials have said.
DeWine made two other direct appeals at the March 28 briefing. One was to the federal Food and Drug Administration, or FDA, for approval of new technology developed by Battelle, the Ohio nonprofit research and development organization, to sterilize surgical masks, allowing for their reuse.
If approved, each machine would be able to sterilize 80,000 surgical masks per day, according to DeWine. Two machines would operate in Ohio, facilitating the sterilization for reuse of 160,000 masks each day. The company would also send machines to other states, DeWine said.
DeWine also appealed to LabCorp and Quest, two nationwide testing laboratories that operate in Ohio, to more quickly report COVID-19 testing results to the state health department.
"Please get us those results. We have to have them in real time," he said.
Ohio Health Director Dr. Amy Acton echoed the appeal, urging the companies to provide the Ohio Department of Health with both positive and negative test results to facilitate the state's tracking of the illness.
1,406 cases, 344 hospitalizations; Greene County cases
Ohio now has 1,406 known cases of COVID-19, with 344 people hospitalized from the illness, including 123 in ICU. Statewide, there have been 25 deaths from the illness.
As she has emphasized in past briefings, Acton cautioned today that the reported figures represented the "tip of the iceberg."
Greene County remains steady at three reported cases. A dataset posted to the Ohio Department of Health website shows that two of the cases were male, one in his 20s and one in his 60s. The other case was a woman in her 50s. None of the individuals have been hospitalized, according to the dataset.
UPDATE, 3/29/20: All three of the Greene County cases were people employed at Wright-Patterson Air Force Base, a Greene County Public Health spokesperson confirmed on Sunday in response to a question from the News.
To view more detail on the state's numbers, visit the Ohio Health Department dashboard.
Acton reported the good news that Ohio is succeeding in "flattening the curve" of the illness through social distancing measures. While 10,000 new cases per day — the current estimate of the disease's spread at its peak — sounds high, the new case rate would have been 50% to 75% higher without social distancing, she said.
In response to a question about the modeling behind the latest projection of 10,000 new cases per day, Acton emphasized social measures as a key variable in modelers' equations.
Lt. Gov. Jon Husted added that he had reviewed the new models and come away with this insight: "We impact the ultimate number by how we behave."
To view today's press briefing, posted to the Ohio Channel, click here.
Highlights of yesterday's briefing are reposted below from the Yellow Springs coronavirus updates and resources page:
Highlights from the governor's Friday, March 27, press briefing—
Ohio cases now 1,137; peak could be 10,000 new cases per day; hospitals prepare for surge; federal aid described
Ohio now has at least 1,137 confirmed cases of COVID-19, according to the March 27 figures from the Ohio Department of Health. That number is a 31% rise over yesterday's reported figure.
Greene County, meanwhile, held steady at three reported cases of COVID-19.
Total hospitalizations are now 276, including 107 in the ICU. Total hospitalizations so far represent about 25% of all confirmed cases, a little higher than the 20% anticipated by Ohio Health Director Dr. Amy Acton.
State figures now show that at least 19 people have died from the illness.
Gov. Mike DeWine at today's press conference warned Ohioans that the virus would "kick in much harder" within the next two weeks, triggering sharp increases in hospital admissions.
And new modeling from the Cleveland Clinic projects that Ohio could see as many as 10,000 new cases per day at the peak of the epidemic here, according to Ohio Health Director Dr. Amy Acton. That peak could come in mid-May, she said.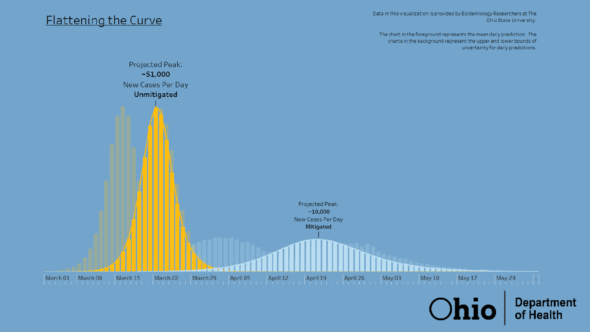 To treat the seriously ill, Ohio hospitals will need to expand their capacity by two-to-three times, DeWine said today. Hospitals and state officials have been working urgently to do that, he added.
"We are closing up planning, now moving to the action" phase of hospital response, he said.
A statewide plan for rapidly increasing hospital capacity is being developed, with the state divided into eight planning/response regions. DeWine said a final plan would be submitted to the state by each region by noon on Monday, with details to be released to the public at that point.
Ohio National Guard General John Harris is overseeing the operational aspects of the rapid hospital build-out, DeWine said.
Acton said that Ohio's hospital bed capacity, or the proportion of beds filled, is currently at 56%, down from over 70%, thanks to the state order that went into effect March 18 prohibiting elective surgery. That means there is currently 46% hospital bed availability across the state. Yet that availability will be quickly overwhelmed by COVID-19 cases without tripling existing capacity, Acton said.
"No healthcare system is built to withstand a pandemic" like this one, she said.
Ohio will be expanding its bed capacity by converting wings of existing hospitals, bringing closed hospitals back online, taking over empty dorms and floors of hotels and even potentially setting up a hospital within the Ohio Expo Center, Acton said.
Ohio's healthcare system is also working to redeploy healthcare workers, conserve and expand its supply of protective equipment and modify lifesaving equipment such as ventilators to allow a single machine to support multiple patients.
Also at today's press conference, Sen. Rob Portman, R-Ohio, spoke by phone to describe the $2 trillion federal coronavirus relief package just passed by the U.S. House (and later today signed into law by President Trump). Portman highlighted the significance of the $150 billion in relief that the bill provides to hospitals and healthcare providers through grants and Medicare/Medicaid payouts.
"It may be enough, it may not," he acknowledged.
The bill also includes numerous provisions designed to help employees who have lost their jobs and help employers keep people employed. In addition, all Americans who make less than $75,000 annually will get a one-time payout of $1,200 in the mail.
And as expected, Gov. Mike DeWine at today's conference signed HB 197, an emergency response to COVID-19 that includes provisions waiving state-mandated testing requirements, extending the professional licenses of nurses, allowing local government to hold virtual meetings in temporary suspension of Ohio's Sunshine laws, extending the Ohio tax filing deadline to July 15 in line with the federal tax deadlines and extending the 2020 primary to April 28 with all voting by absentee ballot.