State to make spending cuts: Highlights from the governor's March 23 briefing
This is an unprecedented response and an unprecedented disease. -Dr. Amy Acton
Ohio Gov. Mike DeWine has asked his cabinet members to trim up to 20% off of their budgets immediately, he said at the March 23 briefing. DeWine also imposed an immediate hiring freeze and freeze on contract services at the state. The governor reasoned that with many businesses shuttering and employees losing their jobs, the state will realize less tax revenue.
"Commercial activity is slowing down dramatically across the state of Ohio," DeWine said."We knew this would happen. State revenues are going to go down dramatically. It's important as governor to take action now."
DeWine, along with Ohio Department of Health Director Amy Acton, also addressed the state's "stay at home" order, which goes into affect on Monday, March 23, at 11:59 p.m. Acton said the state is doing "everything in our power to keep people at home" to stop the spread of the virus. In conjunction with "case investigations" of those who have the disease, the measures will hopefully "flatten the curve of infection" to buy time for a healthcare system that has a limited number of supplies, including personal protective equipment.
"The lockdown that you're hearing about, our stay at home order, is crucial in these next few weeks," Acton said.
Asked when that order, and other recent restrictions, might be lifted, Acton said as soon as the state get's through the "hospital surge" and can ramp up hospital capacity and begin other interventions. She added that they are unprecedented measures designed to fight an unprecedented disease, which is twice as contagious and 20 times as deadly as the seasonal flu.
"We don't have immunity. We don't have treatment," she said.
DeWine echoed the response.
"I'm very aware of how much suffering is going on, how many people have lost their jobs. We had to do what we had to do, we had to protect life and that's the most important thing that we can do," he said. "We'll move away from this as soon as we can."
Latest cases
According to the latest figures, there are now 442 cases of COVID-19 in the state, spread across 46 counties, including Greene. The illness onset date ranges from Feb. 7 to March 23. The age range is from less than 1 year to 93 years old, with the median age of 52 years. There have been 104 hospitalizations and six deaths. Deaths were recorded in the counties of Cuyahoga (1), Erie (1), Franklin (2), Lucas (1), Stark (1).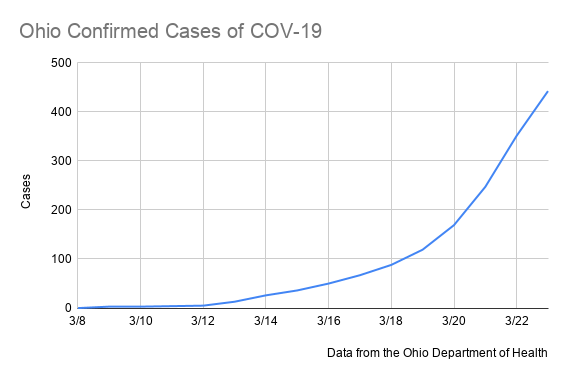 While releasing the figures, Acton noted that the state remains limited in its testing, with many more Ohioans likely carrying the virus. In addition to community spread, Acton said there were several clusters of cases, including at a nursing facility in Miami County. Asked where the state is in its "curve" of infection, Acton said the very early stages.
"We're on our sharp way up [the curve] unfortunately," Acton said. "We are still at the very tip at the beginning of it."
Other updates
In response to a question from a reporter, DeWine said he would not comment on whether the state order prohibiting elective surgeries applies to an elective abortion. He directed the reporter to the Ohio Attorney General, which is reviewing the matter.
Asked about a possible outbreak of COVID-19 at the Dayton Correctional Institute, where a reporter said 240 inmates are being quarantined with flu-like symptoms, DeWine said measures are being taken to separate new inmates from the general population. DeWine did not directly answer a question about whether county jails are decreasing their inmate population, noting instead that transfers from jails to state prisons is rising.
"What has gone up is the number of people coming to the state prison," DeWine said. "That's an alarming fact, and we're concerned about that."
Lt. Gov. Jon Hustead declined to give any updated figures about those seeking unemployment payments through the State of Ohio, saying that the U.S. Treasury Department has asked states to not release unemployment figures.
In response to a question about why Ohio has not released how many Ohioans have been tested for the coronavirus and received a negative result, Acton said that with hospitals and other entities doing their own testing, she has been unable to acquire those figures.
"We equally would like to know how many tested," Acton said.