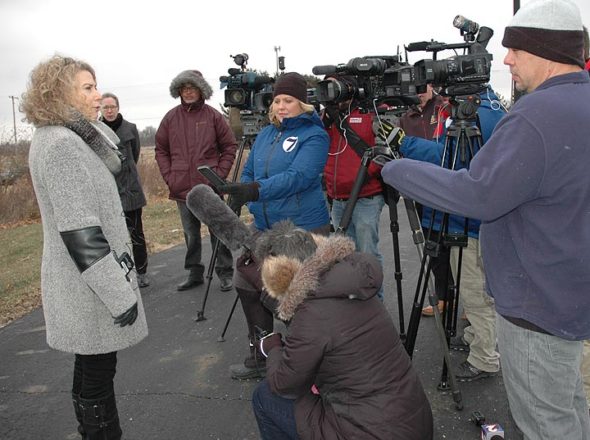 The Board of Directors of the Yellow Springs Chamber of Commerce announced last week that Executive Director Karen Wintrow will leave her position at the Chamber. Her last day in the position will be Friday, Oct. 23.
According to a press release submitted by the Chamber, Wintrow is moving with her husband, Ted Donnell, to Orange County, N.Y. The release stated that the couple had planned to move in order to be closer to their son, Lucas, and that the move had been intended for further down the road, but "became possible sooner than expected."
Wintrow was the Chamber's director for the last 13 years and was a longtime Village Council member and Council President.

Special Events Coordinator Alexandra Scott will serve as interim director after Wintrow departs, beginning on Oct. 24.
"We are sorry to see Karen leave, but very happy for her and wish her and her family all the best," said Chamber Board President Gary Deer in the release. "We're certain that Ms. Scott will do a fantastic job keeping everything moving and we have a dedicated board ready and willing to assist as needed."
Wintrow stated in the release: "I know that the board and staff of the YS Chamber will continue the work we started, with the support of our members; village, regional, and state government; and the vast local leadership determined to keep Yellow Springs the community we all love while moving it forward in a creative, mindful, and progressive direction."
Wintrow moved to Yellow Springs with her husband and son in 1995 and since served in a variety of leadership positions within the community. Most significantly she was a Village Council member for 12 years, serving three consecutive terms. Wintrow served as Council's president for five of those years.
Due to COVID-19, the Yellow Springs Chamber of Commerce office is currently operating on limited hours, but staff are available as needed. For more information, contact Scott at 937-767-2686.
A full story will appear in an upcoming issue of the News.