Rachel Brookshire McKinley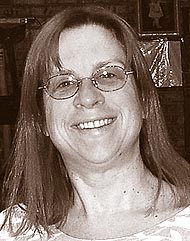 Rachel Brookshire McKinley passed away peacefully surrounded by her family, in the comfort of her own home, on Jan. 18, 2021. She was 63 years young.
Diagnosed a year ago with an aggressive form of pancreatic cancer, she was determined to hold on long enough to cast her vote for Joe Biden and Kamala Harris in November 2020 and was thrilled to see their election confirmed in January 2021.
Rachel was born in Eugene, Ore., on Jan. 6, 1958, to Kenneth and Barbara Brookshire. Her father was working on his doctorate in psychology at the University of Oregon at the time and her mother was working as a nurse. The family moved to Canada for a brief spell and then to Lancaster, Penn., where she spent her childhood years while her father taught at Franklin and Marshall University. A sabbatical leave took the family to Turku, Finland, for a year, and they spent part of their time touring around Europe. This experience seeded Rachel's lifelong zest for travel and getting to know and understand distant lands and cultures.
After her father accepted a position in the psychology department at Wright State University in 1972, Rachel moved with her family to Yellow Springs. A high school freshman at the time, she enrolled in Yellow Springs High School, where she played viola in the orchestra. She also played piano and would practice pieces over and over until she got them just right. She was persistent in pursuit of perfection. She also played basketball and soccer, participated in School Forest and loved taking riding lessons at The Riding Centre. After graduating in 1976, she went to Ohio Wesleyan University, majoring in anthropology and sociology, and graduating in 1980.
Rachel got in the numbers racket early in her life. She worked for the state as a disability claims examiner before moving to San Francisco, Calif., for work and to be close to her grandmother, in the mid-1980s. Returning to Yellow Springs in 1990, she continued to use her growing financial acumen to work for various pension plan companies and in community positions. For several years, she was the treasurer of the Village of Yellow Springs and served as the financial assistant for the Yellow Springs Community Foundation. She held financial positions for a number of local organizations, volunteered her services with community groups and helped establish a local women's investment group.
A meeting with Doug McKinley that was arranged by mutual friends led to their wedding on Sept. 16, 1995. Their two children, Zoey and Kenneth, brought much joy to Rachel. Wanting to spend more time with them while they were young, Rachel switched to part-time work as a bookkeeper for various businesses and organizations around Yellow Springs. When her children were young, she coached a Bronze Cup soccer team and served on the boards of the Sea Dogs and Pony Club. Family vacations were a highlight of every year and echoed the travel experiences of her youth. Some of the favorites were Glacier National Park, Hawaii, Maine and Florida. A special treat was returning to Turku, Finland, and touring northern Europe in 2019, while visiting her daughter who was studying in Copenhagen, Denmark.
Rachel loved nature, gardening and trying to figure out ways to keep the deer, rabbits and raccoons from dining on what she planted. She was a fixer, always trying to resolve problems and make things better. She was well-read and had a sharp mind and strong opinions that she was not afraid to share. She was wry and matter-of-fact and did not carry grudges. She moved forward and did not look backward. She was a devoted daughter and wife and best friend to her sister.
Rachel was passionate — about her family, politics, Yellow Springs, and the success of her children and her niece and nephew. She stayed connected to her large circle of friends and relatives. Spontaneous and fun-loving, she was ready to skinny dip in a remote part of Glen Helen or embark on a road trip to Florida with a friend to celebrate their 60th birthdays. She was one of a kind.
Rachel was preceded in death by her father, Dr. Kenneth Brookshire, and her brother, Chris Brookshire. She leaves behind her husband, Doug, and two grown children, Zoey and Kenneth; her mother, Barbara Brookshire; sister, Victoria "Tory" Brookshire; nephew, Aaron Smith; niece, Alexis Smith; brother-in-law, Jeff McKinley (Jeff Hall); aunt, Judy Brookshire Bryant; and a host of friends and acquaintances who carry her memory in their hearts.
Rachel remained positive throughout her illness and was both touched and strengthened by the love and support she received from the entire town and her friends. "I have had a good ride," she said.
The family plans to hold a celebration of her life when it is safe to do so.