Edward 'Ted' Russell Leuba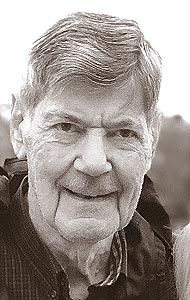 Edward Russell Leuba passed away peacefully on Feb. 23, 2021, of natural causes, with his wife of 67 years, Millicent Chace Leuba, by his side. He was 90 years old. His mark was 90, and he reached it, after a full, productive and loving life.
Ted was born in Bryn Mawr, Penn., on March 28, 1930, the third of six children of Clarence James Leuba, for many years the chair of the Psychology Department at Antioch College, and Frances Eddy Briggs Leuba, a graduate of Bryn Mawr College. Ted grew up in Yellow Springs, Ohio, where he graduated from The Antioch School and Bryan High School. He had wonderful, clear memories of walking to school through Glen Helen Nature Preserve as a youngster, and had a deep and abiding love of nature. He was a precocious environmentalist and remained a dedicated conservationist his entire life.
After his high school graduation, his godmother, Katharine Elizabeth McBride — president of Bryn Mawr College from 1942 to 1970 — gifted him a car which he drove to NYC to visit family on one of many adventurous road trips. He spoke often of her kind generosity.
Ted graduated from Miami University in Oxford, Ohio, where he met his wife Mimi, also a student at Miami. He was a member of the Sigma Alpha Epsilon fraternity and Mimi was a Tri Delta. They married on March 7, 1953. As a young couple they bought property in Yellow Springs and Ted designed and helped build their family home. He worked at Vernay Laboratories during his Yellow Springs years.
Ted served as an officer with Army intelligence in the Korean War from 1952 to 1956. He and Mimi moved to Birmingham, Mich., in 1965, where they raised their young family of four kids. Ted worked for Amp, Incorporated, servicing the Detroit car industry. He was an avid skier and tennis player, and taught his kids how to do — and love — both, and regularly "schooled" his kids and grandkids in croquet. He coached his sons' baseball teams, built a high jump in the backyard and encouraged neighborhood touch football games in the front yard. He was a vocal proponent of equal funding for male and female sports. Ted and Mimi developed deep, life-long friendships with other families in Birmingham, and engaged passionately in social activism.
The family moved to Easton, Conn., in 1972 when Ted took a job as a Marketing Manager with Burndy Corp. They lived in their Easton home at 910 Sport Hill Road for 47 years. It is an Easton treasure, built circa 1832, the site of the first Baptist parsonage. Ted and Mimi, in later years as empty-nesters, biked nearly every weekend, and then converted to daily walks. Ted mapped out their walking routes, making it a goal to cover as many Easton country roads as possible. He was also a big help to Easton sanitation, picking up any and all debris along the way. Ted and Mimi enjoyed decades of quiet evenings playing Scrabble and listening to classical music.
Ted is survived by his wife; his four children, Pam Bramble and her husband Frank Bramble, Jennifer Leuba and her husband Victor Hou, John Leuba and his wife Alicia Lay Leuba, and Tom Leuba; and by nine loving grandchildren, Kate, Caroline, Stephanie, Spencer, Chace, Yeats, John, Will and Catherine. He is also survived by two younger sisters, Betsy Petersen and Kathy Burlitch and her husband Jim Burlitch; sisters-in-law, Elizabeth Chace Pulley and Carol Leuba; and 18 nieces and nephews.