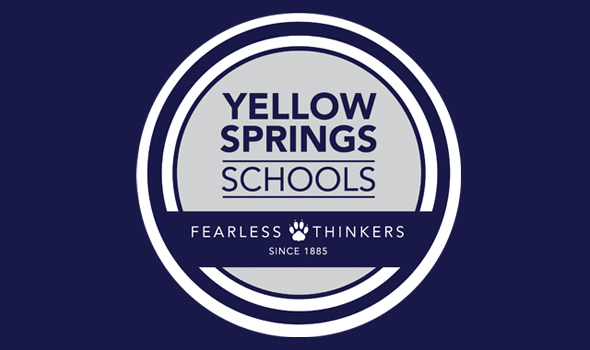 Yellow Springs schools— BOE approves 100% in-person instruction
More than a year after all K–12 schools in Ohio temporarily closed in response to the COVID-19 pandemic, and months after most neighboring districts returned to in-person instruction, Yellow Springs public school students will go back into the classroom full time beginning Monday, April 5.
The school board unanimously approved the measure, as recommended by district Superintendent Terri Holden, during its most recent regular meeting Thursday, March 11. Board members and administrators met in person in the Mills Lawn School gym, wearing masks and sitting spaced apart at individual fold-out tables, while the meeting, which was closed to public attendance, was broadcast live on the district's online YouTube channel. The digital connection was broken, however, a little over an hour into the meeting, cutting off further live observation; but the district posted an apparently complete recording, including about 15 additional minutes, to the YouTube platform over the weekend.
The board's vote Thursday was mostly anticipated in that Holden had reported during a board work session the Saturday before of her intention to propose a fuller return for students this spring. The district has been on a hybrid schedule, combining online and limited in-person instruction, since March 1 — a move prompted by the governor's mandate tying school staff vaccinations to a commitment to return to in-person school at least partially by that date. Holden said during the work session that the hybrid approach was proving more difficult than anticipated for students, families and teachers. At that time, she said she was considering the introduction of a four-day, rather than a full, five-day schedule.

On Thursday, however, Holden said that "upon reflection," and after "talking to some teachers and parents," she feels that a total, 100% return "provides us the consistency that we need." She supported her recommendation by reading a document — later posted on the district's website — that she wrote outlining her rationale, including citations of opinions from pediatricians and other health officials. She also noted that Yellow Springs had sustained a more conservative approach than many districts throughout the past year, and asserted that "safety remains the primary concern."
She noted that, as of March 3, 70% of Ohio's 609 districts were in a full-time instructional setting; 29% were hybrid, like Yellow Springs; and 1% were continuing remotely.
"In addition to the negative academic and mental health impacts a complete virtual learning or hybrid setting has on students, these types of academic settings also put incredible demands on parents and families," Holden said.
Another factor in favor of a full return, according to Holden, is the vaccination of 93% of school staff, who received their second of two doses Friday, March 12.
Board members, for their part, expressed support for the instructional change, though some of their comments were inaudible on the meeting recording due to distance from their microphones and muffling from their face masks.
"I think this is the right thing to do," board President Steve Conn said, addressing Holden before the vote. "I think you are quite right to say that the district has been very conservative. [At this time,] the risks of keeping our students at home far outweigh the risks of the virus itself. For myself, I feel very excited about this. I appreciate the research that you've done. I'm very pleased that this is on the table for our consideration."
As someone with a health-compromised family member, Sylvia Ellison said she recognizes that the pandemic's continuing existence will give some people pause about the safety of a full return to school.
"This is hard stuff," Ellison said.
But her mind is eased, she added, by the understanding that case numbers are going down within the district and there had been no new cases in town within the prior couple of weeks. She said she is also confident that more information is known about successful mitigating factors, such as mask-wearing.
"The science is clear that masks work," Ellison said.
She asked that the entire community continue to be cautious and follow safety recommendations.
"Anything that anybody is doing outside of school will also impact how well things will go in our schools," she said.
Board member Steve McQueen said he shares some "nervousness" about a full return, but he also has heard from a number of families who desperately want it. He characterized these parents and guardians as people whose opinions may not have been heard, as they don't participate in social media or call or write school administrators.
They "would rather come to me personally," he said.
"I do believe that we can do it," McQueen added. "I do believe that we are small enough and conscious enough that we can do it."
Concern for students and families has been and will remain "of utmost importance," board member Aïda Merhemic said.
"I think it is time to be back, and I'm glad you're encouraging this at this point," she said, addressing the superintendent.
Board member TJ Turner, who has three children in the schools, echoed the -sentiment.
"I agree it's time to go back," he said, but also noted that "it's good to be flexible," and the district should continue to follow the science and watch the numbers. The current decision doesn't rule out a different decision later if circumstances call for it, he said.
Conn reiterated his support.
"I think we can do this," he said. "I'm confident that this will be the right thing for kids."
In other school board business March 11:
Community comments: The board accepts community comments at the beginning of its meetings, before addressing any business and closing discussions to further participation. For the meetings presented online, comments are submitted through the written "chat" feature.
Writing last week were high school student Echo Dickens, asking that the district not implement a full return to the classroom this school year; parent Eric Clark, asking about the distance maintained between students in school; and parent Sommer McGuire, who complimented Echo for the points she raised.
Echo noted that the pandemic "is not over yet," and new strains are developing.
"The students do not have vaccines, and they go home to people who are not vaccinated," she wrote.
She also said that students are not being as cautious as they should.
"The lunch lines are less than three feet apart, and careless kids are in bathrooms with their masks off," she wrote. "Why not keep the rest of the year hybrid?"
Finances: "We have some good news," district Treasurer Tammy Emrick told the board last week, reporting that over the first eight months of the fiscal year, overall revenues have come in $280,000 over projections, and expenditures have been $417,000 under anticipated spending.
In total, the district is $700,000 ahead of budget, Emrick said.
"I don't know how long that will last, but I will take it," she added.
Bike path: The board unanimously approved the sale of a strip of land along the southern edge of the middle/high school campus for the construction of a bike path connecting East Enon Road and the Agraria farm property. The Village has agreed to purchase the parcel for $60,000, plus attorney and survey fees, with the understanding that Agraria will pay off a portion of the selling price over the next 15 years.
College Credit Plus: The board approved separate College Credit Plus agreements with Wittenberg and Wright State universities that allow Yellow Springs students to earn college credit while still in high school.
Personnel: Personnel matters approved by the board included a resignation notice from middle/high school physical education and health teacher Kate Lohmeyer, effective Aug. 1, and the anticipated retirement of high school English teacher Desiree Nickell in June.
Summer school: Holden reported that the state has asked for a "summer extended learning plan" to be submitted by April 1. Toward that goal, she has sent out a survey to families asking what they might want or need, such as reading and math tutoring, high school credit recovery, experiential outdoor/environmental learning and arts programming. She said she will bring the plan to the next board meeting, Thursday, April 8.