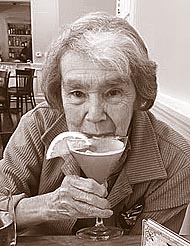 Patricia Spencer Maneri (Patty), beloved wife, mother and grandmother, passed away peacefully on April 4, 2021, at the age of 89 in Cincinnati, Ohio.
Patty was born on Nov. 2, 1931, in Cleveland, Ohio, to Thomas Ray Spencer and Mary Ellen Harrington Spencer. As Patty liked to put it, she was "as welcome as a skunk at a garden party," the sixth child of a dying mother in the middle of the Great Depression. Nonetheless, Patty was a welcome addition to her large and exceptionally loving family.
Patty met the love of her life, Carl Maneri, in high school when a matchmaking English teacher contrived to have them both working on the Parma Schaaf High School newspaper. Patty and Carl graduated from high school in 1950 and married in 1953, when Carl was a student at Case Institute of Technology. Patty and Carl moved from Cleveland to Columbus, Ohio, when Carl entered graduate school in mathematics. As Carl's career advanced, they moved to Chicago and then to Syracuse, N.Y., before settling in Yellow Springs in 1965 when Carl began working at Wright State University.
Yellow Springers may remember Patty as the proprietor of The Molladoor, an antiques and second-hand store that she ran with her dear friend, Evelyn Sikes, from 1974 until 2005. Patty was a fixture of the downtown scene where, most days, she and Evelyn could be found playing Scrabble and dispensing friendship and wisdom from their store. The store never made much money, but it did turn Patty into a cutthroat Scrabble player — Carl was never able to beat her at a game. Her competitive spirit also appeared in her surprising arm-wrestling ability — another area where she was routinely victorious over Carl.
Patty was a lover of poetry and instilled a love of words in her children and grandchildren. She was fascinated by the Bloomsbury Group and voraciously devoured biographies of Virginia Woolf and her associates. Most of all, she was intensely social, had a wonderful sense of humor and loved being with friends and family more than anything. Those closest to her will remember the marble table in her kitchen as the site of warm and inviting conversations, usually over popcorn and Diet Pepsi, that would last into the wee hours — soaring from the sublime to the ridiculous and back again.
Patty is survived by her husband, Carl Christopher Maneri; her daughters, Joan (Joanie) Maneri (George Romansic, deceased), Kathleen (Kassie) Maneri (Mark Horiuchi), and Maryellen Maneri Daston (George Daston); her grandchildren, Madelena (Maddie) Romansic, John Lewis Romansic, Takeko (Taki) Horiuchi, Charles (Char) Daston, and John (Jack) Daston; her brothers, Thomas Harrington Spencer and Paul Edward Spencer; a host of nieces and nephews, including Barbara and Richard Bullock, of Yellow Springs; and many, many friends too numerous to name, but most definitely considered family.
The Maneri family will be planning a memorial service that will take place in Yellow Springs in September 2021, at a time and place to be determined.