MVECA to move, expand — New owners for 888 Dayton Street
A commercial building on the edge of town has a new tenant — and a new owner.
Yellow Springs-based information technology provider, Miami Valley Educational Computer Association, or MVECA, has purchased 888 Dayton Street.
MVECA will soon move its offices and data center from the Greene County Educational Services Center facility across the street at 330 E. Enon Road, where MVECA has leased space since 1988.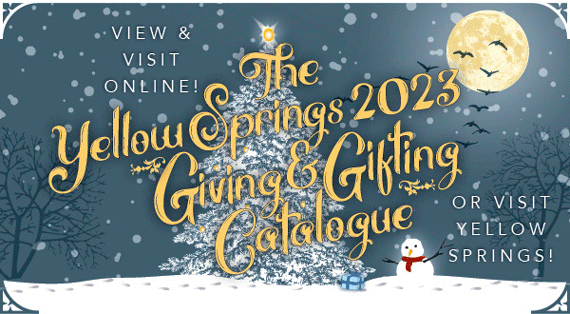 One of 18 information technology centers in the state licensed by the Ohio Department of Education, MVECA provides computer services to school districts and governments across the area, including Yellow Springs Schools. The nonprofit consortium has 40 employees and an annual budget of $11.4 million.
According to villager Thor Sage, MVECA's executive director, the move will help the organization better serve its members and continue to grow.
"We're excited," Sage said. "This is a big upgrade for us."
MVECA purchased the 10-acre property in late July for $2.4 million from Christine and Ken Soward after the departure of Graphic Village, formerly DMS Ink, a printing and direct mail company that Christine Soward had moved to the village from Dayton in 2016.
Cincinnati-based print marketing firm Graphic Village, which purchased DMS in 2020, closed the Yellow Springs facility earlier this summer, moving the operation to the company's location near Cincinnati.
MVECA will occupy about 15,000 square feet of space in the 94,000-square-foot building, including a portion of the production area for its data center and part of the warehouse.
Other tenants of the building will stay, including Community Physicians of Yellow Springs, which is owned by the Kettering Health Network; Yellow Springs Primary Care; Yellow Springer Tees' production site; and a private professional office.
Additional space is available to lease for offices, light industrial activities and warehousing.
MVECA plans to invest in the facility, with upgrades planned for its roof and HVAC system, and looks to offer free high-speed internet to its tenants, according to Sage.
"We really want to develop the spaces," he said. "Free fiber is going to be a perk of living out here."
In the meantime, Ken Soward will stay on as building maintenance manager.
In addition to tenant revenues, the move offers numerous other benefits to MVECA, Sage noted.
For one, moving into a space three times as large as its current facility will allow MVECA to bring back employees who have been working from home during the pandemic.
MVECA has outgrown its space at the Greene County Educational Services Center, where it has no windows and recently was forced to convert a storage room into much-needed office space, Sage said.
"We're sardined in there," he said.
As a result, the organization recently started to look at office space within, and outside of, the village. MVECA considered the Union School House, but repairs and upgrades would have cost more than the 888 Dayton Street purchase price, Sage said. Also prohibitively expensive was the former Antioch University Midwest Building at 900 Dayton Street. Another option was the recently vacated Greene County Career Center in Xenia Township.
But 888 Dayton Street rose to the top due to its close proximity to the current facility, where its fiber infrastructure was already in place, Sage said.
Another benefit is the availability of various breakout rooms, which will be invaluable for the trainings that MVECA provides to school district personnel, Sage noted.
"We do a lot of training of school treasurers and fiscal officers, along with customized, one-on-one training," he said.
The new facility will additionally help MVECA grow as it brings on new clients and invests in fiber optic infrastructure in the Miami Valley, where it has recently laid more than 100 miles of fiber optic backbone with hopes of expanding access to affordable internet services.
"Broadband is a big, big deal in today's world," Sage said. "Access to broadband has become so crucial to our economic health."
MVECA was originally founded in 1980; since 2006, it has been organized as a Regional Council of Governments and is run by a board made up of member school districts and educational service centers.
But while MVECA is focused primarily on serving public schools, it's been able to keep costs to districts low by offering internet services to governmental clients, Sage explained.
As a result of this pivot, over the last decade, MVECA has grown from 16 employees and 24 school district accounts plus a handful of municipal governments to 40 employees and more than 160 accounts, including the cities of Springfield, Centerville, Kettering and Miamisburg, according to Sage. Its annual budget nearly quadrupled in that time.
MVECA may also provide the fiber backbone and internet access for a Yellow Springs municipal broadband utility, a pilot project for which is now underway. In fact, Sage and MVECA have been involved in local discussions around municipal broadband for several years as part of SpringsNet.
Village Manager Josué Salmerón hailed news of the purchase as an "exciting opportunity" for the village, as the community retains both the technology and expertise to make municipal broadband a reality.
"We are able to retain our only data center, so it is a critical element to our broadband strategy," Salmerón said this week. "By retaining MVECA, we are better positioned for a full-village broadband expansion."
Salmerón said the Village was concerned when MVECA began eyeing facilities outside of Yellow Springs. In addition to the impact on municipal broadband prospects, MVECA could have taken with them 40 high-paying jobs and the associated income tax revenue.
"They are one of the larger employers here," Salmerón said. "They are good-paying jobs, tech jobs."
Retaining MVECA helps make up for the loss of jobs with the closing of Graphic Village's Yellow Springs operation, which Salmerón said contributed $12,000 in income tax last year.
DMS/Graphic Village had downsized its workforce in recent years, from a high of 75 employees in early 2018, to 40 by June 2020. A planned 50,000-square-foot expansion at the property, for which DMS received a tax abatement in 2016, never came to pass. Company leaders blamed the deregulation of the healthcare and financial services industry and the COVID-19 pandemic for business declines, according to prior News reporting. Graphic Village did not respond by press time to News requests for more recent employee figures.
Reached by phone last week, Mark Weinstein, Graphic Village's director of marketing, said that DMS was one of 14 other companies Graphic Village acquired in recent years, and that it "made sense to consolidate them under one roof." The company is owned by a private equity firm.
The last decade has seen the transformation of 888 Dayton Street, where the business then known as the Antioch Bookplate Company originally built an office and production facility in the 1970s for its printing business.
When DMS, another printing-based company, came to town, they bought the 12-acre property in 2016 for $1.57 million, including an undeveloped parcel north of the building. Before that, it was owned by Yellow Springs, LLC, a group of investors from California and around the country. They had purchased it for $700,000 in 2013 from The Antioch Company, which moved the last of its Creative Memories scrapbooking production operations to St. Cloud, Minn., in 2012 before folding a few years later. At that time, the facility was already hosting multiple tenants, including eHealth Data Solutions and Antioch University. The property was later rezoned to a planned unit development to allow for a variety of mixed uses, and in 2014, both Dr. Donald Gronbeck (Yellow Springs Primary Care) and Community Physicians opened medical offices there.
Looking ahead, Sage sees much opportunity in the facility for both MVECA and other organizations. A large warehouse space, multiple loading docks, high electric capacity, a large production area and more could be a boon for a variety of businesses, including tech companies.
And MVECA, as a nonprofit already interested in expanding technology access in the region, is well placed to help, Sage believes.
"We're not about profits; it's about the health and welfare of our communities," he said.