Author Gaia Cornwall visits Mills Lawn
On Monday, Jan. 31, students in Heidi Hoover and Debra Mabra's second grade classes at Mills Lawn Elementary School got a special virtual visit from author Gaia Cornwall.
Both classes are big fans of Cornwall's books, particularly "Jabari Jumps," in which the titular Jabari addresses and moves past his fear of jumping off the diving board at the community pool. Another favorite is "Jabari Tries," where Jabari must use patience and determination to get his flying machine off the ground.
Students spent about an hour with Cornwall, asking questions about her writing process, her inspiration and her upcoming book, "The Best Bed for Me." Students also talked with Cornwall about their own writing processes and practices; Roxanne Miller is pictured here talking about the stories she likes to write and share with friends.

Of particular interest to students was whether or not Cornwall is planning to write a third Jabari book.
"I have so many ideas for Jabari, but right now I don't have plans for another one," Cornwall said.
She added: "But do you have ideas? Maybe you could write one!"
The class had lots of ideas, which they shared with Cornwall and their fellow classmates over the course of the hour, including the suggestion that Jabari's family should expand. As one student suggested: "The next one should be called 'Jabari Gets a Cat!'"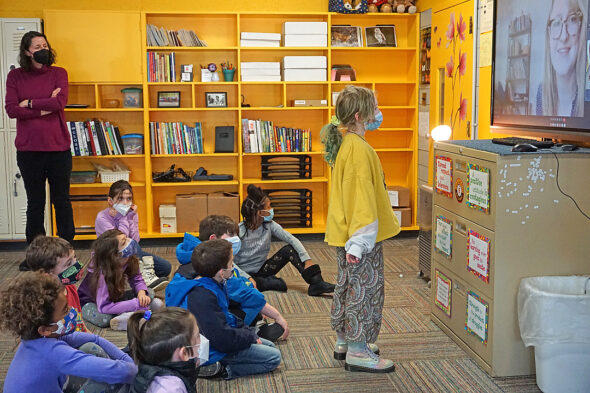 The author mentioned that Jabari is based on her own cousins — who are now much older — as they were when they were small. She said she chose the name "Jabari" because it sounds similar to the name of one of her cousins and because the name means "brave" in Swahili.
Cornwall's virtual visit came after the author heard Mabra reading excerpts of "Jabari Jumps" on WYSO's "Read Aloud Radio" series, which is produced by Hoover's husband, Jonathan Platt, and reached out to the teachers.
"We were very excited when you got in touch because we read 'Jabari Jumps' every year with our second graders," Hoover told her during the virtual visit.
To listen to excerpts from "Jabari Jumps" on WYSO's "Read Aloud Radio," visit
bit.ly/3AMLwe1. —LS