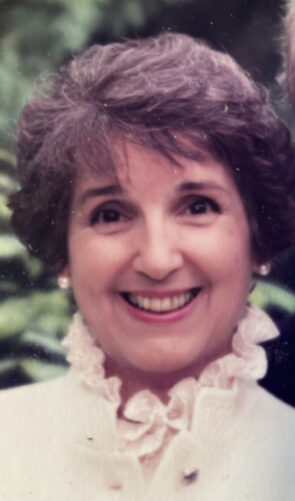 It is with great sadness that the family of Mary Joan Kennedy, age 89, announces her passing on Monday, Jan. 31, 2022. Although triple vaccinated, MJ's body could not fight the effects of COVID-19, for which she tested positive on Jan. 14. MJ and husband, Ken, were residents of Yellow Springs for 59 years, until they moved into a senior living community in Illinois in 2017.
MJ was born on Aug. 27, 1932, in Detroit, Mich., to John and Helen (Swidan) Kausch. MJ graduated from Monticello College, in Godfrey, Ill., in 1952. It was during this time that she met Ken. They married in November 1952, at the Kausch family home in Bloomfield Hills, Mich.
MJ had a zest for learning new skills. The greater the challenge, the more she persevered.
Her love of drawing led her to take the Famous Artists Course, but she was largely self-taught. She explored paper-cutting art, creating 11 illustrations of circus acts and clowns for a children's picture book. Although never published, it was later collected under one cover by her family. She produced technical drawings for Wright-Patterson Air Force Base, or WPAFB, and NASA publications, which were frequently authored by her husband Ken.
Her flair for color was an asset when she began work for her brother, Jack, owner of a professional photography studio in Birmingham, Mich. For this work, MJ learned the skills to do photo enhancement, which she accomplished freehand, with the use of an airbrush and, eventually, with Photoshop. She is probably best known in Yellow Springs for her Scare Bugs.
Over the course of many trips to the Great Lakes, she gathered smooth basalt stones and painted them as magical little bugs that promised to scare your troubles away.
MJ loved to cook and bake. As a member of Evening Couples, a cooking club at WPAFB, she took her turn co-hosting international gourmet meals. She attended many cooking seminars and owned well over 200 cookbooks. She expanded this passion to wedding cakes. Upon taking the Wilton Cake Decorating courses, plus traveling to Oklahoma to receive coaching from her cousin and bakery owner, Alex Swyden, she was able to perfect her skills at baking and decorating professional-quality wedding cakes.
MJ volunteered her time for many causes. Most notably, in 1984, she worked toward the successful passage of a levy for Greene County Children's Services, which provided funds to fully staff the agency. This work also sensitized her to the need for private homes to care for infants awaiting adoption, as well as adolescents who needed a temporary foster family. Ken and MJ took in several adolescents and infants, some for a few months, but one baby, Kavelle, stayed for over a year. MJ maintained a relationship with Kavelle and her adoptive family for many years.
MJ was preceded in death by her husband, Ken, to whom she was married for 67 years. She was also preceded by two siblings: brother, Jack, and sister, Margaret. MJ is survived by her sister, Judy. She is also survived by her three children, six grandchildren and one great-grandchild. They are daughter Mimi (Dana Solt), of Mt. Prospect, Ill., and grandchildren Ellen and Derek; daughter Kim (Jim Boucher), of West Jefferson, Ohio, grandchildren Katherine and Louis and great-grandson Benjamin; son Chris, of Delaware, Ohio, and grandchildren Ethan and Carleigh; honorary daughter Niki (Bob) Taylor; and honorary granddaughter Crystal (Eric) Mayer.
Celebration of life arrangements will be made at a later date, and since Ken's celebration has been on hold due to COVID safety precautions, both lives will be celebrated jointly — which is unexpected, though apropos for two people so in love.
Donations can be made to World Central Kitchen, founded by Jose Andres. The WCK provides emergency food relief around the globe, and is currently assisting the people of Ukraine.