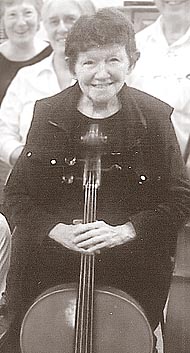 Sharon L. Hatfield, beloved twin sister of Shirley Hatfield, transitioned peacefully on Feb. 21, 2022. Sharon was 81, born in Dayton, Ohio, on Jan. 5, 1941.
Sharon will be remembered as a beloved Yellow Springs musician and music teacher, and for her Music Trails program that enabled so many to find their musical paths. She will also be recalled by Yellow Springs as the trusty bookkeeper for many local businesses and organizations.
Hers was a consciousness that was ever-evolving. Once an officer in the Air Force, her path led her to the Peace Corner in Yellow Springs. Her journey formed the person we know and love: a person of peace, justice, kindness, wisdom and just plain old good common sense.
Sharon, old soul and wise woman, was most at home with all that was natural, simple and humble. We remember her love of and pleasure in all that was dear to her: cello and music, nature and gardening, cats, reading, her beloved friends and loved ones, and Yellow Springs. She was the best and truest friend anyone could have.
Sharon loved the simple and straightforward way. Her gentle, peaceful transition was in keeping with that. While she would appreciate our holding her in our hearts in loving memory of the lovable, funny, wise and feisty Sharon we know, we can also just hear her, when that transition time came, uttering her famous pronouncement: "Let's just cut to the chase."
Sharon's dearest wish for her dear friends and loved ones would be that you find comfort in her peaceful transition and joy in the memory of a life fulfilled.
Sharon's soulmate connection with her sister, Shirley, and with her dear friend-like-a-sister, Sandra Jessen, will endure forever.
Sharon will be remembered with a plaque in Glen Forest Memory Gardens. In lieu of flowers, donations would be appreciated to Tenth Life (cat rescue), P.O. Box 178, Alpha, OH 45301.