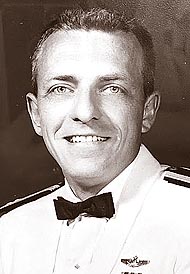 James P. Walsh Jr., of Yellow Springs, passed away at the age of 91 on April 28, 2022, after a month-long illness. Jim was born in Allentown, Pa., on Sept. 13, 1930. A graduate of Central Catholic High School, he attended Mount Saint Mary's College in Emmitsburg, Md. He graduated in 1952 with a degree in biology and a minor in chemistry.
Jim intended to go to medical school, but a draft notice from the Army changed his plans. He decided he would rather serve in the Air Force, officially enlisting in the USAF in December 1952, just days before he was due to report to the Army. During his career he flew KC-97 and KC-135 Aerial Refueling Aircraft as a part of the Strategic Air Command.
While stationed at Lockbourne Air Force Base — now Rickenbacker Air National Guard Base — in Columbus, Ohio, he met his future wife, Shirley DeWine. The couple wed in February of 1958 at St. Paul Catholic Church in Yellow Springs.
Their daughter, Carolyn, was born in 1964 while they were stationed at K.I. Sawyer AFB in Marquette, Mich. From 1966 to 1967, he was stationed at Maxwell AFB in Montgomery, Ala., where he attended USAF Squadron Officer School and USAF Command and Staff College. While there, he was notified that he was headed to Vietnam. The couple purchased a house in Shirley's hometown of Yellow Springs where she would have the support of family and friends during his absence.
After returning from Vietnam, Jim was stationed at Wright-Patterson Air Force Base as an aviation research test pilot. He was stationed at Wright-Patt from 1969 until his retirement as a Lt. Colonel in 1975.
After retiring from the Air Force, Jim worked in retail until his full retirement in 1992. During retirement, Jim took great pride in his yard, honing skills he had learned from his father-in-law, Robert DeWine. As he continued to improve his landscape year after year, he received many compliments. Some people even asked for a tour. He also became a fan of computers, and spent many hours downloading music from his youth.
Jim's health declined after open heart surgery in June 2020. On March 17, 2022, Jim was taken to Soin, where it was discovered he had a blood infection. While able to fight that off, his health continued to decline. He passed away on April 28, 2022. The family would like to thank the doctors, and particularly the nursing staff, in the Intermediate Care Department at Soin, for their kindness to the whole family during Jim's stay there.
Jim was preceded in death by his parents, James P. Walsh Sr. and Marion P. (Hering) Walsh, as well as all six of his siblings. He is survived by Shirley (DeWine) Walsh, his wife of 64 years. He is also survived by daughter, Carolyn; son-in-law, Mark Powers; grandson, Danie; and great-grandson, Alec.
Visitation will be held Thursday, May 5, noon–1 p.m., with the funeral service immediately following, at Jackson Lytle & Lewis Funeral Home in Yellow Springs. Jim will be laid to rest at St. Paul Catholic Cemetery. Expressions of sympathy may be forwarded to the family by visiting http://www.jacksonlytle.com.