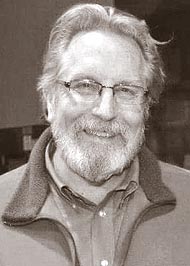 Longtime Yellow Springs resident Dr. John "Jack" P. Layh passed away on Nov. 23, 2022, in Jacksonville, Florida, from COVID-19 complications.
Jack was born in Long Island, New York, to Charles and Crystal Layh. He was the eldest of three brothers and spent his childhood in the greater Dayton area. Jack attended Colonel White High School in Dayton, Ohio, and graduated in 1964. He was among one of the first graduating classes at Wright State University, where he obtained his bachelor's degree in 1968, followed shortly by a master's degree in psychology in 1970.
During his time at Wright State, Jack served as the president of the College Democrats group and was heavily involved in social activism at the time. Jack went on to attend Ohio University and completed his doctorate in clinical psychology in 1979.
Throughout his life, Jack was motivated by a strong belief that people have the right to mental health treatment. This passion, including the desire to help those in need, led him to play an integral role in building many community mental health agencies in the greater Dayton area, including the Dayton Free Clinic in 1969, the Clark County Big Brothers Big Sisters Program in 1978, the Mental Health Unit of Greene Memorial Hospital in 1980, and TCN Community Mental Health Center in 1989.
Jack served as clinical director for both TCN and the Mental Health Unit of Greene Memorial Hospital during his time with those organizations. In addition, Jack was actively involved in the Dayton Area Psychological Association, where he served as a former president. In Yellow Springs, Jack founded one of the largest private psychology practices in the area, Layh & Associates, which has been actively serving the community for more than 40 years.
Despite many of his professional accomplishments, Jack often cited his biggest achievement as being the father of his four daughters and grandfather to his six grandchildren. Jack loved to talk about being a "girl dad" and the joy he had in spending time with his family. He is remembered best as a wonderful father, a loving partner, a dear friend, a colleague to many, a community leader, a "terrible," but good-humored, golfer, a thespian, a lover of music, an amazing cook, a world traveler and a kind soul.
He is survived by his younger brother, Chris Layh; his partner, Darlene Russell; his daughters, Tami Davidson, Amy Layh, Suzanne Langley and Marlee Layh; his nephew, Brian Layh and family, Pam, Reese and Ashton; his sons-in-law, Neil, Sean, Jeremy and (soon-to-be) Jon; and his grandchildren, Alyse, Layah and Liam Granat and Morgan, Charlie and Zoe Langley.
A celebration of life will be held at the Vernet Ecological Center at Glen Helen on Dec. 26, 2022, 2–6 p.m. Guests are encouraged to wear Hawaiian shirts in Jack's honor. In lieu of flowers, the family asks that donations be made to Big Brothers Big Sisters of Central Ohio.