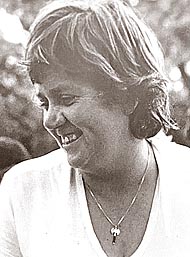 Jackie Sue Davenport passed away on the morning of March 11, 2023, at Springfield Hospital. Her best friend, Jane, was by her side. In the weeks prior, Jackie's hospital room was the loudest and most rambunctious on the floor, overflowing with friends and family showing her love and support until the very end. She was 77 years old.
Born Nov. 18, 1946, to Earl Davenport Sr. and Georgia (Woodall) Davenport, Jackie was the second youngest of seven children. She, her younger sister, Yvonne, and older brother, Earl Jr., were the only children to survive past infancy. At the ages of four and five, Yvonne and Jackie were sent to live at the Ohio Soldiers' and Sailors' Orphans' Home in Xenia by their mother. Georgia was a single mother battling lymphoma and would pass away just a few months after dropping off her girls at the home.
Jackie graduated from the OSSO Home in '63. She was a bright student, though feisty and a jokester; a student athlete and lover of history, but she hated sewing class! Jackie attended Central State University, pursuing a degree in physical education. After three years at college she found a job at the Antioch Inn, and decided to leave school for work. In the meantime, she gave birth to her beautiful daughter, Joretta Yvonne Davenport, in 1972. A few months later, she purchased her home in the village. That same home would become a Mecca of togetherness and community for generations to come. In 1974, her sister Yvonne moved in with her five-year-old daughter, Jackie — named after her sister — Diane. The two sisters raised their daughters along with Jackie's dear friend Joretta (Cox) Hamilton and her son, Joseph Hamilton. Their family became a safe haven for their children's friends, their grandchildren and their grandchildren's friends. The door was always open, and they are remembered affectionately by so many who credit the Davenport sisters with raising them.
In July 1974, at the prompting of James A. McKee, Jackie, who was working as a Village building custodian, applied for a position as waste water operator, a position historically only held by men. She loved her job and loved serving her community. She worked for the Village for 33 years before retiring in May 2007. She kept serving her community with the continuation of hosting the Union School House Halloween bonfire, a favorite in the area. She became well known for the bonfire that burned the latest, and she continued hosting up until last year, marking over 40 years.
Jackie's love for sports was unparalleled. Through her adult life she played, coached and refereed basketball, softball and volleyball, just to name a few. She was a force to be reckoned with on the local recreational team the Robinettes, and eventually took over managing the team. Jackie collaborated with her neighbor and friend Mary Kay, whose Winds Cafe became the official sponsor of the team. Eventually, the Robinnettes disbanded, and Jackie, along with her friend Jane King Hamilton, created their own women's traveling softball league named "Expresso." Women from all over joined the team and brought their spunk and passion for the game to ball fields all over the Midwest. This group of ball players, known as "The Sisters," shared an unbreakable bond of friendship. The Sisters were frequent visitors at the Davenport house, and remain Jackie's dearest friends. Jackie ran "Expresso" until retiring the league in '99. She continued her community volleyball league at the Bryan Center for over 40 years until COVID hit in 2020. Hundreds of people have played and benefitted from her life and love of athletics.
Outside of sports and family, Jackie loved nature. She has likely driven past your house, binoculars in hand, as she was an avid bird watcher. She and her sister spent days at a time tending their gorgeous gardens. Fishing was one of Jackie's favorite hobbies. She and Yvonne had a competitive nature and did daily crosswords together or battled it out over a game of Upwords. "The Sisters" regularly hosted rowdy card games with lots of trash talk and laughs. Jackie was an extremely talented writer and artist and frequently drew amazing pictures of her grandchildren, beloved pets and nature scenes. She was a dedicated matriarch to her whole family and community and will be missed desperately.
Jackie was preceded in death by both her parents; her older brother, Earl Jr.; and her "Favorite Sister" Yvonne, who passed away in February 2021.
She leaves behind her dearest daughter, Joretta; her beloved niece, Jackie Davenport Strolger; and loving nephew Shahkar Strolger, as well as nephew Joseph Hamilton, who holds a special place in her heart; also her extended nieces and nephew Tom Davenport, Lisa Marie Davenport, Tara Cox Raj, Arrianne Cox Ortiz and their wonderful families. She also leaves her cherished grandchildren, Alex, Miles and Milo Strolger and Moriah Johnston, who were staples in her life and happiness; as well as many friends, especially her "Sisters."
A brief graveside service will lay Jackie to rest Saturday, April 15, at 2 p.m., at Glen Forest Cemetery. A reception will be held at The Winds Cafe on Sunday, April 16, at 2 p.m. Friends and community members are welcome to attend both events.