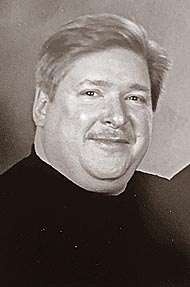 Mark Alan Hasser was born Aug. 7, 1951, and passed Dec. 5, 2022, at home. Mark had not been feeling well for several months.
Mark had two cats, Tommy and Smoky, but no children. Mark was preceded in death by his mother, Wilma June (Sheridan) Hasser; his father, Cecil Francis Hasser; and girlfriend, Lynn Bayes. He is survived by brothers Robert (Gwendolyn) Hasser, Greg Hasser, Steve (Jane) Hasser and sister Laura (Todd) VanLehn; nephews Steve and Barry Hasser; and nieces Stephanie, Jacquelyn and Shannon Hasser.
Mark enjoyed sports, especially the Cincinnati Reds, Dayton Dragons, Cincinnati Bengals, Cleveland Browns and Dayton Flyers. He attended many games, including world series games and final four basketball tournaments. He enjoyed riding his 1940s-era Indian Chief and Honda Four motorcycles. He loved to work and cook. Out of high school he worked at the lunch grill in the Fairborn Ponderosa, then went on to his shift at the GM plant in Moraine. He was a devout UAW union member and was involved with union events and affairs. He participated in softball leagues in the Dayton area, playing for union teams. When his playing days were over, he organized and ran several leagues and tournaments in the Dayton area.
Mark was generous and frugal at the same time. He would give his mom and dad his older cars when he replaced them. His parents enjoyed them, especially the Cadillac. Yet Mark would look at dozens of pounds of bacon to see which had the least amount of fat before putting it in his shopping cart. Mark was quick to let you know his opinion, many times when it was not solicited. Mark and Lynn, the love of his life, generously provided his home to host the Campbell Reunion, where all ate too much of Mark's barbecued ribs, one of his many specialties.
When Mark retired, he settled into his beautiful rural Clifton Road home with his girlfriend, Lynn Bayes. They enjoyed traveling and attending auctions and ball games. They enjoyed their scenic yard, where they watched the flocks of wild turkeys and herds of deer. They joined the Yellow Springs Independent Order of the Odd Fellows Lodge #279. There, they enjoyed cooking for the Odd Fellow suppers held just before the second and fourth Tuesday evening meetings and assisted as street guards during the Fourth of July Parades.
Mark was devastated when Lynn passed. He acquired cats as companions, the last two were Tommy and Smoky. Mark continued his independent lifestyle, watching sports on television, cooking and baking the best chocolate chip cookies and making the best Christmas fudge.
The family requests no flowers; donate to your local animal shelter if you wish. A celebration of Mark's life will be held Thursday, March 30, 2023, 2–4 p.m., at Jackson Lytle & Lewis Funeral Home, Yellow Springs. The Order of Odd Fellows will honor Mark with a service beginning at 3:45p.m. Condolences may be expressed to his family by visiting jacksonlytle.com.