New cannabis store opens in downtown Yellow Springs
When Shane Ayrsman and his wife, Sarah DeVore, started growing hemp plants and processing hemp oil at their farm in Oregon, they didn't think much about the retail side of the business. But after years of learning about CBD, its medicinal effects and the business side of the industry, the couple has newly opened a store —Tweedle D's — on Xenia Avenue, in the heart of downtown Yellow Springs.
Ayrsman and DeVore, who recently moved back to the village, said their main goal in opening a store here is to fill a need — relief from pain, anxiety and other ailments that can be aided by hemp oil and other hemp products. Ayrsman, who grew up in the village and graduated from Antioch College in 1998, said his interest in organic farming came out of a co-op experience he had while pursuing his undergraduate degree.
With a commitment to organic farming, Ayrsman and DeVore moved to Williams, Oregon, to start Bare Roots Farm, where they grow hemp plants and process them for hemp oil. They learned about processing by working alongside other farmers, and they created their own product.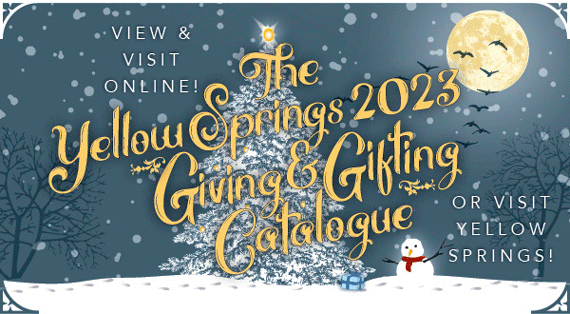 "We kind of whittled our way in [to the industry]," Ayrsman said.
As a part of the boom of hemp farmers, Ayrsman and DeVore realized that there was an oversupply of hemp and hemp products on the market.
"Everyone wanted to get into the hemp market in Oregon," Ayrsman said. "At the height there were between 100[,000] and 125,000 planted acres of hemp; that crashed and now there's a few thousand acres planted."
After years of farming and processing hemp and CBD products — including their own brand of oil — the couple decided to open a retail space to sell not only their own products, but also the products of other organic farmers they have met and worked with. The couple owns a Florida-based store, Roots CBD, where they sell CBD and hemp products from the Oregon-based farm they continue to operate.
Asked about the name of their Yellow Springs store — Tweedle D's — DeVore and Ayrsman said it was a play on the name of one half of the famous pair Tweedledum and Tweedledee. The pair, Ayrsman said, are similar, but they are not the same, much like CBD and THC, which both come from the cannabis plant.
"We didn't want to put ourselves into a box, like with the branding of our product, Roots CBD. That works in Florida, but anybody that comes to Yellow Springs recognizes there are also a lot of thinkers and people who know we're not just selling CBD," Ayrsman said. "Tweedle D, to me, says that it's kind of the same as the other stuff, but not quite."
Cannabidiol, or CBD, is one of the three major components of the cannabis plant. According to Medline.gov, CBD oil has several approved prescription uses including treatment for epilepsy, pain and anxiety. As part of the 2018 Farm Bill, the FDA approved cannabis derivatives containing less than 0.3% THC — the part of the cannabis plant that produces psychoactive effects. Tweedle D's shelves will be filled with products derived from the different parts of the cannabis plant, such as CBD oils, Delta-8 and Delta-9 products, CBN, CBC and other cannabinoids.
One of Ayrsman and DeVore's goals for their store is to break some of the stigmas associated with hemp and educate people on the differences between the plants that produce CBD and THC. The first step, Ayrsman said, is to change the image that comes to mind when someone mentions CBD.
"When people think of [CBD products] they think of products from a gas station or smoke shop," Ayrsman said. "That's the barrier we are trying to bring down. Instead, think of a lotion or a droplet that mixes with water. It's on your desk at work because you're having a lot of stress or anxiety."
"We want people to look at our products in a new way," DeVore added. "It's not merely meant for [getting high] anymore. It's plant medicine."
Part of changing the understanding of CBD and other hemp products is educating the public about the uses and effects of hemp, THC, and CBD products. The products that Ayrsman and DeVore sell are formulated to work with the cannabinoid receptors humans have in their bodies.
"[Our products] provide an entourage effect," Ayrsman said, describing the way that CBD can work alongside other parts of the cannabis plant. "We are offering a synergistic product."
DeVore said the couple envisions the store to be more of a destination than a store customers pass through quickly.
"Walkthroughs will be a little tricky for the education piece, so we plan on having handouts, educational materials and classes in the future for people," DeVore said. "When people come to our store in Florida, they almost get a counseling session."
Acknowledging the lack of regulation for some CBD and hemp products, Ayrsman said it is important for customers to know where the product they are consuming is grown. DeVore said they often have customers who have tried different products at doses that are too high; in turn, they present lower dose options to customers and explain how to incrementally increase their dosage until they get the desired effect.
"We know exactly where all of our products come from and what they can do." Ayrsman said. "We're bringing people closer to the plant."
Reflecting on the experience of moving back to Ayrsman's hometown and starting a business, he and DeVore said they are excited to share their knowledge with the village.
"It's been refreshing to come back to town and help the people who made me who I am," Ayrsman said. "Come by and say hi!"