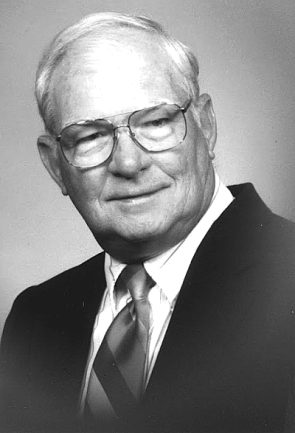 Donald Lee Deardorff, 91, of Yellow Springs, Ohio, was united with his Savior on March 29, 2023. He is survived by his beloved wife, Patty McAllister.
Don was born April 23, 1931, in South Charleston, West Virginia, the second son of Henry and Rose (MacAllister) Deardorff. He married Dorothy Ann Frizzell on Dec. 15, 1950, and they celebrated almost 65 years of marriage. Don studied journalism in college and then pursued a long career as a chemist and plant manager for Teknor Apex and Union Carbide. He earned his Ph.D. in organic chemistry from Purdue University. After retiring from industry, he established his own chemical lab, Gould-Randco, and registered a number of patents, leading to collaborations with major corporations, including DuPont and BASF.
Don and Patty met through the Cedarville University Senior Jackets and were married on May 1, 2016. Don enjoyed spending time with their combined family, including Patty's son, Mike McAllister; daughters, Beverly (David) Helms and Kelly (Jeff) Nelson; grandchildren, Cath Browning, Sarah (Megan) Mueller, Jan (Jose) Navarro, Jake (Sierra) McAllister, Andrew Nelson and Rachel (Caleb) Barnes; and great-grandchildren, Maisie and Micah Mueller, Carlos and Melina Navarro and Carter, Korina and Colton McAllister.
Don will be remembered for the care he took of his family, his close relationships with friends and his commitment to the United Methodist Church throughout his lifetime. He was an avid golfer and enjoyed crafting custom clubs for family and friends. He spent many hours coaching youth baseball and working on home improvement projects.
In addition to his wife, Don is survived by his son Randy, and daughter, Susan (Alfred) Hammons; grandchildren, Lisa (David) Raposa, John (Maggie) Deardorff and Daryn Hammons; great-grandchildren, David, Jacob and John Raposa, John, Maisy, and Zoey Deardorff and Hemi Hammons; sister-in-law, Page Deardorff; daughter-in-law, Julie Deardorff; and other dear family. He was preceded in death by his wife Dotty and his son Donald II, as well as his brother, Dr. W. Alva Deardorff. Arrangements will be handled by Jackson, Lytle & Lewis Funeral Home, with a memorial service on Saturday, April 15, at 11 a.m., at Yellow Springs United Methodist Church. In lieu of flowers, donations in Don's name may be made to the Don Deardorff English Scholarship at Cedarville University, 1000daystransformed.cedarville.edu/ Condolences may be left for the family by visiting jacksonlytle.com.