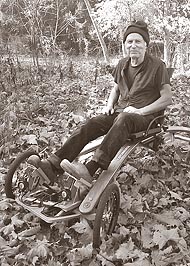 Daniel L. Pelzl, age 81, of Yellow Springs, died April 6, 2023, at Ohio's Hospice of Dayton. He was born Nov. 20, 1941, to Francis Joseph Pelzl and Geneva Hershe Pelzl. He grew up on the family's wheat and milking shorthorn cattle farm in Harper County, Kansas, on Sand Creek, near Harper and Danville, Kansas, with his younger siblings, Henry Pelzl and Frances (Leo) Rottering, all now deceased.
Daniel graduated from Harper High School, playing clarinet, first chair, in the band. He attended university, but was called home to replant winter wheat twice due to rains, and remained in farming with his father for a time. He and his father built a house and farm buildings and repaired tractors and equipment, which cultivated Daniel's skills and interest in building and in automotive and other repairs. When they were unsatisfied with the market for the beef side of their shorthorn operation, they built a meat-packing plant in Harper. Daniel designed the plant to be enlarged in the future and to become federally inspected for interstate sales and increased economic productivity. When his father retired and sold the farm and the plant, it was subsequently enlarged and went federal. It is now a major county employer.
Daniel traveled the United States in his Saab Sonett, at one time helping construct a massive steel sculpture, 'Il Donnone,' (The Great Woman), designed by Paolo Soleri at Arcosanti in Arizona, and first installed outside the Scottsdale, Arizona, Public Library. He helped the painter Paul Blaine Henrie, of Laguna Beach, California. He served in the Kansas National Guard, and graduated from Officer Candidate School.
Daniel was interested in building, architecture, having the world work for everyone and truth. Also, he was interested in electric vehicles, prairie and native plants and tiny houses. He read widely, liked to help people and liked to share food that he made.
He came to Yellow Springs to meet Arthur Morgan, former president of Antioch College and writer about successful small communities. Morgan suggested Daniel meet Louise Odiorne, a Yellow Springs landscape architect whom Morgan had engaged to return the Yellow Spring in the college's Glen Helen to a more natural state after being exploited as a water cure.
In Yellow Springs, Daniel helped many people with buildings, landscaping, plants, trees, repairs, plumbing and interesting conversation. His death was unexpected, a result of complications after surgery for blood clots in his lungs.
Daniel is survived by his spouse of 48 years, Corinne Odiorne Pelzl; two daughters, Helen (Mike) Huch, and Rose Pelzl (Jonny No); two grandchildren, Meranda Pelzl and Michael Marshall; nieces and nephews and great-nieces and great-nephews.
A public memorial is to be held Sunday, June 25, 2023, at 11 a.m., in the Great Room of the Yellow Springs Senior Center.