Action, laughs and heart in 'She Kills Monsters'
In the upcoming Yellow Springs High School production of "She Kills Monsters," comedy and drama come together to examine loss through a unique — and for its main character, unexpected — lens: the tabletop roleplaying game Dungeons and Dragons.
The high school will present Qui Nguyen's "She Kills Monsters" Thursday–Sunday, Sept. 28–Oct. 1, in the Mills Lawn Elementary School gym.
Students will perform the "Young Adventurers Edition" of the play, which ages down the characters and tones down some of the original version's more explicit references and language. The story in both versions remains the same: Main character Agnes (Nora Bongorno) attempts to learn more about her late younger sister, Tilly (Isabel Brown), by playing a Dungeons and Dragons, or D&D, adventure Tilly wrote not long before her death.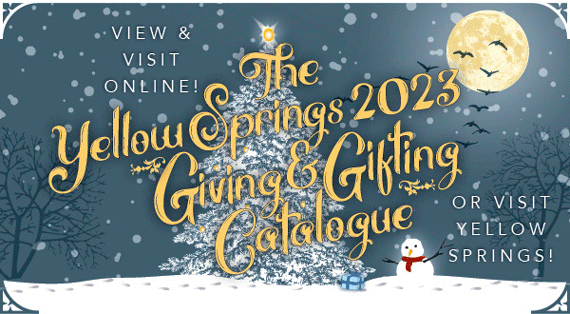 Performing arts teacher and director Lorrie-Sparrow Knapp told the News she selected the comedy-drama last spring for this fall's season opener for several reasons — not the least of which was because of its heavy use of stage combat to depict the many fight scenes that take place within the in-show D&D campaign.
The schools' theater program, Sparrow-Knapp said, has become known for its use of stage combat in recent years — but she also noted that many of the show's cast and crew of young actors were among those who, because of the pandemic, missed out on exciting educational experiences, including the seventh-grade "Into the Wild" excursion and the annual eighth-grade trip to Washington D.C. These students, she said, deserve their own taste of adventure — via the stage.
"I wanted to make sure that we were doing a fight show and give [the students] the opportunity to learn the discipline of stage combat — and this is one of the best shows out there," Sparrow-Knapp said.
Though reflecting the fantasy world of D&D, the show's choreographed fights aim for an action-packed verisimilitude — cast members have worked closely with YSHS alum and fight choreographer Charlie Cromer to bring the fight scenes to life. Alongside Cromer has been student Kaiden McFarlane, who serves as the show's fight master.
McFarlane told the News that, though he dipped his toes into stage combat during last year's production of "Peter Pan," "She Kills Monsters" — with a panoply of axes and swords fit for any fighter or paladin — is more challenging.
"This is a whole new beast," McFarlane said, adding that part of his job as fight captain is to know every step of choreography in the show and serve as understudy if one of the cast is unable to perform.
"I get the actors up to speed on the choreography they need to learn," he said. "It's the actor's job to perform — and even over-perform — so their scene partner feels safe and the audience knows what's happening."
Also upping the ante this year is the fact that "She Kills Monsters" will be performed in the round — that is, with the stage area in the center of the Mills Lawn gym and audience members surrounding the stage on all sides.
"The idea of playing on all sides constantly is important when you're considering movement — especially with combat," actor Sydney Roberts said. "It's part of my job to use the choreography that was given and make sure that it's presentable from all sides."
Roberts — who portrays Tilly's friend Lilly in the real world and the demon queen Lillith within the D&D world — is one of several cast members who play dual roles as Tilly's friends and D&D compatriots and their in-game counterparts, whom Agnes meets throughout the show. Other actors play a variety of monsters familiar to D&D players in the audience: bugbears, kobolds and gelatinous cubes all make appearances. Some of the casting itself also bears out the magical elements present in the game — twins Hannah and Lauren Finney, for example, illustrate a Mirror Image spell in one scene.
"She Kills Monsters" is set in 1995 in Athens, Ohio, before the prevalence of the internet, and the play includes a host of '80s and '90s references that will no doubt appeal to Gen X-ers and elder Millennials in the audience. With its setting in mind, Sparrow-Knapp said the play occasionally uses some language that was common at the time, but sometimes uncomfortable for the play's young cast.
"We've talked about the fact that you can have a weapon in your hand, but words are weapons, too," she said. "Using the script to understand that words can be weaponized has been a very interesting kind of thing; we've had to work our way into it."
Agnes learns through playing Tilly's D&D adventure that her younger sister had secret depths — not only as a master D&D adventurer, but as a person who dealt often with bullying from classmates. Isabel Brown, who portrays Tilly, said playing scenes that depict that bullying — particularly through the use of homophobic slurs — has been a challenge.
"Tilly, as a character, is gay, and so am I," Brown said. "Dealing with that as a character, I've had to learn to separate that from who I am outside of the character."
Separating the real person from the character — as essential to playing D&D as it is to acting on a stage — is an important part of the narrative of "She Kills Monsters." Though Tilly wrote herself into the D&D adventure Agnes plays, all of Tilly's interactions with Agnes as the game progresses are actually performed by Dungeon Master Chuck, a friend and party member to Tilly. Chuck reminds Agnes that though he's speaking in character, he can't speak for her departed sister, and Agnes — and the audience — meditate on whether it's possible to get to know a person after they're gone.
"Will she ever know the truth about her sister?" Sparrow-Knapp said. "No, but sometimes by coming together and having adventures, we can begin to put edges to the missing piece in the middle. It's really a beautiful script."
Though the dramatic elements of the story are powerful, actor Kian Barker — who plays Dungeon Master Chuck — said the show's comedy and its action scenes are just as impressive as the themes lying at its heart.
"There are a lot of different elements — a huge dragon, all these lights and really cool effects and props — I'm really excited for everything the tech crew has cooked up for us," Barker said. "It's a really exciting show."
"She Kills Monsters" will be performed Thursday–Saturday, Sept. 28–30, at 7 p.m.; and Sunday, Oct. 1, at 2 p.m. All performances will be held in the Mills Lawn gym. The show is appropriate for middle school audiences and up.
Tickets are $15 general admission, $10 for seniors and $5 for students, and may be purchased online at bit.ly/3LCG6sm.
Cast: Emily Barth, Kalliope/Kelly; Kian Barker, Chuck; Nora Bongorno, Agnes; Isabel Brown, Tilly; Otto Cipollini, Miles; Adrian Coe, Steve, Bugbear, Beholder, Kobold, Tiamat; Unn Creepingbear, Bugbear, Beholder, Kobold, Tiamat; Ashton Egea-Kaleda, Vera; Hannah Finnery, Farrah the Faerie; Lauren Finney, Evil Cheerleader/Tina; Miles Gilchrist, Orcus/Ronnie; Gini Meekin, Evil Cheerleader/Gabi; Pepper Naziri, Narrator; Sydney Roberts, Lillith/Lilly.
Tech crew: Ram Dobson, Gavin Elliott, Haley Greico, Wolf Lieff, Thomas Moore, Wren Schubel, Ace Sadowski, Antoinette Siegel-Hall, Mylo Bishop-Swanson, Zach Underwood and Ty Wheeler.
Helen Bales, stage manager; Kaiden McFarlane, fight master; Camila Dallas-Gonzalez, costumer.
Contact: chuck@ysnews.com