Basim Blunt named Eichelberger Center executive director
By Truth Garrett
Meet the man behind the groove.
Basim Blunt — the host of WYSO's weekly funk program "Behind the Groove" and a longtime radio producer at the station — was recently named the new executive director of the Eichelberger Center for Community Voices at WYSO. The center, true to its name, aims to train community members in audio production and radio storytelling.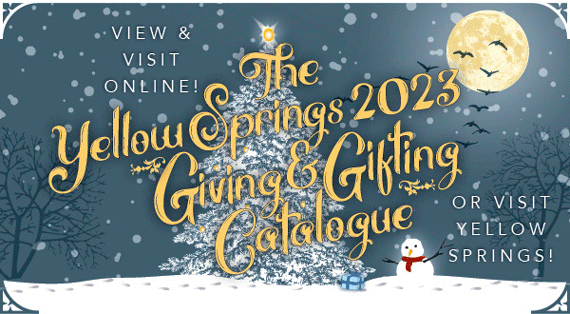 Blunt succeeds Neenah Ellis as executive director; Ellis was the first to hold the role at the Eichelberger Center, beginning in 2019, after 10 years as WYSO's general manager.
Through radio, yoga and hip-hop, Blunt has lived a life steeped in communication, spirituality and music, shaping the Yellow Springs and Dayton communities in profound ways.
The News recently spoke with Blunt about his origins in radio — both as a DJ and as a radio producer — and his vision for the Eichelberger Center as it moves forward under his leadership.
Finding a radio calling
Blunt's first name, taken from Arabic, means smile — a reflection of his enduring spirit, and just the beginning of his story.
Born and raised in New Jersey, he's now, at 58, a pivotal figure in the Yellow Springs community.
Blunt began his academic journey at Cheyney University, delving into geology. However, after two years of studying science, he felt the call of a different beat. He transferred to a college in his home state, New Jersey, where he fell head over heels for radio and film.
Blunt's passion found an outlet at the college radio station, WJCS, where he and his peers received hands-on experience in the broadcasting world. This New Jersey-New York market radio station, run by students, was the launch pad for many careers in broadcasting.
"This is where I fell in love with radio," Blunt told the News in a recent interview.
The bond Blunt and his fellow DJs formed back then remains strong, kept alive through the magic of social media.
Upon his move to Dayton 1995, Blunt found a home at the local community television station DATV, leveraging his film and radio degree to create a unique "Soul Train"-inspired show called "Under Access." DATV, he said, provided access to the working class and citizens of Dayton, allowing him to bring together a diverse group of adolescents to showcase their dancing and rapping talents.
Blunt's professional journey took a turn when he signed up for the 2012 Community Voices class at WYSO. Spearheaded by Ellis in 2011, Community Voices began as an eight-week, intensive course teaching participants how to produce professional, NPR-style radio stories.
Blunt said Ellis, his first editor at WYSO, taught him the art of storytelling and the importance of understanding the listener's perspective. Through his involvement with Community Voices, Blunt went on to join the team of WYSO producers working on the multimedia "Reinvention Stories" series, working alongside his good friends and filmmakers Julia Reichert, who died last December, and Steven Bognar. According to WYSO's website, the "Reinvention Stories" series focused on "profiles of Daytonians who are reinventing themselves and their communities."
The Community Voices program, Blunt said, has not only equipped folks from different walks of life with reporting and journalism skills, but it also has served as a springboard for many to join WYSO's team.
"Luke Dennis was in the first Community Voices class, and he's now the general manager [of WYSO]; I was in the second Community Voices class, and now I am the executive director of the Eckelberger Center; Jocelyn Robertson was in the third Community Voices class, and now she is a senior producer and archives fellow," Blunt said. "I think that's why WYSO is so strong today — because we have this grassroots way of getting on board."
Later, Blunt was instrumental in setting up Dayton Youth Radio, a WYSO project that arose when Ellis saw his unique rapport with the teenagers he interviewed.
"Neenah noticed that I was talking to the teenagers more about fashion, haircuts and their families," Blunt said.
As a step-parent and parent to teenagers himself, Blunt found common ground with the students, leading to the creation of the Dayton Youth Radio course in 2014 as an expansion of the Community Voices program.
Blunt credits the radio program for fostering open conversations about important yet often uncomfortable topics, such as safe sex, pregnancy and birth control. Over the last decade, this initiative has trained more than 300 high school kids in journalism, significantly impacting their lives and his own.
Beyond radio production
After living in Dayton for a few years, Blunt immersed himself in the local Dayton funk music scene, rubbing shoulders with such musicians as Roger Troutman and Marshall Jones, among many others.
In 2013, his love for this music was recognized, and he was offered his own Thursday night slot, "Behind the Groove." After 10 years, the show has amassed a cult following.
This opportunity allowed Radio Basim — as he is known to his listeners and who once spun tracks for New York's creative elite — to relive his days DJing in the 1980s. He was captivated by the DJs, the sound systems, the beats, and the style that defined that era. He reminisced about the pioneering spirit of the time, the secrecy of the DJs guarding their unique beats, and the excitement that came with being part of a nascent cultural phenomenon. He said his experiences, both uplifting and challenging, have shaped him into the resilient DJ he is today, doing what he loves unabashedly.
"I'm an old school DJ," he said. "I was hanging out with my friends in New York in the '80s and I was DJing at all the spots where local creatives like Kool Herc, Grandmaster Flash, Grace Jones, Jean-Michael Basquiat and Keith Haring used to party."
Blunt has also forged a path in yoga, which he said was initially spurred by a youthful crush, but later blossomed into a form of stress relief and a deep spiritual journey. His yoga classes have become a space not just for physical training, but also for breath work, calmness and meditation.
"I think that's why a lot of my fellow yogis connect with me and my class," he said. "They say it's a very spiritual class — and you do get a nice cardio and stretch workout."
Considering the shape of his career, Blunt attributed the trajectory of his life to his Christian beliefs.
"I tell everyone that God is awesome and She has a plan for each of our lives," he said. "Once we begin on this God-centered life journey, you'll notice a new perspective about everything."
Now two months into the executive director position at the Eichelberger Center of Community Voices position, Blunt is set to relaunch the Community Voices training in 2024 after a three-year hiatus due to COVID-19.
Blunt's vision is to invite and encourage new voices — Black, Brown, marginalized and queer — to share their stories on WYSO. He said he feels blessed to contribute to WYSO's community-driven mission, marking a significant turning point in the station's legacy and its relationship with the village of Yellow Springs.