Planning Commission | Lumber Co. Market & Eatery project advances
At the Tuesday, Sept. 12, Yellow Springs Planning Commission regular meeting, the group unanimously voted to rezone a parcel of land downtown on which an indoor public market is proposed.
By a vote of 5–0, Planning Commission members approved a move to rezone 108 Cliff St. from I-1, or mixed-used industrial, to a planned unit development, or PUD.
The future business sited for that land, dubbed the Lumber Co. Market & Eatery, owned by Massies Creek Ventures, LLC, aims to have approximately 10 vendors selling prepared foods and goods in a newly renovated facility where a 1940s-era lumber yard once stood.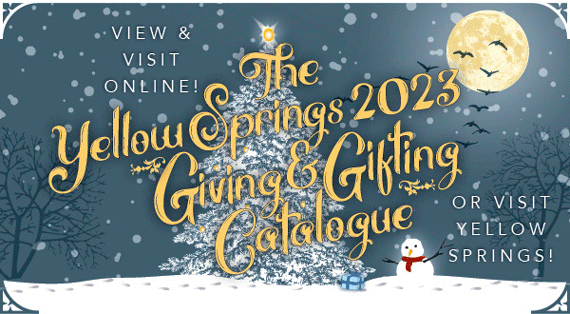 Local resident Dino Pallotta — owner of Dino's Cappuccinos, a potential vendor at the Lumber Co. Market & Eatery and a member of the board of directors for the future business — spoke at Tuesday's meeting on behalf of Massies Creek Ventures. Pallotta fielded several questions from Planning Commission members in lieu of Brian Drew, who submitted the application to rezone the 0.67 acres to a PUD, but who was not present at the meeting.
"The whole point of this PUD is to enhance the lumber yard, what it's going to bring, open it up for more retail and give us more flexibility as the project goes on," Pallotta said. "This is going to be a solid foundation of what we want to bring to the village."
Pallotta did not specify at the meeting what the timelines for construction of the facility or the openings of vendor spaces would be.
The project to build the Lumber Co. Market & Eatery was first made public when Massies Creek Ventures approached Planning Commission in July 2021 to request a conditional use for the property to allow for retail. At that time, Drew told the News that he hoped the future market and eatery would become a "public space" where villagers and visitors can shop, dine and work.
He and his then-project partner Patrick Lake told the News in a separate interview in 2021 that they intend to provide Yellow Springs more "quality, quick-service food in town," and thereby create 20 to 30 jobs, based on their projections. And as previously reported in the News, Massies Creek Ventures intends to strengthen a business corridor along the bike path that includes Millworks, and the restoration of a building with "historic charm," Lake and Drew said then.
Although Drew did not attend Tuesday's Planning Commission meeting, Lake was present and spoke about how the project's initial intentions may be hampered based on internal conflicts within the Massies Creek company.
Lake indicated that he is no longer involved in the lumberyard project — despite being the founder of Massies Creek Ventures. The reason for his apparent uninvolvement was not made clear at the meeting.
"I'm still interested in the community impact of this project," Lake told commission members. "This project has always been about being by and for Yellow Springs, to serve this community. The tenant base that was curated was largely minority-owned and Yellow Springs-based. I'm concerned that that will not be preserved moving forward."
But as Massies Creek Board Member Pallotta noted, a PUD designation allows the company to bring in more kinds of retailers in the future establishment.
"We now have the flexibility to go after tenants and to really go after retail, redoing leases and bringing more in, to work our plan and to go forward with it," Pallotta said.
While the number of potential business partners set to open up shop at the Lumber Co. Market & Eatery seems in flux, the company nevertheless announced on social media last year several lease-signings: Honeydew LLC, an eco-friendly refillery; Miguel's Ramen, Sushi and More, to be owned by village resident Miguel Espinosa, who also runs Miguel's Tacos out of Trail Town Brewing; Spring River Juicery, which purports to offer cold-press juices, smoothies and vegan "grab-and-go" options; Coastal Local Seafood, a restaurant wholesaler of fish, shellfish and more; Gumball Alley, a regional sandwich-making company; a second location for Dino's Cappuccinos; and others.
The state of those agreements might have changed, Lake told the News after the Planning Commission meeting.
Along with Drew and Pallotta, local resident David Butcher compose the Lumber Co. Market & Eatery's board of directors.