Yellow Springs Community Thanksgiving to return
By Dennis Bova
A longtime Yellow Springs holiday tradition that was interrupted by the pandemic in 2020 is returning, thanks to a new round of organizers — who are issuing a call for volunteers.
The Yellow Springs Community Thanksgiving Dinner will be 2–4 p.m. Nov. 23 — yes, Thanksgiving day — at First Presbyterian Church, 314 Xenia Ave. The event will feature turkeys, traditional sides and vegan and vegetarian dishes, and is open to all.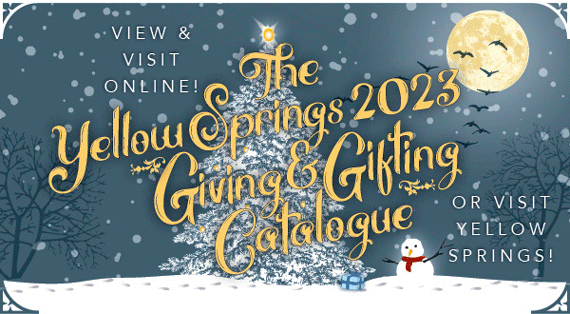 Organizers ask those attending to bring a potluck dish to share if they are able. If worried about being exposed to COVID, attendees are welcome to wear a mask and take the meal home.
Organizing the community dinner's return are members of the Unitarian Universalist Fellowship of Yellow Springs, the organization that ran previous dinners. Nancy Lineburgh, fellowship president and chair, said the last community Thanksgiving dinner was in 2019. Fellowship members talked about ways to help the community, and the idea of reviving the community dinner arose.
This isn't a case of getting past organizers together.
"Most of the people who had been doing this retired or can't do it anymore," Lineburgh said. "This is really a new group."
The event's restart is important, she said.
"It provides a place to go for Thanksgiving for those who might not have a place to go. It brings the community together at a nice event. The fact that so many people came to it in the past shows it's something people like to do."
Lineburgh said the 2019 dinner fed about 140 people; the year before, about 180.
Based on talks with those who worked at previous community dinners, the group will be "getting eight turkeys from Tom's Market."
The meal is being paid for by $1,000 that was collected in free-will donations from the 2019 dinner. As in the past, those at the dinner can donate any amount in collection jars, "but no one is pressured. We have two rules: don't pressure anyone to give, and only the people who are designated are to be in the kitchen."
Apart from people in the kitchen, "we need volunteers on the day to wash dishes, pick up plates, greet people at the door, and put out food. Maybe eight to 10 people," she said.
People are asked to bring their own plates and flatware.
As for the potluck side dishes people have brought in the past, Lineburgh, who said she's been to a few of the dinners, said "most everybody brings something to share. It makes for quite an interesting spread. It's been a fun culinary event because of all the things people bring. The desserts are always really great."
She said the standard sides of mashed potatoes, gravy, stuffing and cranberry sauce will be available.
Lineburgh said the Community Dinner is at First Presbyterian "because it's in the middle of town and they have the space. It's always been at First Presbyterian."
She said those who are physically unable to attend and would like a meal delivered are asked to let organizers know by Nov. 20.
"If anyone needs food brought to them, we'll figure a way to do that."
She added about reviving the traditional dinner: "We're hoping that it's something that's helpful to the community."
Lineburgh asks anyone who has questions or is interested in volunteering to call or text her at 330-618-0892.
*Dennis Bova is a freelance reporter for the News and was a longtime copy editor for The Toledo Blade. He currently writes for Wright State University, the Dayton Business Journal, Dayton Real Producers and Toledo-based Healthy Living News.