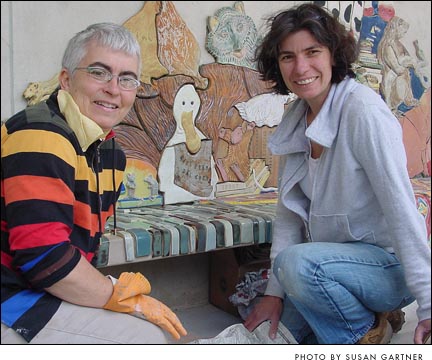 Library mural to honor Fishbain
Creating a beautiful piece of ceramic tiled artwork is a multi-process labor of love. To watch a ceramic artist at work is to watch an intricately complex puzzle gradually reveal its beauty. It's a process similar to what happened when Nancy Lutz decided to do something to commemorate her father, Dr. Harold Fishbain, who died last September. A complicated puzzle of pieces and people slowly came together to reveal its beauty.
Fishbain was a 27-year resident of Yellow Springs, family physician, psychiatrist, avid reader and storyteller, card-carrying Yellow Springs Public Library member, and pioneer committed to the education of mental health issues. He also liked to wear tennis shoes.
These traits and more were considered when Lutz, the oldest of his five children, came up with the idea to pay tribute with a permanent public art piece.
Lutz has served on several panels to select an artist for various public art projects in Tucson, Ariz., where she currently resides. During a trip to Yellow Springs to visit her father and his wife, Joy, Lutz learned about the first ceramic public art piece in downtown Yellow Springs — the tiled bench that rests at the corner of Xenia Avenue and Corry Street.
"Knowing of my interest, Joy and Dad showed me the bench," wrote Lutz in a recent e-mail from Tuscany, Italy, where she had just finished organizing a cooking class.
The bench was conceived and created by members of John Bryan Community Pottery, a collective of ceramic artists that work in the public studio behind the Bryan Community Center. The "pot shop" donated the bench to the Village of Yellow Springs and dedicated it to fellow ceramic artist, Mary Chapman, who died in 2005.
Her father's fondness for the bench remained with Lutz when she returned to Yellow Springs to attend his memorial service.
"I was having breakfast with Jane Baker and talking about the local arts council," wrote Lutz, who is currently president of the board of Tucson's arts council, "and we got to talking about public art." Together the women came up with the idea to commission another bench in Fishbain's honor and make it a gift to Yellow Springs, "a place I've always loved as did he," Lutz wrote.
Soon, other puzzle pieces were brought to the table. Baker contacted ceramic artists Beth Holyoke and Kaethi Seidl and asked if they would be interested in the project. They were.
"Jane put me together with Beth and Kaethi, and they generously facilitated the library location, which was my first choice," she said. "Dad used the library regularly and was the most avid reader I've known."
More puzzle pieces were still to come. Permission was needed from both the Library Commission and the Village Council, the bench design needed to relate to the design of the library, and a theme was needed.
"We wanted it to be something we could be proud of," Joy recalled. They decided on images of books and animals inspired by children's books. "Beth wanted some words she could use on the books, so Nancy and I came up with about 12 words that either expressed the kind of person Harold was or the kind of words he believed in," Joy said.
"Peace. Love. Laughter. Compassion. Serenity. Tolerance. Acceptance."
Meanwhile, Holyoke and Seidl had to contend with their own puzzle pieces.
The clay forms had to be fired in such a way that they could withstand fluctuating temperatures, rain, snow, and Street Fair. Then there's the constant polishing by all those readers' rears. The shrinkage that occurs in the firing process had to be taken into account. Colors and concepts didn't always turn out the way they were intended.
"Some [ceramic artists] mind it more than others," said Seidl. "We like to get surprises. Some of these pieces are different from what we wanted, but it turned out really well."
The artists asked Joy for a favorite quote that they could incorporate into the mural. Joy knew exactly what it should be.
"Make Every Day Count," said Joy. "That was Harold's philosophy."
Although Joy would periodically stop in at the Pot Shop to see how things were progressing, she wasn't prepared to see the project in its final resting state.
"I burst into tears when I saw it," she said. Holyoke, who was working on it at the time, offered to give her a hug but didn't dare because she was covered in adhesive.
"I went home afterwards, sat at my kitchen table, and said to Harold out loud, 'Honey, you so deserve this,'" Joy said.
The artwork far exceeded her expectations. "He would have loved the happy, whimsical nature of the bench inviting everyone to the library," she said. "His kindness, wisdom, his love of learning and his love of reading made this the ideal gift to honor him. Even the benches come from his home state of Wisconsin. He worked as a child helping his father in his dry cleaning shop. In his spare time, he read all the books in the library in his hometown of Racine."
As for the tennis shoes, one has to look carefully, but they're there.
"It's subtle," laughed Holyoke.
"I felt a great sense of peace and happiness when I saw the bench, knowing Harold would be remembered," Joy said.
The bench is a gift from Lutz, her husband, Wendell Lutz (formerly from Springfield), and her cousin Diane Fishbein (a Cincinnati artist whose name is one letter off from Harold's). A dedication of the project is planned for September.
* The writer is a freelance contributor to the News.