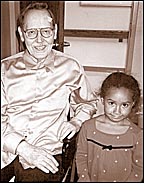 Seth Joseph Duell was born in a small farmhouse in the "tree claim" on a farm near the tiny town of Ruleton, Kan., on June 25, 1925, to Seth Edwin and Martha Gattshall Duell. He was the fifth of 11 children. His eldest brother, Leroy, died at age 7 after being run over by the wheel of a heavy hay wagon; Seth remembered the sound of Leroy's crying before he died. The next eldest child, also a brother, did not survive an illness of dysentery at age 2. Seth remembered the dust storms — his mother hanging wet sheets over the windows and doors to keep dust from blowing into the house — and then came the Great Depression. Father Duell was a rural mail carrier, in addition to farming, and this work gave the family regular income through the hard years. Mother Duell gardened, canned, and kept chickens, as she and father reared their family. She taught all the children to play the piano.
All the Duell children graduated from college; each one married, and Seth became uncle and great-uncle to many. The farm home is still owned and lived in by family members.
Seth entered the U.S. Navy V-12 (officers training) program, and was sent to study engineering at the University of Wisconsin in Madison. At the First Baptist Church there, he became engaged to Ellen "Kitty" Newton. A fervent Christian, he decided that military action was not the will of Jesus Christ; he chose an honorable discharge from the Navy and registered as a conscientious objector. By that time World War II was over. He graduated in 1947 and went to work for Westinghouse in Pittsburgh.
After a year, he became convinced that he was called to Christian ministry, and entered Colgate-Rochester Divinity School in Rochester, N.Y. Then, to fill a need for humanities courses, he returned to his alma mater in Madison. He and Ellen Kitty were married in December of 1949 in her parents' new home in Arizona, and returned to Madison. After she graduated in June of 1950, the couple went to Rochester, where Seth earned his master of divinity degree. Two children were born during that time.
In 1954, Seth was called by the American Baptist churches of Dayton, Ohio, to begin a new church in Page Manor. Seth became a member of the Intercultural Committee of the Church Federation of Greater Dayton. In 1958, after four years of preaching integration of housing as a matter of justice for the military families and civilian employees of the nearby air force base, Seth resigned from the pastorate and returned to his first vocation of engineering. He went to work for National Cash Register Company.
The Duell family bought a large home in September 1959, in Dayton View; by this time three more children had been born. Always a lover of classical music and also athletic achievement, Seth became interested in the men's ballet classes which were being offered at the Schwarz School of Dance; he and his sons, Daniel and Joseph, attended together. Their daughters also took ballet and modern dance lessons. Piano lessons with Audley and Barbara Wasson for the children (and parents) were also part of family life; Daniel became proficient with the flute.
The children all chose vocations in the fine arts — Seth took great pride in each of them. Daniel and Joseph became principal dancers with the New York City Ballet Company; Reine, with the Joyce Tristler Company; Amy Jo became a composer of classical music and a member of the piano faculty at the Pasadena Conservatory; Debbie earned her masters' in theater directing and worked with the SAK Theater Company.
The family was plunged into deep sorrow in February of 1986 by the suicidal death of Joseph, aged 29, in New York. It is apparent now, after many years, that this beloved son became bipolar ("manic-depressive") in his late twenties, and was not correctly diagnosed. The dance and music communities in New York and Dayton were marvelously and lovingly supportive of the Duell family in this tragic time, as were their neighbors, and the church "family" of the Congregation for Reconciliation.
Seth and Ellen were active in neighborhood organizations on behalf of integrated housing and other issues of social justice. In 1977, Seth received his masters degree in engineering from the University of Dayton. In addition to NCR, he worked for the Huffman Bicycle Company and for the Standard Register Company; his last 16 years of employment were with Corning Inc. of Greenville, Ohio, as senior project engineer. He worked past his 76th birthday until that plant was closed at the end of 2001. Seth immediately resumed his piano study, this time with Dr. Robert Ruckman at Sinclair Community College.
In the autumn of 2002, illness struck Seth, and the cause was not immediately found. It was termed secondary Addison's disease, finally, by his doctor, Cynthia Olsen, in December, 2002, when he became a resident of Friends Care Center of Yellow Springs. Since then, he survived two hipjoint-replacement surgeries and several other times of illness. He often spoke of his gratitude for the quality of care and the pleasant surroundings he experienced at Friends. He enjoyed taking part, with Emma Reed, (pictured here with him) in Mary Beth Burkholder's "Special Pals" project at the Children's Center which is part of Friends Care Center.
In 2003, Ellen sold the home in Dayton View and bought a house on Lamont Road in Miami Township near Yellow Springs. Seth and Ellen were received into membership by the Yellow Springs Friends Meeting (Quaker) in 2004.
Seth is survived by his wife Ellen; their four living children; and their spouses; six grandchildren; three sisters and four brothers and their spouses; and numerous beloved nieces, nephews and their children.
Gifts may be sent to Hospice of Dayton.