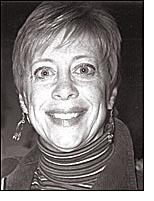 Jacqueline Sue "Jacque" Begin died Tuesday, March 30 in her Dayton home. She was 58.
Jacque was born October 20, 1951 in Urbana to Gerald Sr. and Norma Bezold. She was employed by Boonshoft Museum of Discovery in Dayton, where she worked as the manager of special events and museum interests. Jacque spent most of her life in the Yellow Springs and Dayton area. She received an associate degree from Clark State and her masters degree in conflict resolution and peace studies from Antioch University of Yellow Springs. She was a long time peace activist.
Jacque is survived by her parents, Gerald Sr. and Norma Begin; brother Jerry Jr., and his wife Marty Begin, all of Washington Court House, sister Janene, and her husband Tom Limberger of Indiana; nephew Shane and wife Joan Begin and niece Candi and husband Doug Scott; great-nephews Drew and Tyler Begin and Kody Scott and great-niece Hayley Scott. Also surviving is her special friend, Linda Sikes.
She was preceded in death by one nephew, Drew Begin.
A memorial service was held Saturday, April 3. Memorial contributions may be made to Greenpeace or PETA. Online condolences may be sent to http://www.summersfuneralhome.com.