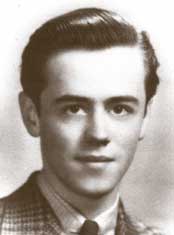 Thomas Harvey Owen, the son of former Antioch College professor of physics Gwilym Emyr Owen and his wife, Edith, died September 9 at his home in Metairie, La. He was 85 years old.
Tom attended the "old" Antioch School on Mills Lawn and graduated from Bryan High School in 1943. He received a degree in engineering from Antioch College, then worked for a while at Morris Bean and Company in Yellow Springs and at the Buckeye Brass Company in Dayton.
After "stuffing" himself with bananas to increase his weight, he finally managed to join the Navy in World War II, where he served as aerial photographer tracking German submarines from blimps at Lakehurst, N.J. Later, he was stationed at Pensacola, Fla.
Eventually Tom opened his own business, Oxymed, in Metairie, to provide oxygen and other medical supplies where needed. He was fond of boating and had a sailboat and a shrimp boat that he took out shrimping just for fun.
He is survived by his son Robert Owen and Robert's wife, Valerie; by his grandsons Matthew and Nicholas and granddaughter Elizabeth, as well as his niece Gwendolyn Owen and nephew Christopher Owen and his sister Elsie O. Hevelin of Yellow Springs.