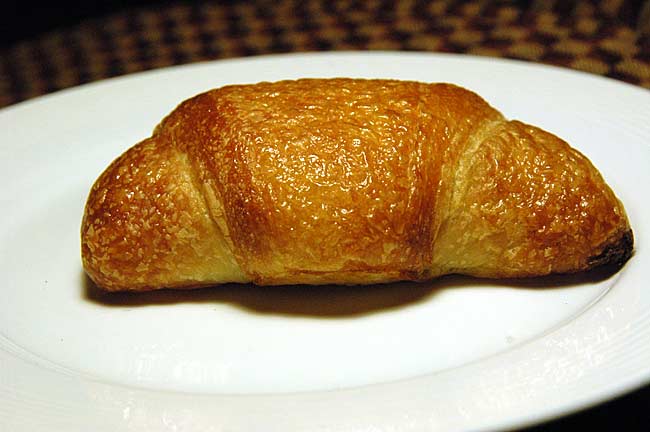 BLOG — New York gave it her best croissant

While I'm neither a chef nor a gardener, nor have I ever really studied or worked in the food industry, I continue to have more opinions about food than I am by rights entitled to. On a recent trip to New York City, therefore, instead of being humbled by my proximity to some of the biggest names and hottest digs in the business, I came ready to sink my teeth not in the grilled calamari but in a dog fight over what good food is.
I could tell the big city chefs were shaking in their boots.
Obviously the first thing was to hunt down the best croissant in the city. Croissants are tricky because they're so ubiquitous, and yet I'm not convinced that everyone has the right standards for the savory pastry that's second only to the baguette in its Frenchness. Based on reviews in the Times and consumer opinion, which I swore off years ago but am inclined to use when desperate (I only had 58 hours in the city), every French sounding cafe in Manhattan had good croissants. Since the most immediate sources didn't seem very discriminating, my cousin and I resolved to strike out and see for ourselves.
But first we had to honor our lunch reservation at Le Bernardin, chef Eric Ripert's ode to the sea. The fixed price menu was deemed worthy of three Michelin stars, and its service and presentation, including the 10-foot fresh cut flower arrangements at the center of the finished dining room, fit the bill. The menu was divided into raw, barely touched, lightly cooked, and oddly a special section for millionaires and vegetarians. Being that I'm neither able to pay $165 for one sliver of wagyu beef nor do I frequent upscale French restaurants for the tofu pasta dishes, I had to choose from the raw, barely touched and lightly cooked sections. For the starter I risked the most audacious and least recognizable — sea urchin roe.
Wow. Wow in the most respectfully negative way possible. The "roe" was a dead orange mass of sludge steeped in a muddy grey broth and nothing I tried to pair it with could save it from the sliminess and alkalinity that made me think of licking a swamp frog. The salmon and snails in pernod sauce was pretty but unremarkable, and though the desserts were perfect, including a salty caramel meringe served in an egg shell, the damage to my gut had been done.
Maybe they should have warned me, sized me up for the Midwesterner I am and told me, no, I could not order the sea urchin roe. Instead they upheld a very classy commitment to nonclassism and let me dive headlong into the swamp of my choosing. So far my food quest in New York City was off to a slippery start, but I still had the greatest croissant in the nation to look forward to.
After a peak on the roof of the Met, where some rock climbers had erected a mass of bamboo in the shape of a wave you can climb, we found ourselves at Café Balthazar, salivating. As soon as I got hold of the bag, my heart sank. The weight of a croissant, in my opinion, says a lot about the butter quotient, where more is better, obviously. And though I had to confirm my suspicion by taste, the dark color and scraping sound of the torn croissant further warned me of the dry and old butter taste of my first and last pastry from that establishment.
Though we were really looking for croissants, on our way to the High Line Park in the West Village we happened upon an artisanal ice cream truck and couldn't pass up the Earl Grey with bergamot, and thank god we didn't. Croissant or no croissant, the trip to New York for that alone was worth it. Still, when we came to Le Pain Quotidien, I was pretty excited.
I saw it through the case, and was apprehensive about the dark color. Then when she grabbed it with her tongs, I didn't see it yield like it should, and the weight at the end of the implement didn't look right. And again, as I took the bag I already knew. Is there some frozen croissant company in the east making big bucks on the croissants supposedly French bakeries in this country are passing off as their own? I know the trick of baking the already risen dough at the place of retail and calling it fresh bread. It is, and it isn't. And with croissants, it especially isn't.
A little disgusted with myself for having eaten ice cream and part of croissant number two in the same hour, I stopped eating until dinner, which we ate at an Israeli restaurant, Balaboosta. We had fun little coriander falafel balls wrapped around an even smaller meatball, dipped in a parsley tahini sauce. And I had the most perfectly grilled whole bronzini with rosemary, lemon and garlic with a dilled yogurt sauce. I didn't have time to make it to the next French bakery, and Balaboosta was a lovely way to end my mini foodie quest.
So without ever finding the city's perfect croissant, my weekend trip to New York was over. I'm disappointed that New Yorkers aren't more demanding of their pastry chefs, but the bigger isn't necessarily better adage was reconfirmed. I can get a beautifully constructed beet salad with goat cheese and radish sprouts in downtown Yellow Springs to rival any of the plates turned out by one of the best French restaurants in New York City. I'm glad to be home.