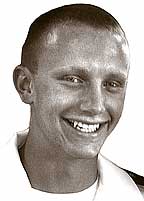 Nothing puts our often disordered lives into a greater perspective than the premature loss of a child. And so, the sudden loss of Eben Paxton Wildman serves as a reminder that every day of life is to be cherished and never taken for granted.
Eben was born Aug. 27, 1990, the son of Austin P. Wildman and Sarah V. Wildman who, along with brothers Max and Andrew, and a sister, Allison, survive him. He grew to become a man in the village of South Charleston. It was there that Eben began to grow the many relationships that defined him throughout his young life. The family farm allowed Eben to uncover his love of nature and the joy of outdoor sportsmanship. As a child, his outgoing nature and huge smile endeared him to seasoned hunters who were willing to mentor him and teach him the art and skills of bow hunting and trapping. Eben always harvested his kill out of respect for his prey and nature.
Thus began Eben's lifelong passion for shooting trap and skeet. Eben possessed an exceptional eye and steady hands, which resulted in his becoming a world-class skeet shooter, thrice achieving recognition as an All-American. He began competing at national competitions at the age of 10. His devotion to the sport led to his being named to the National Junior Olympic Shotgun Team, International Skeet Member and his invitation to the United States Olympic Team trials  in 2008 where, in only his second year of competition in international skeet shooting, he finished 16th of 175 shooters. Between international skeet, family vacations and other shooting events, Eben traveled to four continents, 15 foreign countries and more than 30 states.
Eben was a 2009 graduate of Southeastern High School, where he was guided and greatly influenced by a host of dedicated professional educators. He was a member of the baseball and football teams, and served as a captain his senior year. Trojan fans will always remember his "yeee-hah!" war cry to pump up the defensive unit. He was regularly elected to position of class officer, alternating between class president and vice-president. He was a member of the National Honor Society, FFA and had the lead, male role in each of the school plays his junior and senior years.
Upon graduation, Eben received a Navy ROTC scholarship to attend Miami University. He was a midshipman third class, the sailing officer for the NROTC sailing team, and a member of the NROTC ice hockey team. Pursuing a business major, Eben intended to make service to his country as a naval officer his career. In the summer of 2010 he received surface, submarine, aviation and Marine Corps orientation in San Diego. It was, however, his ultimate goal, and one that he most certainly would have achieved, to become a Navy SEAL.
Eben was also a young man of faith. He was a member of the First Presbyterian Church in South Charleston where he served in the Presbyterian Youth Ministry. He was also active in Young Life.
Eben's many achievements should not divert attention from who he truly was: a young man with a broad smile, full of youthful exuberance, a zest for life and his willingness to help students and adults less fortunate. Eben developed a network of friendships, beginning with his core group of friends at home and extending into many states. He never met a stranger, truly. All who had the pleasure of knowing Eben are the richer for it. His spirit will forever reside in the hearts of those he touched. His life, through organ donation, will continue to offer life to others.
Visitation will be Thursday, Oct. 21, 2–4 p.m. and 6–8 p.m. in the Richards, Raff and Dunbar Memorial Home in Springfield. A celebration of Eben's life will be held Saturday, Oct. 23, 11 a.m. in the Champions Center at the Clark County Fair Grounds, with Pastors Dennis Moritz and Mike Parker officiating. In lieu of flowers, memorial contributions are requested to the South Charleston Community Club Scholarship Fund in Eben's name, P.O. Box 474, South Charleston, OH 45368. Expressions of sympathy may be sent to http://www.richardsraffanddunbar.com .