Florence 'Eby' Whitmore Knight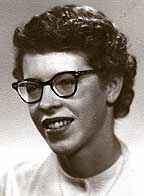 Florence "Eby" Whitmore Knight died Oct. 8 at the Cleveland Clinic, with her six children by her side. She was 72.
Eby was born on Jan. 8, 1938, in Yellow Springs and was the third of five children of Robert and Elizabeth Whitmore. Her love of nature, which was developed and fostered on the family homestead, was the theme that carried through her life and was passed on to her children, grandchildren and great-grandchildren.
She graduated Bryan High School in 1956 and attended Antioch College in 1957 and 1958. While working a co-op job at Red Raider Riding Camp in Chagrin Falls, Eby met Harry Knight, a horse trainer and riding instructor. They married soon after and settled on a small farm in Conneaut, Ohio, where they raised their six children and pursued their love of the natural world.
Eby will be remembered by those who knew and loved her as an artistic, warm, patient and loving mother, grandmother, sister and friend. She was preceded in death by her parents and her husband. She is survived by her children, Toby, Kim, Kurt, Todd, Trudy and Rachel; brothers Ben, David and Jon Whitmore and sister Diantha Waymire; as well as 13 grandchildren and six great-grandchildren.
Services were held at the Old Baptist Church in Conneaut with burial at Kellogsville Cemetery in Monroe County.