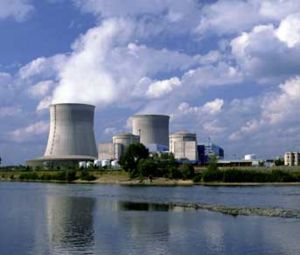 French filmmakers take a stab at nuclear waste
What: Déchets, le cauchemar du nucléaire (Waste: the Nuclear Nightmare)
When: Saturday, May 7
Where: Antioch University Midwest auditorium
Who: Sponsored by Midwest's Sustainability Initiative
In spite of rare accidents such as the one in Fukushima last month, there is still large support for nuclear power around the world. Currently 442 nuclear power plants are in operation in 30 countries, 104 of which are located in the U.S. China is continuing to move ahead with its construction projects and plans even as Germany, for instance, is cutting back. And France as well as Japan remain predominantly invested in the nuclear energy option.
Advocates argue that the nuclear industry is far cleaner than coal, reminding us that engineers continue to upgrade safety controls with each new generation of reactors. They maintain that nuclear power will help sustain our energy-intensive lifestyle as global energy demand triples approaching the end of this century. Only if nuclear power is in the mix will we be able to reduce carbon emissions, offset climate change, and halt dependency on Middle Eastern oil. It has also been argued that "for the Army to fight and win on tomorrow's distant battlefields, nuclear power will have to play a significant role." (http://www.almc.army.mil/alog/issues/SepOct01/MS684.htm)
But are we adequately informed about the risks and price we will ultimately pay for this form of energy? How much of our water and land has already been contaminated?  What is the likelihood of future accidents? How effective are current systems of waste containment? Can spent fuel be safely and economically reprocessed and recycled? In our increasingly volatile world how can security be insured at the hundreds of highly dangerous nuclear plants? What impact will the entire nuclear program have on the environment and on lives of future generations?
Concerning radiation, what about the disposal of nuclear wastes whose volatility spans up to 200,000 years? In addition to mishaps due to technical glitches and human errors, the reprocessing and storage of these toxic chemicals poses insurmountable problems — both immediately and in the long run.  Even low-grade exposure over time dramatically increases the likelihood of cancer, as has been proved at many sites where significant concentrations of radiation have been measured by independent investigators. Who is responsible?
In spite of the frequent reassurances by government officials or industry spokespersons, scientists have yet to find definitive methods of preventing nuclear waste from eventually leaking into the food chain. Moreover, there has been a widespread pattern of secrecy and disinformation pertaining to toxic emissions that has prevented the public from knowing just how their health has been compromised in regions neighboring nuclear sites.
To bring the scientific evidence to bear on these issues, filmmakers Eric Guéret and Laure Noualhat trekked across multiple continents, through diverse facilities — both abandoned and in-service — into science labs and at times in the footsteps of Greenpeace, to document the development, use, and impact of nuclear power. Unavailable in the U.S., this specially arranged full-length screening offers viewers striking evidence concerning the risks inherent in the nuclear industry.
The film (with English subtitles) will be followed by conversation and refreshments in the YSI Foundation Multipurpose Room next to the PNC Auditorium.
The occasion is sponsored by The Sustainability Initiative, Antioch University Midwest. For information, contact Joe Cronin, 769-1894.