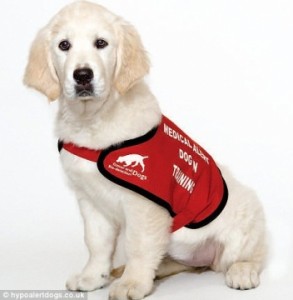 Local vendors support the purchase of a service dog
A dog with a mission is coming to the village this December. Local resident Ashton Gueth, 9, has been living with diabetes for most of his life, and over the past few years, increasingly unstable blood sugar levels have forced him to be hospitalized several times. That's why a diabetes assistance dog, currently in training, is going to be his new constant companion, using scent detection techniques to alert Ashton or others if his blood sugar levels reach unsafe levels.
Ashton is getting his service dog through the training program at Pawsibilities Unleashed in Frankfort, Ky. The costs are estimated to be about $10,000, and the Gueths are asking for assistance to help defray expenses. Several fundraisers have been held over the past year, and the Brandeberry Winery in Enon will host another one during the wine tasting this Saturday, Sept. 17, from 5 to 10:30 p.m. Full Circle blues and rock band will play, and the winery will serve Bentino's Pizza from Yellow Springs, which will donate 100 percent of its proceeds from the event that night to the Gueth family.
A fund to purchase the service dog has been established at US Bank, where additional donations for Ashton can be sent.