License plate to benefit the Glen
It turns out that driving can be sort of  good for the environment — as long as one drives with the right license plate. This month a new specialty license plate featuring a yellow bellied sapsucker clinging to a sycamore tree with the words "Glen Helen" became available to any Ohio driver. The plates cost $25, $15 of which will benefit the Glen Helen Ecology Institute.
The effort to create a plate for the Glen began in 2006 with a petition to the Ohio Bureau of Motor Vehicles, which offers 82 other specialty plates promoting universities, sports teams and endangered species. The Glen's effort received support from State Senator Chris Widener and in 2010 the Glen solicited designs for the plate, selecting the sapsucker image created by the late Cincinnati artist Charley Harper. The Ohio legislature approved the design this past spring, and the plates are now being produced for sale for anyone who is renewing or wants to change their license plates.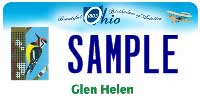 To order a Glen license plate, visit the Ohio BMV Web site, oplates.com/PlateSpecial.aspx