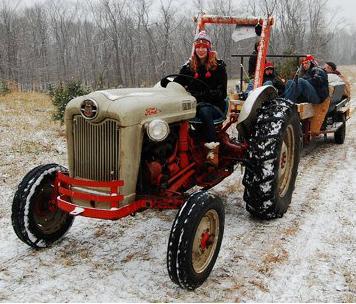 School Forest Festival returns
The 64th annual YSHS School Forest Festival will be held this Saturday, Dec. 3, 9 a.m.-3 p.m. This year's yield of trees is considerably smaller than in previous years, so the events will be condensed into one day; those hoping to buy a tree are encouraged to show up early to be guaranteed one.
Though the selection of trees is smaller, the fun promises to remain the same, as the School Forest Festival will again offer hot chocolate, cookies and hay rides. All are welcome to follow the Festival signs from Yellow Springs to the School Forest field, located at the Bryan Park Road entrance to Glen Helen, just down the road from the John Bryan State Park Campground.
For more on the history of the School Forest, see this article from last year's Dec. 2 issue of the Yellow Springs News.