90 years child-centered learning
Ninety years ago the first class of 50 pupils at the Antioch School learned primarily through play and nature study and were encouraged to express their individuality through art, "handwork" and music, according to an early school brochure.
"The best educational results are secured through enlisting the child's interest in his development, and in the discovery of his latent powers," said the brochure, from the 1922–23 school year.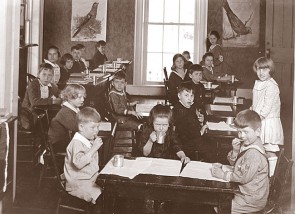 Today, the educational philosophy at the Antioch School is largely unchanged. The curriculum is built around student interest, creative exploration and free time. What was experimental in 1921, when the Antioch School was founded, has become a proven way to prepare children to be responsible, self-directed learners for the rest of their lives, teachers and parents said this week.
To keep one of America's oldest independent schools alive, its board and development committee will put on an anniversary auction gala next month commemorating the Antioch School's 90th school year to raise $25,000 for tuition scholarships and operating expenses.
Comedian Julia Sweeney will perform at the auction gala at 6 p.m. March 24 at Antioch University Midwest. Sweeney is best known as a cast member of Saturday Night Live in the early 1990s, in which she played androgynous character Pat and, in recent years, for her one-woman stage monologues that tackle controversial topics like faith, mortality and family life with humor and grace.
The event will also feature a silent and live auction, raffle, wine and dinner. Tickets cost $50 per person and already 100 tickets have been sold as organizers aim for a sell-out at 250 seats. The committee is also still seeking auction items valued at $50 or more.
With a slow economy and annual tuition and fees approaching $9,000 for a full-time student, financial aid is vital to fill classrooms and keep a diverse student body, according to development committee chair Kipra Heerman. That's why the first $20,000 raised will go directly to tuition scholarships. About one-quarter of the school's 56 students currently receive this financial aid.
"The school has survived all these years and yet tuition alone is not enough to keep it going," Heerman said. "We want to make the school as affordable as possible so kids of all backgrounds have this opportunity."
The Antioch School opportunity — rare in the education world — is special, according to parents and teachers. Students are free from tests and grades, scarcely get homework, learn in close-knit multi-age cohorts, mentor one another, receive individualized instruction and direct their own learning, naturally.
"The general thought is that, if left to their own devices, children won't learn but that's what they do," said older group teacher Chris Powell. "When you have a school where the curriculum is based upon loving learning, students can run with it. They can take their learning to further places."
And it works, they said. Many schools in Sweden and the United Kingdom have incorporated elements of self-direction and place-based learning that have been standard practice at the Antioch School for nearly a century.
"There are trends in public school, but this isn't based upon a trend," Powell said. "It's based upon serious work that worked way back then — because it's how learning works."
Bill Mullins, former director and teacher at the Antioch School, said he believes the model has been successful because children are respected by teachers and seek knowledge, not achievement. When he and Bev Price arrived as teachers in the early 1960s, they gave more freedom to students and were part of a new wave of professional educators at the school who stayed on for decades. Previously, most teachers were recent Antioch College grads.
While the overall educational approach has remained intact, some things have changed. Tuition for the 1921-22 school year was $100 for those living in Yellow Springs and Miami Township ($800 for boarders). All students were inoculated against typhoid and smallpox. The school was K-12 and was held for three decades at the Mills House, now the site of Mills Lawn Elementary.
Today, the school has a nursery, kindergarten, younger group (grades 1–3) and older group (grades 4–6). Since 1952 the school has been run from a modern, light-filled building on a property at the edge of the Antioch College golf course and across from Glen Helen. Learning to ride a unicycle has become a school tradition.
The Antioch School's roots stretch back even further, to the founding of Antioch College by Horace Mann in 1853. Mann created a preparatory academy to feed students into the college and it traditionally had higher enrollment than the college. When Arthur Morgan re-organized Antioch College at the dawn of his presidency in 1921, the Antioch Preparatory Academy was re-named the Antioch School and was re-conceived as a laboratory school to pioneer progressive teaching methods, a training ground for Antioch education majors and a high-quality school for the children of college faculty. Through the 1950s, about three-quarters of its pupils came from families associated with Antioch.
To counteract the "treadmill routine which has dominated American elementary and secondary education," the Antioch School created a curriculum "to fit [children's] needs and interests rather than forcing on them a rigid and artificial curriculum," according to the school's 1922-23 school brochure.
By 1928, a nursery had been added and Antioch School high schoolers were transferred to a newly-built public school, Bryan High School. The college started to cut off financial support for Antioch School in the late 1960s. By 1980, the school operated independently from the college as a tax-exempt organization and by the early-1990s, had raised $150,000 to purchase the property and building from the college and make building improvements.
To Peggy Erskine, Antioch School's director from 1982 to 1992, that period was a challenging, but critical, time for the school. Teachers didn't get raises, parents volunteered to clean the school, and Erskine herself worked without pay for some time. But it was a turning point as well, she said, as it was the first time the school's alumni were mobilized to keep the school going with donations.
In the 2000s, the school raised $370,000 from parents, alumni, teachers, community members and foundations to make major renovations to the building, including energy-efficiency upgrades. In recent years, the school has raised several thousand dollars each year through its annual campaign and soup and auction event, but mostly relies on tuition to meet annual costs of around a half million dollars.
The development committee now hopes to step up the support once again. They've started by booking a national celebrity for the auction gala, securing a $50,000 matching donation from the Morgan Family Foundation, and receiving a major anonymous donation and the support of 21 other families and businesses to offset gala costs. Because the school needs $20,000 to balance its budget this year, the development committee members are once again targeting those connected with the school, like alumnus Alban Holyoke, who said the Antioch School was the best money his parents ever spent on him.
"The Antioch School is an investment in the future of a child that will pay dividends for the rest of their lives," Holyoke said.
Jeanne and Hardy Ballantine, parents of former Antioch School students, have continued to donate because of their positive experience. Their three children, who attended in the 1980s, got a love of learning, gained confidence and comfort in who they are and made lifelong friends because of the school's methods, according to Jeanne Ballantine. The Antioch School was one of the reasons the Ballantines moved to Yellow Springs.
"Today our kids frequently refer back to their time at Antioch School as giving them a fabulous start," Ballantine said. "We will continue to support and donate. I believe in it and I would never want to see anything happen to it because it helps so many kids."
Even though she never heard about the Antioch School until recently, Julia Sweeney is also keen to help out. She agreed to perform at the auction gala after Heerman and Liz Griffin of the committee drove to Chicago for a live show, sat in the front row and waited in the autograph line to tell Sweeney about "this great little school in Ohio," Heerman said. Sweeney was impressed, and after receiving photos of the students in the mail, officially accepted the invitation.
Persuading the famous comedian to attend the gala was just the latest feat for a school that has always had lofty goals. As then-Antioch School director Hida Hughes wrote in 1946:
"The primary aim of the Antioch School is to create out of each child the best kind of being he can be and to make him as effective and dynamic as he can be in building the future of the world."
To reserve auction gala seats or buy raffle tickets, contact Antioch School manager M.J. Richlen at 767-7642. To donate an auction item drop it off at the Antioch School or call Liz Griffin at 767-7989 for pick up.