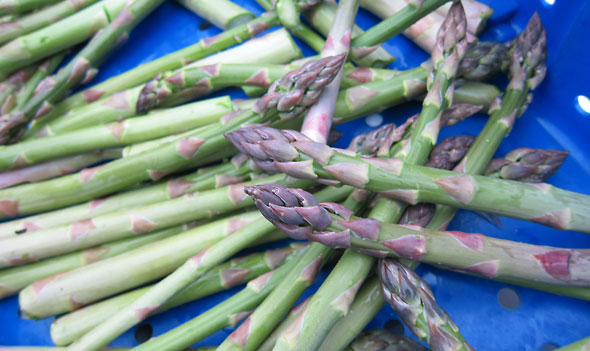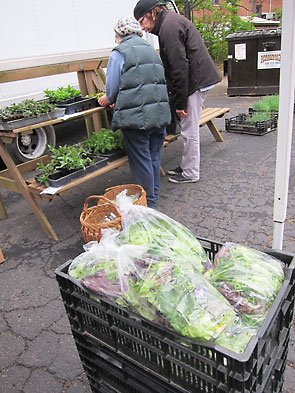 Standing in a light rain Saturday morning, I was struck by what makes a farmers market enduring. Despite the gray weather and the early hour, the market was bustling with customers and unclouded optimism. To a person, any mention of rain was greeted with a relieved smile and a hearty, "Thank God, we need it."
I've been able to get to market by 9am the last two weeks early enough to have my pick of local produce. At the Yellow Springs Farmers Market in the Kings Yard parking lot behind 228 Xenia Ave, I found beautiful radishes, leafy and crisp, and a bounty of greens either ready to eat or ready to plant. This month's rock star vegetable is asparagus. Amy Batchman's stand offered them in the second weekend of April joined by Anderson Farms this past Saturday. It has made several appearances about town in restaurants, friendly gatherings, and potlucks: topping an open face sandwich in the Winds' seasonal brunch menu, spearing into vegetable dip, shreaded into salad, and cooked in a lovely risotto. A devoted fan myself, I love asparagus's cool crunch making it the perfect foil for Mr Nigam's spicy indian food.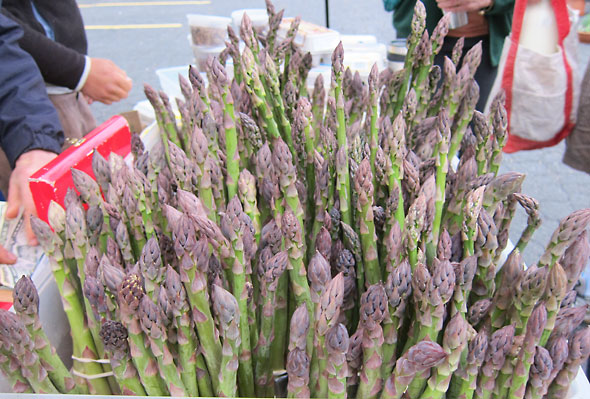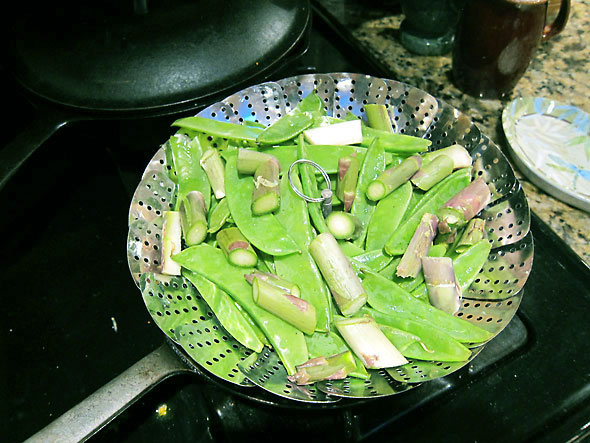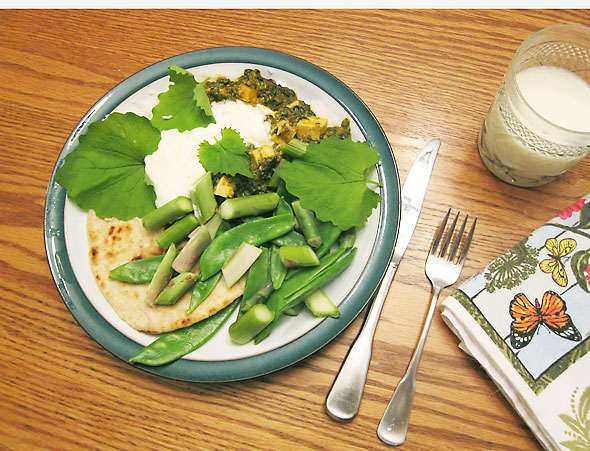 On my return home, I found my daughter singing, "Rain, rain, go away! Come again another day." We passed on soccer and an opportunity to play with her best friend so who could blamed her? To wisk away her blues, I broke out in a jazzy rendition of "You Gotta Have Rain", a song that my own mother taught me on rainy car rides. My girl giggled at such silliness and asked for an encore. "If you didn't have rain, then you wouldn't have showers. If you didn't have showers, then you wouldn't have flowers…" Happily diverted, we played dress up—Ariel, Cinderella, Rapunzel—until the weather broke. Then we ventured outside for a walk about the greened up garden.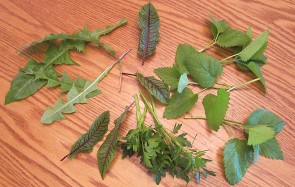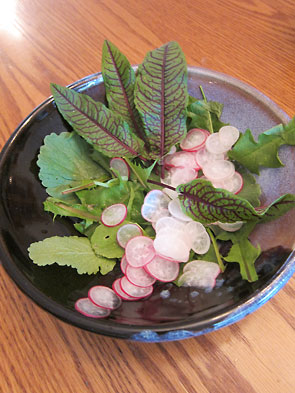 While we wait to clear the frost days before Mothers Day, April is a time to enjoy the reawakening perennial garden. Sure there is always work to do: I have a new bed of bulbs I'd like to augment and many areas to clear of green mulch—eh hem—weeds. Still, the edible perennials are flourishing. Saturday we gathered collard greens, sorrel, parsley, dandelion, and lemon balm.
The collards bolted this week so we harvested their florets also. Collards are a biannual plant—flowering every other year—and reseed themselves with gusto. Their florets are tender at first and yellow blossoms sweet. Eventually, the florets will turn bitter; but, for now, they are a favorite of my daughter and she will pick off the blossoms herself to munch.
Inside we make salad and fry the collard greens in butter. I have not yet convinced my 4 year old that salads are princess food, but give me time…I see daylight. I've already gotten thumbs up from her on the collard greens, so her aversion to all things leafy is starting to wane. Salads are at their crispest, sweetest peak now; and I am enjoying a renewal—stretching my senses on the tasty, satisfying crunch of green.