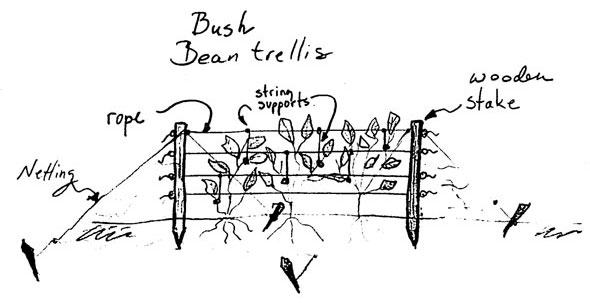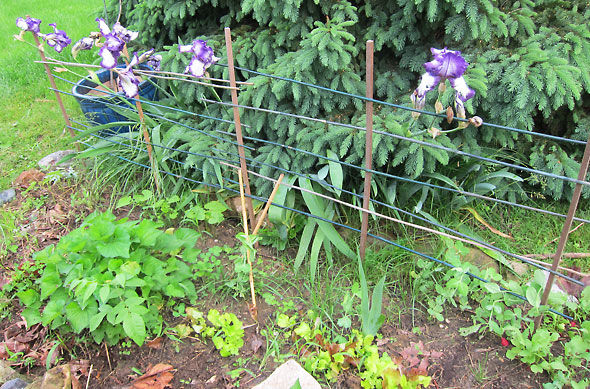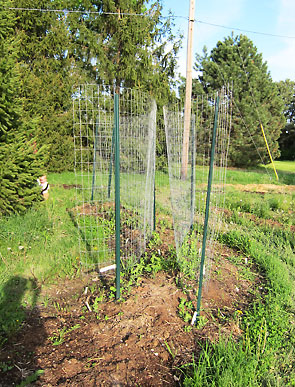 Last year on Mother's Day Weekend I was putting bean, pea, and tomato starts in the ground. The tomato plants did fine, the peas were marginal, and the beans literally flopped. Frankly, I'm embarrassed by the weak supports I provided them. At first, the tomatoes were marked by criss crossed bamboo twigs while the peas and beans got a complicated but fragile trellis. The idea was good but poorly executed. A much better example was provided by my friends at Rocket Acre farms. Their trellis towered over their plantings giving the pea and bean starts plenty of room to grow up. Simple and sturdy, the early investment in infrastructure made a world of difference at harvest; their yields were so much better than mine.
So tomorrow is Mother's Day again and that means today I'm planting. I'm also investing in the foundation that my young vegetables need to prosper. As I plant, I will build up strong supports around each vegetable start. In theory the more stable their underpinning is, the more and larger fruit their branches will bare.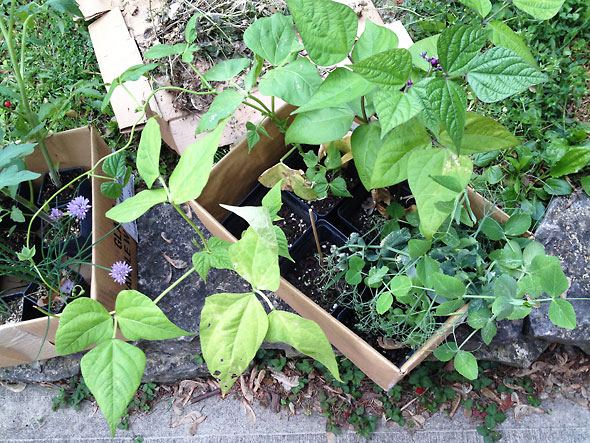 I'm very excited about this year's starts. The peas and beans have come from Yellow Springs Botanicals, opening soon at 4550 US Rte 68 North. They participated at the Yellow Springs Farmers Market for the first time on 5 May and were very happy with their reception. I was very happy with the rattlesnake beans and snap peas they offered and brought six plants for the home garden. I also garnered Green Zebra and Pineapple Tomato plants from Peach Mountain Organics revealing my love of salad over marinara sauce. I intend to eat their fruit like apples and, as my Grandpa Kelly used to do, take a salt shaker into the morning garden to eat tomatoes sun warmed off the vine.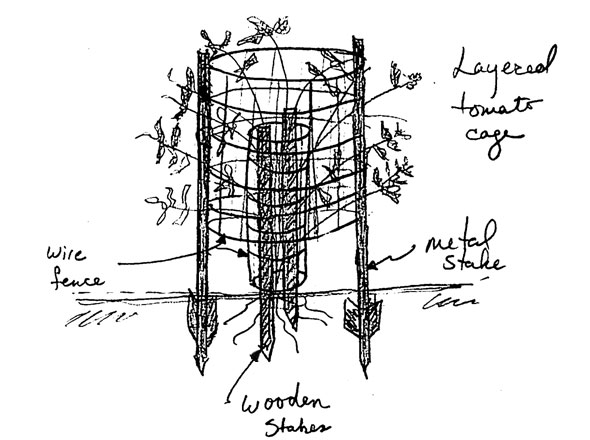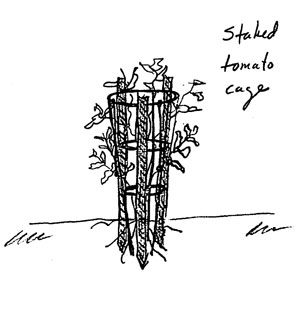 Here is today's plan: I have a mix of tomato cages, stakes, and supports. The tomato starts will be surrounded by a layered set of cylindrical fences; the wider the cylinder, the higher it will be placed above the ground. I've selected rabbit fence in a hopefully reasonable compromise between support density for the branching stems and open access to the fruit. The bush beans and peas will be supported by netting and strings intend to guide the vines up. I will make use of some old tomato cages but will firmly affix the cages using wooden stakes.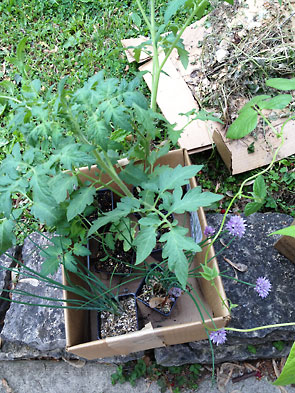 On Saturday this Mother's Day Weekend, Yellow Springs will have a bounty of social experiences around the town: the farmers markets at Kings Yard and the Corner Cone, the morning soccer games at the high school, and the afternoon music festival at the Byran Center organized as a senior project by Rory Papania and Nathaniel Reed. You will also find many gardeners out in the neighborhoods of Yellow Springs. I'm grateful to the town's front yard gardeners who offered ready conversation, sound advise, and fruitful examples to my hungry eyes and ears last year. I garden myself in a south-facing front yard setting an example in my neighborhood for good or ill. If you wander by, feel free to offer pointers and muses on your own plans for lawn and garden. This growing season will be interesting with the unseasonably warm weather, and a ready exchange of strategies will help us realize all its promise.