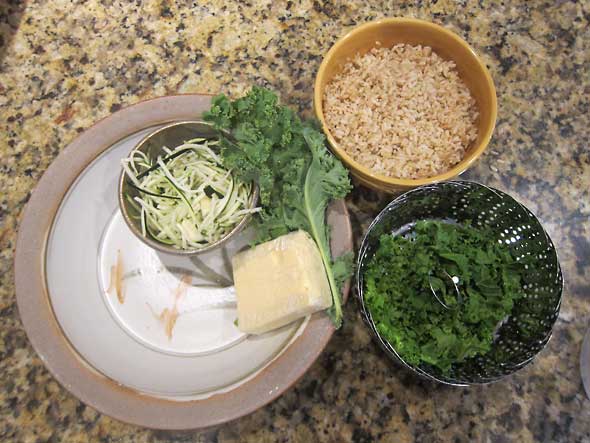 BLOG-Pancakes, wait, no… Quiche!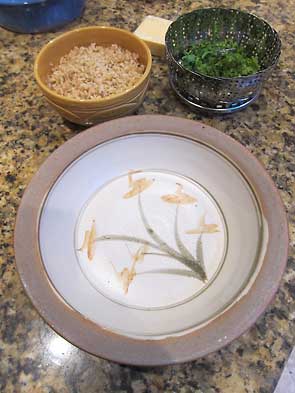 We have family in town today, and for Saturday breakfast I was thinking about changing up an old family favorite: potato pancakes. In the kitchen, I am surrounded by garden zucchini and onions—aren't you?—so I thought zucchini pancakes, of course. Someone else must have had this same brainstorm I figure, so I started flipping through cookbooks. Pancakes, however, were soon forgotten. Almost immediately the words "quiche with brown rice crust" arrested me. Ooo, I had brown rice…I love brown rice…My kids love brown rice. Zucchini Quiche! With no further adieu, the griddle was shuttled to the side, and I brought out the stoneware pie plate.
This deep dish pie plate comes from Miami Valley Pottery, 145 East Hyde Road. For 8 years, Artesian Naysan McIlhargey has been making objects of great beauty and unpretentious practicality. I have several of his pieces, and his deep dish pie plate is a fine and durable workhorse. This month alone, it has held—in turn—scalloped potatoes, peach pie, and bread pudding. Today we try something new.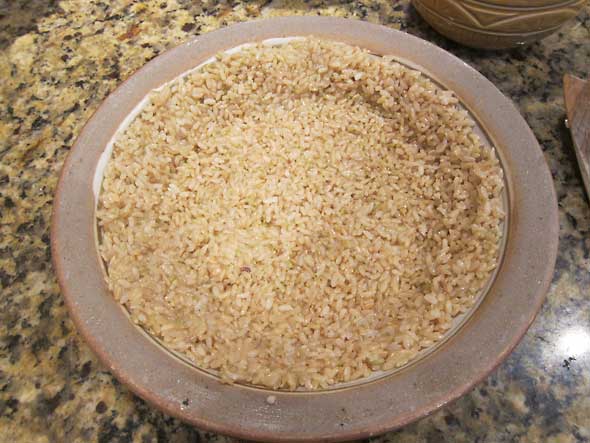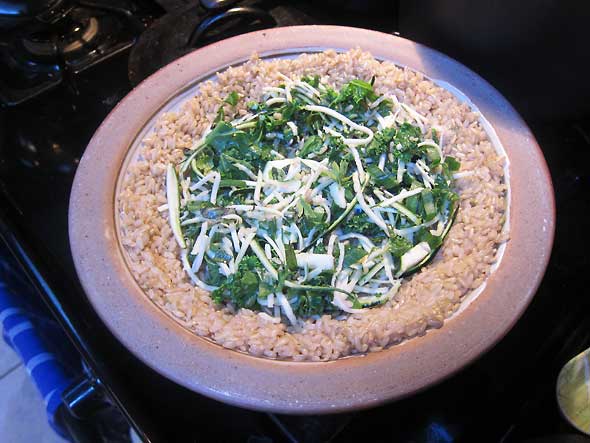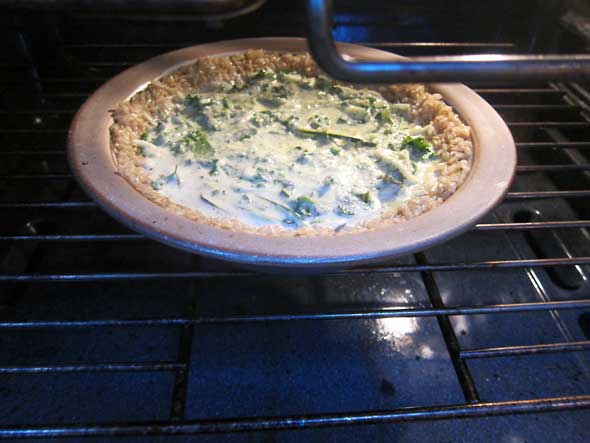 The crust is an easy mixture of egg white and precooked rice. I mixed two cups of leftover rice and the egg white by hand then, with a wooden spatula, modeled the mixture into the bottom of Naysan's plate. This crust gets popped into a 350 degree oven for 10 minutes.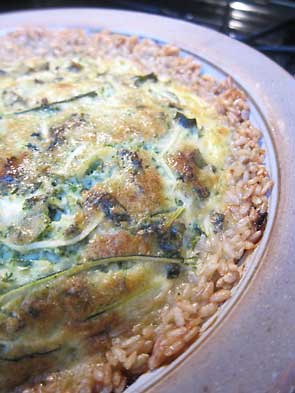 While the crust baked, I shredded zucchini like mock spaghetti then chopped and steamed kale. I tossed the zucchini and kale together with minced onion, italian parsley, and fresh basil. The greens were placed in the center of the baked crust and covered in a custard of 3 eggs, 1/2 cup of cheddar cheese, 3/4 cup milk, and 1/4 tsp salt. Back in the oven it all went for 40 minutes, and I took the quiche out a couple of minutes early when the top turned golden brown.
The cheddar cheese I used is from the Winds Wine Cellar. The name of the cheddar is Prairie Breeze, a frequent offering in their cheese case and one we like to use in tossed salads. This quiche is my first use of the cheddar in a baked dish, and the results were winning.
During the baking, the custard worked into the rice adding texture to the creamy filling while the bottom crust maintained a hearty crunch. The visiting family heartily approved of the dish. It's a welcome and blessed event when family makes the long journey to visit… even more fortunate when a spontaneous adventure in cooking for them comes to happy fulfillment.