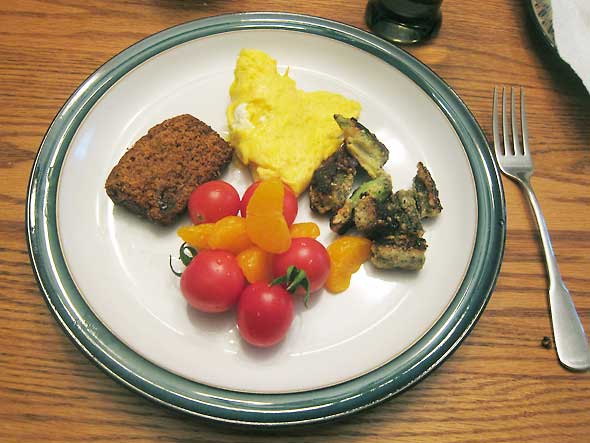 BLOG-Okra-fried Break-feast
On the way home from school this week, my five year old amazed my husband by planning out her dinner menu. She had a good plan, she insisted, and unprompted listed out a balanced menu: cottage cheese, mandarin oranges, peanut butter with crackers, and green beans. When I got home, our daughter was happily munching away at her colorful plate, and my husband was grinning ear to ear. He couldn't be more pleased with her, and I have to agree. It is a freeing moment for both parent and child when the young assert themselves in making good choices.
Our two year old soon followed suit with mixed success. The next day, my husband arrived home and went to change out of his work clothes. Our son who usually finds a truck in the living room and plays instead went straight to the pantry. When my husband came back to the kitchen, he found our young man at his breakfast table with a fresh bowl, a spoon, and a huge mound of cereal that our son had poured himself. He hadn't bothered to ask for milk but was crunching away intently.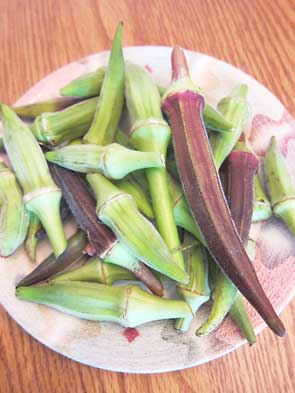 If you are going to assert yourself, the kitchen is a good place to start. My husband Jeremy has started improvising ways to fix fish and pork chops. He has discovered the virtues of butter—both in luscious flavor and forgiving simplicity—and the many blessings of the herb garden. Now that our son has started rummaging through the pantry and our daughter is picking through the herb garden herself, I am musing over how soon it would be before the children started cooking on their own.
In putting myself forward, nothing is more challenging than a new ingredient. Improvisational cooking is informed by taste and texture and, when these are unfamiliar, a crucial ingredient is expert advise. When I opted to bring okra home in our weekly share from Smaller Footprint Farm, that advise came from The Salt, a food culture blog at NPR. They posted an article on okra at the end of July and I had bookmarked it in anticipation of the veggie's arrival. Like peas, okra gets mushy when overcooked and loses its pleasant texture, and the article gave good advise on how to avoid the slime factor. A quick, hot pan fry would do the trick and sounded to me like the perfect side dish to change up breakfast.
Since the okra article first posted, I have had time to turn it over in my mind. I planned to bread and fry the okra, sure, but there are variations to go about that. The okra showed up on Julie Child's 100th birthday and so, in her honor, I took up my pestle and started grind together dried herbs and green pumpkin seeds for the breading. The article mentioned corn flour and buttermilk neither of which I had on hand, but I had buttermilk powder and seminola flour. Both are both available from Bob's Red Mill, and I keep them for making biscuits and pizza. You can pick them up at Starflower Natural Foods or Tom's Market. Together with the pumpkin seed, I had amassed all I needed for the okras' breading. For the frying, I used walnut oil but, at high heat, the kind makes little difference. Quality and a high smoking point matter more.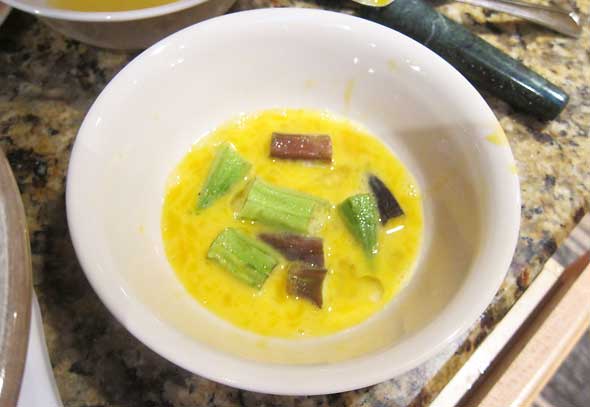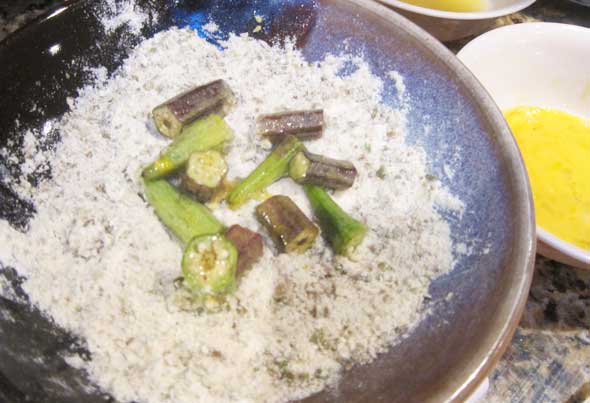 The Salt's advise proved true. The fried okra's texture was marvelous: a mix of crispy stalk and round seed that played on the tongue nicely. The resulting dish turned out so well in fact that I almost didn't get to eat it. The men raided the serving plate while setting the table and left only a few pieces left for my daughter and I to share. So, if the recipe below looks like it makes a lot, that's because I've learned my lesson on okra. That lesson is make more.
Fried Okra Break-feast

1 pound okra
1/4 orange juice
1 egg
2-3 Tbsp oil
Breading:
3/4 cup pumpkin seeds (1 cup after processing)
1/4 cup seminola flour
1/4 cup buttermilk powder
1/2 tsp dried oregano (less if fresh)
a dash to 1/4 tsp pepper
1/4 to 1/2 tsp salt

Process the pumpkin seeds in a pestle or blender to a chunky flour consistency. Add the flour, buttermilk powder, and spices using salt and pepper to taste. Place orange juice in one bowl, whip the egg in a separate bowl, and place the breading in a third. Cut the okra in 1 inch pieces and soak them in the orange juice.

Heat a skillet on medium, covered to get it hot, hot, hot. Add the oil to the skillet while it's heating up. Then, with one hand, coat the okra in the egg, then the breading. Place in the heated oil. Turn with a fork after 45 seconds or until the fried breading turns golden brown. Remove after another 30-45 seconds and drain on a paper towel. Serve after letting the oil cool down and the coating to crisp up, about 2-3 minutes.

Serves 6.