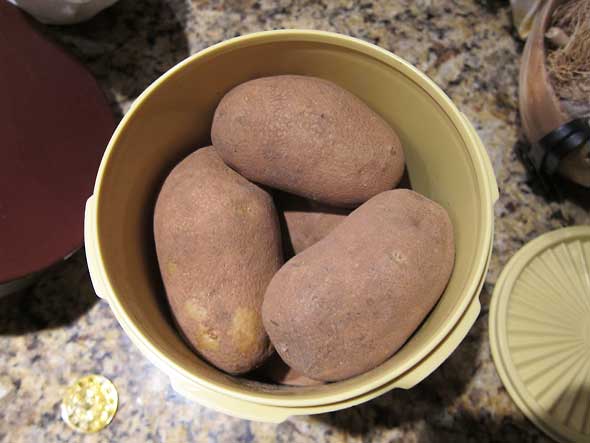 BLOG-A Place for Potatoes
My husband and I got married in our mid thirties. Marrying late meant we had two reasonably well fit households to merge. We kept his television and my stereo, his cooking pots and my skillets. Jeremy also brought legacy pieces from his mother: the electric and hand mixers, a slotted chef's spatula, and vintage tupperware. Her cake saver has been put into service many times, but a beautiful set of nested canisters had yet to find their purpose until recently.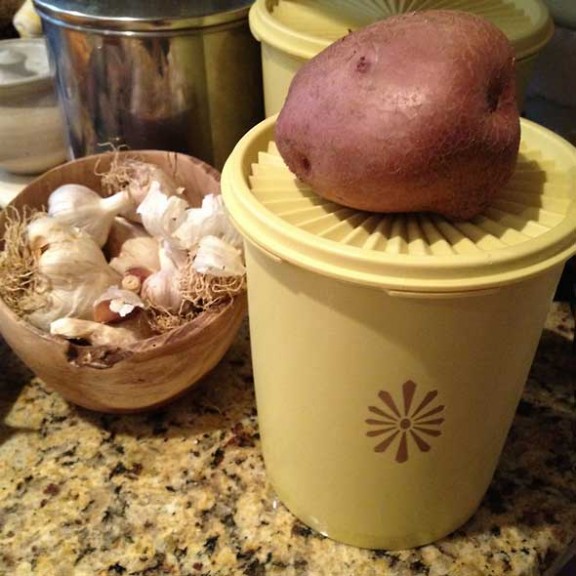 These canisters inspire confidence. From the servalier line, the canisters are sturdy, their lids are beautifully grooved, and they seal with authority. Two weeks ago, I was rummaging through cabinets searching through our food storage options. When I surfaced with Grandma Rita's tupperware, it almost was like meeting a lost love on a soul searching night…pure destiny.
Really, what I wanted was simple: to store potatoes. What made the canisters perfect was their lids' resilient seal and the overall opaque design. What made them special was their retro look and their pedigree. I had three bags of pristine potatoes to store, part of our summer farm share from Smaller Footprint Farm. Our family doesn't eat potatoes in the summer so it's important to keep them as fresh as possible for as long as possible. At Beth Bridgeman's workshop on root cellars last winter, she offered a simple solution—a sealed food-safe bucket. Storing potatoes requires a container that doesn't let in light. Light will encourage the potatoes to develop eyes and sprout. Keeping stored food in the dark also keeps bugs at bay.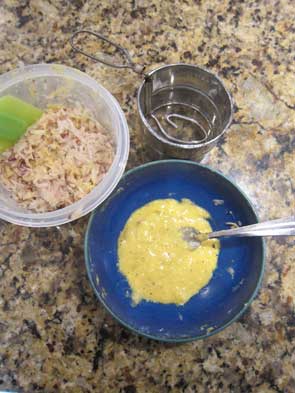 I've found a few leads on where to find a food safe bucket but, having not followed them in earnest, I have yet to trip across one with a lid. How fun it was to find an alternative solution—both suitable and a sentimental favorite—within our own cabinets. The tupperware is so fun that I'm tempted to keep the sealed potatoes on the kitchen counter. Keeping them at room temperature should work out. Potatoes don't need cold storage; too much cold in fact will cause them to sugar. Two weeks in, the stored potatoes look great—firm and smooth—but the real test will be their common state come February. I'll be checking every week or so to make sure they remain unspoiled.
The three bags of potatoes fit snuggly in the tupperware save for one large specimen. This one I made plans for: potato pancakes. I peeked through a few cookbooks for a recipe, but nothing inspired. Then, listening to WYSO on the car radio, I heard an interview with food blogger Deb Perelman on her new publication The Smitten Kitchen Cookbook. In her tiny New York kitchen, Ms Perelman cooked a potato pancake for NPR corespondent Lynn Neary, and Ms Neary sounded smitten indeed. They talked about how to cook a super crispy pancake, and, tummy rumbling, I knew this recipe was the one I had to try.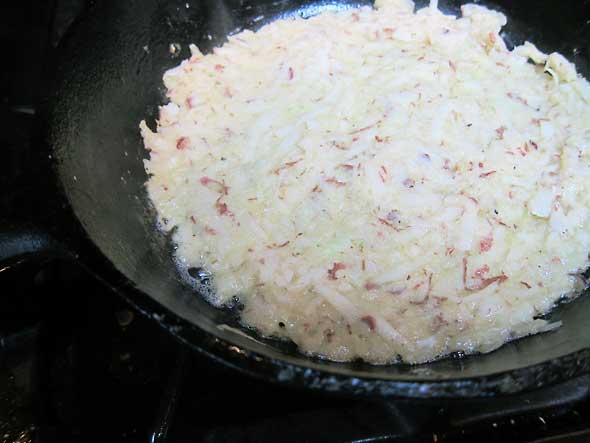 Though Ms Perelman's kitchen is small, her idea of a large potato is gigantic. My grapefruit sized potato was only half the recommended weight, so I halved the recipe. Ms Perelman's 'secret' for crispiness is to squeeze moisture out of the shredded potato and onion. In trying her recipe, I didn't bother straining the vegetables with the recommended cheese cloth. Setting the potato to rest in a tight ball within a slightly oversized bowl for several minutes proved sufficient to separate the wet. When I combined the flour, egg, salt, and baking powder, I was treated to a bright yellow bloom just the color of the tupperware's harvest yellow. After tossing the vegetables and the egg mixture together, I grabbed my 6- inch skillet—a favorite in my bachelor days—and attempted my first round. My mistake at this point was to press the pancake mix into the pan and wait for it to crisp. The mixture stuck to the skillet and, though I got it out with nominal resistance, it didn't come out in one piece. Oh, well. That first one I split between the kids.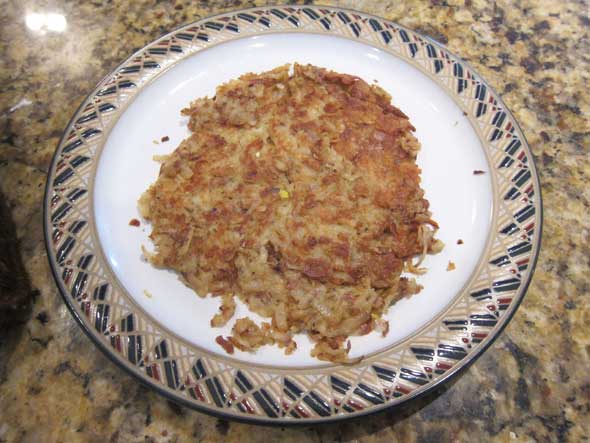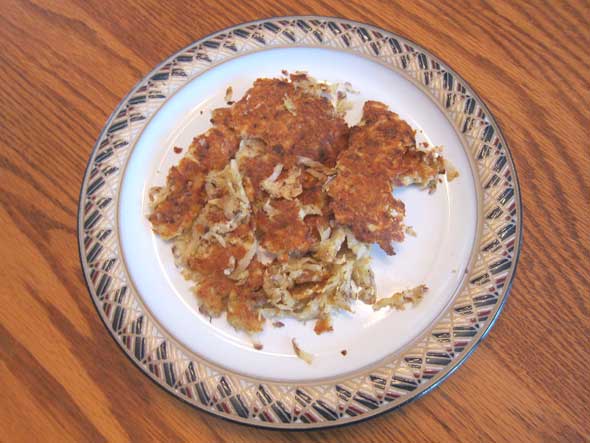 On my second and third attempt, I was much more successful. I placed a ball of the potato mix in the center of the pan and gave the pan a vigorous horizontal shake—front to back—as I slowly flatten the ball. With this, I kept the food moving while I formed the pancake…allowing it to crisp up without sticking to the pan. If you've watched a chef sauté, this technique is similar but without the toss. I don't want the potato ball to jump, just to keep it moving on the surface so it doesn't stick. For a good demonstration, watch Julia Child cooking an omelet. The 6-inch skillet is an excellent tool to practice this skill. It's a good weight—not too heavy—and yet substantial enough to transfer momentum to the food.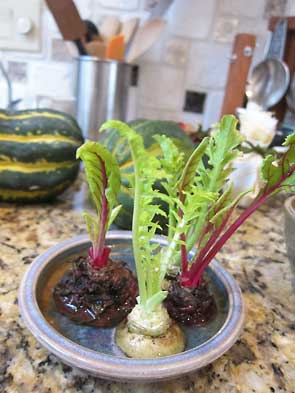 With practice, I might be able to flip the latka in the air sometime, but my goal was to get the pancake out in one piece. Maybe next time. In the NPR story, Deb Perelman placed a fried egg on top of her pancake. For my plate, I add an omelet, fresh lettuce greens from Flying Mouse Farms, goat cheese from Blue Jacket Dairy, and radish greens from my countertop garden. The meal is pretty as a picture, and the recipe yields just the potato pancake for which I often yearned.
Yes, it's marvelous when a plan comes together…or at least when events conspire to bring a satisfying meal to the table. Much thanks to the Smitten Kitchen for this keeper recipe… and a special thank you to Grandma Rita. Your legacy will help us preserve the makings of many a wonderful meal.