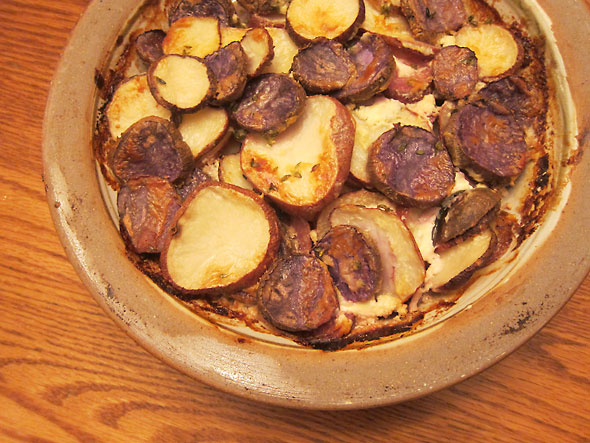 BLOG-Summer's Harvest, Winter's Yield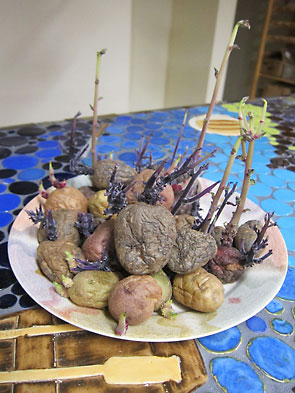 This past year, I bought a share of a local farmer's yield. Over 19 weeks from June to September, Smaller Footprint Farm provided my family with a wide variety of fresh vegetables. The four of us did an admirable job eating our weekly portion crunching through kale, beans, tomatoes, onions, and oh! heaven, those ground cherries. We did very well indeed but for one exception: the potatoes. Somehow that rustic root didn't seem the stuff of summer fare. So, we stored them away in a dark corner until winter. They kept fairly well but lost some of their firmness. Recently, they have begun to sprout. Humbly I admit I need to learn more about storing potatoes, and a recent community forum offered deliverance.
On February 11th, eighteen people gathered in the fellowship hall at the Yellow Springs United Methodist Church to talk about root vegetables. This winter, New Liberty Farms is hosting five workshops on Sustainable Living, and this gathering was the second in the series. The group shared recipes and storage methods in a well received workshop hosted by New Liberty Farm's Beth Bridgeman. Beth started out the meeting with a slide show illustrating many inspired ways to create a root cellar. Ideas ranged from the elaborate (a bus buried in the side yard) to the simple (a bucket lined with sand). She put forward handouts, demonstrations, and encouraged everyone to share their own solutions. The group left well nourished from the spread of fine vegetable medleys, carrot juice, and chicken soup and armed with the sure knowledge of how to keep produce near its peak year round.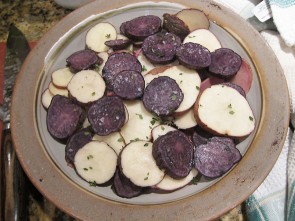 Here is what I learned: First, harvest the vegetable at its peak. Don't wash it and select only unbruised, firm produce for long term storage. Consume or compost any items with soft spots immediately. A few vegetables such as radishes and sweet potatoes should be individually wrapped, but most can be stored loosely packed to allow air to circulate. Maintaining high humidity storage conditions is important, and I liked the suggestion of lining bins with sand—loose or bagged—to help retain moisture. Darkness will deter most insects; a fine mesh screen will block larger critters. For more information, consult two excellent publications online: "Storing Vegetables and Fruits at Home" from Washington State University and Purdue University.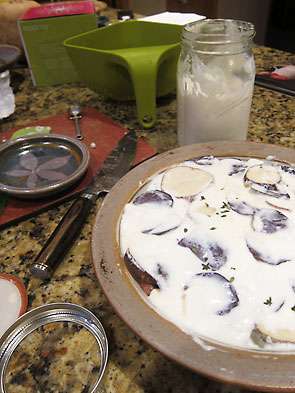 I came home from the meeting to find a bowl of potato soup that my husband made for me. In return, I made one of his favorite dishes, scalloped potatoes. We're working through our supply of spuds steadily now; and, next year, we will accept summer's bounty with even greater confidence and sustained enjoyment.
The next workshop from New Liberty Farms, "Surviving the Storm", will be held February 25th from 1-3pm in the Yellow Springs United Methodist Church fellowship hall, 202 S. WInter Street. Find out what you need to keep fed and comfortable when the power goes out. Register with Beth Bridgeman by calling 937-768-7240 or e-mailing Beth@NewLibertyFarms.net and come away from this workshop feeling empowered and prepared for the next storm.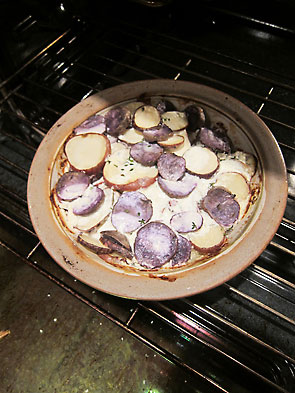 Scalloped Potatoes
2 lbs potatoes
2 Tsp butter
1 cup heavy cream
1/2 tsp salt
Two sprigs of thyme
Preheat oven to 325 degrees. Slice potatoes into 1/4 in wedges and layer with butter in a deep dish pie pan. As you build up the layers, sprinkle with salt and thyme leaves. Cover the dish with 3/4 cup of the heavy cream and bake for 45 minutes. Top the half baked potatoes with the remaining cream and bake for another 45 minutes. Remove from oven when a fork easily pierces the potato rounds.
Serves 6.