BLOG-The Sentimental City
Five years we lived in Alexandria, Virginia. Five years is enough time to gather a group of friends and a few favorite spots where we were regulars. Living in a big city can be a lonely experience. The problem is not the lack of people or places to go. Rather the opposite. With so many things to do and so many people to do them with, forging a history that doesn't feel episodic can be a challenge.
We came here to Yellow Springs after Virginia. At the time we were transitioning, parking fees and metro fares were about to increase, and all of the surrounding neighborhoods were putting in speed bumps. I don't quite get the burning need to slow down traffic to 15 miles per hour, but I do understand the blessings of a slower pace. Jeremy and I were ready for something less intense, more enduring than city life. We settled down in our new town grateful and content.
When I go back to the DC area like I did last week, I usually get asked if I miss it. Not much, I admit, but I do miss my people and the monuments. The drive along the Washington Parkway from CIA headquarters to George Washington's Mount Vernon is a windy jog through history. My favorite area restaurant is on that parkway: Le Refuge, a country french restaurant run by a charming family from Beaugency, France. We were established regulars. One of my best memories is celebrating my 40th birthday there and picking out our daughter's middle name in honor of our hosts' own daughter. This Thursday at lunch, the restaurant was decked out a full week ahead of Valentine's Day with pink hearts and flowers, and I girlishly sighed over who might be making memories for their own family this week.
Le Refuge is also one of the places that I order take out in order to stock a savory breakfast. The item of desire might surprise you: a duck mousse. I hadn't really thought about how to serve it until later that night. I have three dear friends in DC, and two of them joined me for a dinner and show on the town. Former WYSO radio host and Antioch alum Corey Slavitt was one and key mobilizer for the evening's fun. A great supporter of CityFolk when she lived in Ohio, her friends will not be surprise to find that she is a member of the Kennedy Center. She scored three tickets for our party to see the Alvin Ailey Dance Company—which rocked—and recommended we start the night at a popular restaurant Founding Farmers.
Now the food and service were outstanding, but—still—Founding Farmers is an ironic place for a visitor from farmland Ohio to patronize. The restaurant motto "true food and drink" embraces the seasonal local food vibe. Its interior is filled with shelves of preserved vegetables and fruit, and the menu itself includes sentimental favorites such as deviled eggs and fried green tomatoes. We tried both of these. The deviled eggs came in four variations: lobster, crab, salmon, and traditional. I almost looked around wondering where the scalloped version was but I knew. It would be for breakfast the next morning.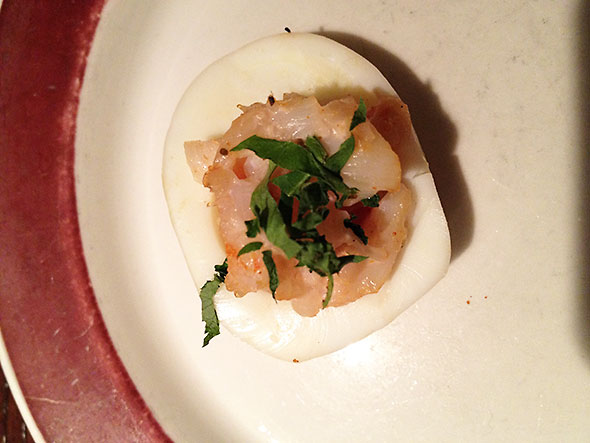 Friday I made breakfast for my good friend Fariba. A great traveller herself, she shares with me an affinity for the savory breakfast. Her kitchen is equipped with a marvelous gas stove. Its grill cooking surface stands high above the burners allowing me to adjust the flame from smolder to blaze.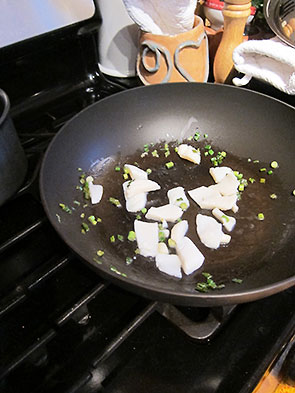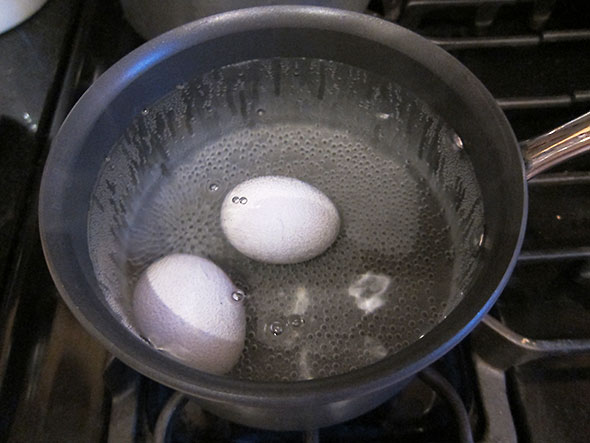 On one burner I started two eggs to soft boil. On the second burner, I sautéed two scallops and green onions in lime juice and butter. We topped the halved eggs with the scallops and a thin sliced bit of the pate. Settling in to the meal, we sipped coffee and ate at her sunlit coffee table…a leisure morning in which work didn't start until 9am for either one of us. We were as excited over our creation as we were happy in each other's company conjuring plans for our futures.
Two Sister Scalloped Eggs

2 eggs
2 green onions, chopped
1/4 fresh lime
2 tsp butter
2 sea scallops, sliced thin and halved
2 tsp of shaved pate or savory mousse

Place the eggs in a saucepan with temperate water. Add heat until the water begins a rolling boil. Remove heat and cover the saucepan for 8 minutes. While the eggs are covered, melt butter in a sauté pan at medium low heat. Toss in greens. Add the scallops and squeeze about half of the lime juice into the pan. After about 2 minutes, turn the scallops and add more lime. After 2-3 minutes, remove from heat.

Remove the eggs from their saucepan and place in a bath of cold water for 1 minute. Remove the eggs from their bath and peel. Halve each egg and place two halves on a dressed plate sunny side up. Separating the sautéed scallops into quarters, top of the eggs first with the scallops. Using a sharp wide blade, shave about 2 thin slivers of pate and place on top of the scalloped eggs. Add a light salad, sliced fruit, and the rest of the pate with toast points. Enjoy!

Serves 2.
Perhaps this experience is exactly what defines happiness: discovery and abiding friendship. We forge a shared history…capturing the enduring memory in our hearts.