BLOG-Growing Up, Going Long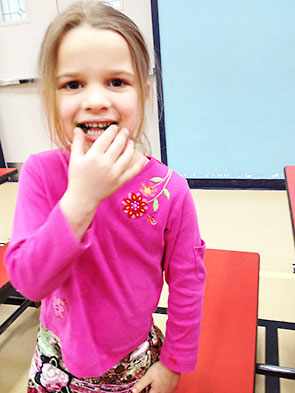 My daughter now eats baby spinach. This milestone was crossed by no handiwork of my own. Barring Friday breakfast, I haven't cooked in a week. No, this accomplishment is the work I suspect of a sister.
My family just spent the week in Gunnison, Colorado, and by family I mean my two sisters, my older brother, my dad and stepmom Sue along with my husband Jeremy and our two children. The occasion was my big sister Heidi's 5-0 birthday celebration, a multi-day blowout and a hoot of a hootenanny.
We arrived in Colorado on a Friday evening and, after a long day of airport scurrying, made our way straight to bed. As soon as we woke up the next morning, my daughter was keen to go to the hotel breakfast room. A hotel stay is the one special occasion that I allow her an extravagant treat: a bowl of Fruit Loops. That first day she enjoyed her indulgence while her father and brother grabbed a few more winks of sleep.
My daughter was disappointed over the next days that no Fruit Loops were to be had. Instead, we ate breakfast with the family. Most mornings we gathered at my sisters' New York style Deli, The Firebrand, as sister Kate manned the gas stove and waffle irons. We had the delicatessen—closed for spring break and our visit—all to ourselves. Any remorse that my 5 year old felt over missing a bowl of sugary cereal was forgotten to the more immediate and engaging delights of the Firebrand. The children and I were allowed back in the kitchen while their aunt flipped pans full of potatoes and dusted plates of waffles with blueberries and powdered sugar. They laughed as Aunt Kate broke eggs over the frying vegetables and shook her pans with a strong and deft hand. An accomplished juggler, she sent ingredients flying into the air and caught them again in the pan. She accompanied these feats with a musical flourish that the children were soon mimicking in their bright voices stomping their feet in time to emphasize the fun.
For many of the dishes, the last added ingredient was baby spinach. Finding the leaves lying in wait for their turn in the pan, the children would pick up a tender green and twirl it in their fingers. My daughter at first showed motherly concern for the "babies", but we assured her that spinach liked nothing better than to be in her tummy and off on fine adventures with her. I was quite sure that she remained unconvinced and preferred preservation to any palatable adventuring.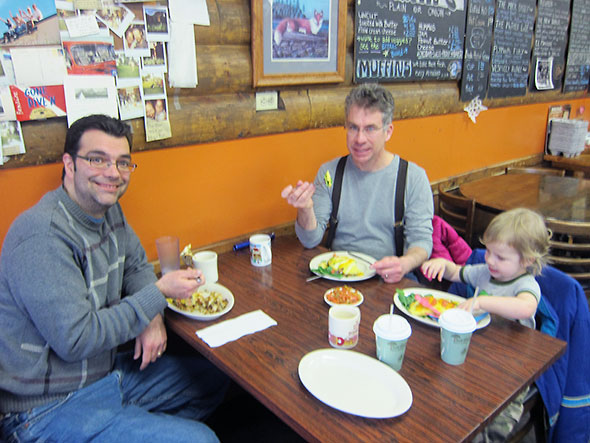 However, over the week as many plates passed before her dotted with these bright green raw leaves and those sautéed to a dark forest green, somewhere her heart and tummy aligned and, on her own initiative, she began eating spinach. She tells me that she wants to be a cheerleader for the Baltimore Ravens so she must eat baby spinach. I blinked at her the first time that she revealed this ambition and as she picked up a handful of leaves and crunched on them smiling.
My children seem to make their biggest developmental leaps in the spontaneous meanderings of a family trip. At home, we give them structure—and that's good—but then there is nothing so stimulating as a decided break from routine. Plus I suspect something more.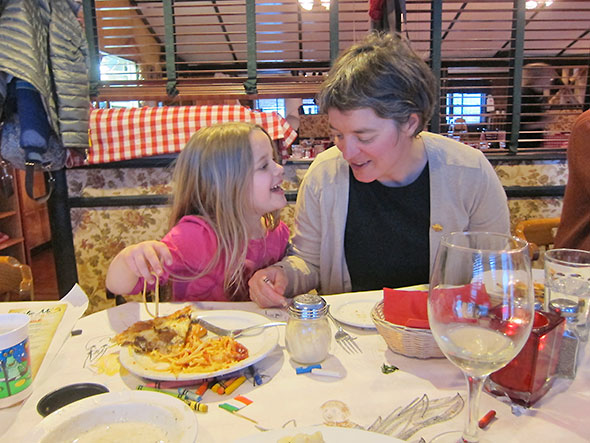 I came home with all these wonderful pictures of my kids in a conspiratorial huddles with my siblings. Their aunts and uncle are so interested in them in a way that, for the children, is both new and comfortingly familiar.
Physically, my sisters and brother look like me, act like me, but—unbound by my parental responsibilities—they do not prod the children; they simply draw out ambitions burning to surface. The children sought them out again and again bravely taking in the precious time we had together and—in their open, curious engagement—charmed us all.